Florence M. Garcia and Albert Gaylor to Join American Indian College Fund Board of Trustees
May 4, 2012
The American Indian College Fund Board of Trustees has confirmed the addition of Florence M. Garcia, president of Fort Peck Community College in Poplar, Montana, and Albert Gaylor, vice president of industry relations and diversity for Sysco Corporation, to the board.
Dr. Florence McGeshick Garcia, Washte Hinapawe (Good Woman Comes Out), is an enrolled member of the Fort Peck Assiniboine and Sioux Tribes. She earned her doctorate in adult and higher education from Montana State University (MSU)-Bozeman and served as the academic vice president at FPCC before beginning her tenure as president in January 2012.
Prior to her current position, Garcia was a director and adjunct faculty member at MSU-Bozeman and MSU-Billings, a high school teacher, and dean of student services at Metropolitan State University in St. Paul. She is a National TRiO Achiever, has served as a board member for the Council for Opportunity in Education, and was a board member of the board of directors of MSU-Bozeman's Alumni Association. Garcia has a daughter Elisabeth and three grandchildren. Her dissertation "Warriors in Education: Journeys of Persistence, Stories from the Heart" examined the academic success and cultural integrity of American Indian doctoral recipients from Montana.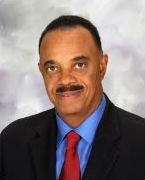 Albert Gaylor has had a prestigious career as an executive with more than 40 years of experience in the food industry managing well-known American grocery and food service brands. He is vice president of industry relations and diversity for Sysco Corporation, a Fortune 100 company and North America's leading marketer and distributor of food service products with $40 billion in annual sales. He represents Sysco's interests with various trade and industry associations and governmental agencies and is responsible for Sysco's enterprise-wide diversity efforts, including workforce, leadership, supplier, and community initiatives.
His prior industry experience in the retail grocery and food service industry includes sales management, marketing and merchandising management, brand management, and human resources. He developed sales and marketing strategies focusing on restaurant operators, implementing sales and promotional campaigns targeted to the Sysco sales force, and marketing research activities and packaging design for Sysco brand products. Prior to joining Sysco, he was responsible for sales management and brand management activities for consumer packaged goods companies. Mr. Gaylor has been recognized by local, state, and national media and organizations for executive leadership in the area of marketing management and human capital development.
Dr. Garcia and Mr. Gaylor will serve three-year terms on the Board of Trustees beginning July 1, 2012 and ending June 30, 2015.