Pendleton® Weaves New 2016 American Indian College Fund Blanket
October 10, 2016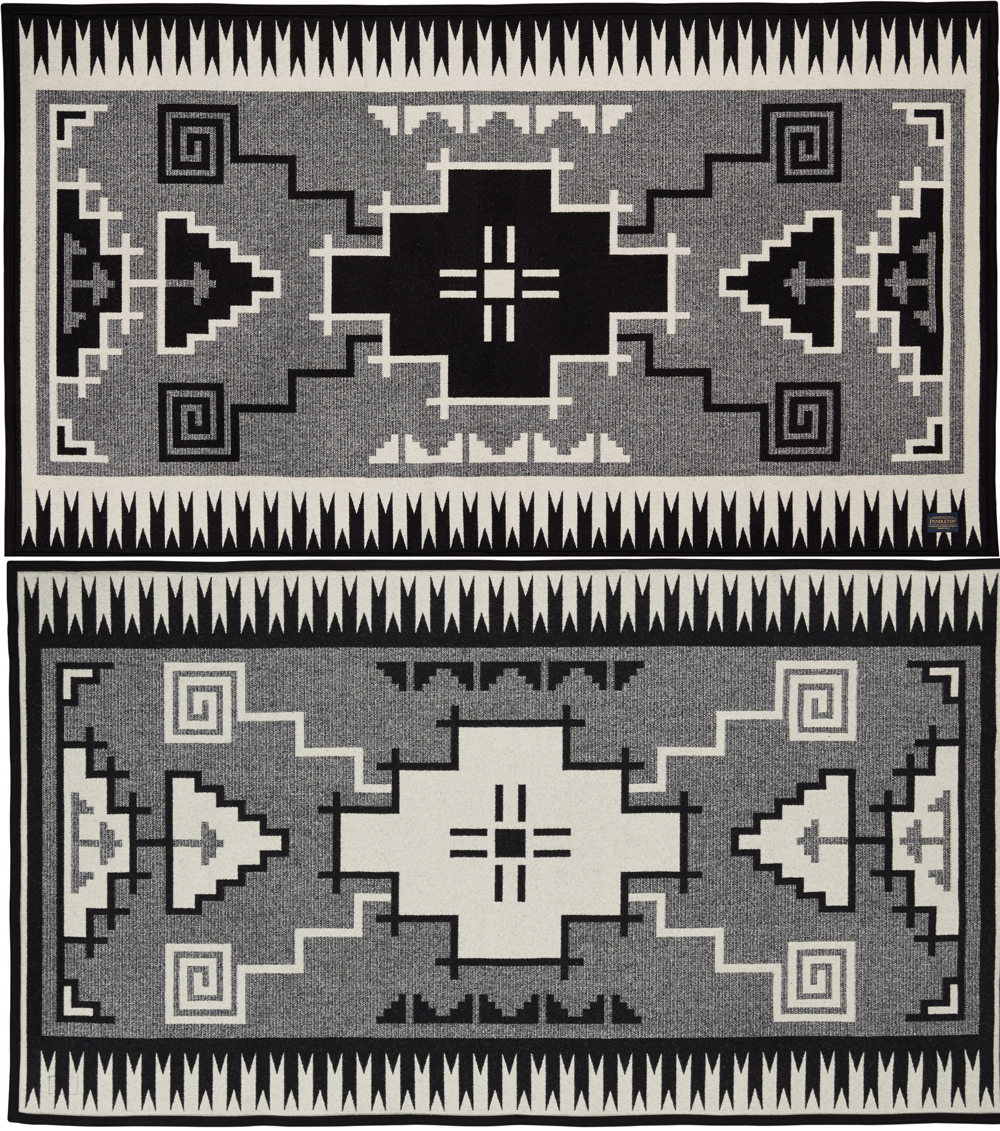 PORTLAND, ORE. – October 11, 2016 Pendleton Woolen Mills, an acclaimed-lifestyle brand headquartered in Portland, Oregon announces the release of an exclusive blanket to benefit the American Indian College Fund, the nation's largest philanthropic effort supporting Native American higher education for more than 25 years. Naskan Saddle Blanket, a new release for 2016, represents the collaboration between Pendleton® and the College Fund to honor and reawaken a vital part of Native history.
The blanket design tells the story of Johano-ai, the Navajo sun god, who begins his day in the east and rides one of his five horses across the sky to his post in the west while dragging his shining, golden orb – the sun. As his horse gallops across the sky, gorgeous hides and ornately woven blankets, known as naskan, lie beneath its hooves.
Naskan Saddle Blanket derives its mountain pattern and name from sacred Navajo blankets. Naskan joins a collection of ten blankets designed specifically for the American Indian College Fund, designed by Native artists. A portion of the proceeds from the sale of College Fund blankets provides scholarships for Native students to attend tribal colleges and universities.
Cheryl Crazy Bull (Sicangu Lakota), American Indian College Fund President and CEO, said "The American Indian College Fund is delighted with the Naskan saddle blanket, the newest design in our collaboration with Pendleton Woolen Mills. Just as this blanket represents a path taken by a sacred being across the sky, our students also take a journey toward realizing their dreams by walking a sacred path toward success. We honor and celebrate both our students' journey and our longtime successful partnership with Pendleton Woolen Mills as they work alongside us to make our students' visions for success a reality."
Today, slightly more than 13% of American Indians age 25 and older have a college degree, less than half the U.S. national average. What's more, 40% of the American Indian population is under the age of 18. The College Fund is helping more American Indians of college age to start and complete their college degree through scholarship support. The College Fund also provides program support for students once they are in school to help them succeed both academically and in their careers.
"Pendleton is proud to be a part of the American Indian College Fund's mission, and its purpose to transform Indian higher education," said Mort Bishop, Pendleton President. "By creating an awareness of the unique, community-based accredited tribal colleges and universities and offering students access to knowledge, skills and cultural values, the College Fund enhances their communities and the country as a whole."
About Pendleton – Setting the standard for classic American style, Pendleton is a lifestyle brand recognized as a symbol of American heritage, authenticity and craftsmanship. With six generations of family ownership since 1863, the company recently celebrated 153 years of weaving fabrics in the Pacific Northwest. Known for fabric innovation, Pendleton owns and operates two of American's remaining woolen mills, constantly updating them with state-of-the-art looms and eco-friendly technology. Inspired by its heritage, the company designs and produces apparel for men and women, blankets, home décor, and gifts. Pendleton is available through select retailers in the U.S., Canada, Europe, Japan, Korea and Australia; Pendleton stores; company catalogs; and direct-to-consumer channels including the Pendleton website, http://www.pendleton-usa.com.