American Indian
College Fund
presents
Indige-Bration is the first ever American Indian College Fund virtual concert to celebrate Indigenous Peoples – and we hope you join us! The roster of performers is pretty incredible, so you will get to enjoy some of the best music ever, while also hearing a little more about how, together, we can amplify and celebrate Indigenous voices, history, and culture.
Performances include Nathaniel Rateliff, Martha Redbone, Portugal. The Man, Jewel, the Indigo Girls, The Ghost of Paul Revere, Sarah McLachlan, Frank Waln – and more – with special guest appearances by Robbie Robertson, Ziggy Marley, Téa Leoni, Jeff Ament from Pearl Jam, Brooke Simpson, Kathryn Grody and Mandy Patinkin – you get the picture, it's going to be an AMAZING evening!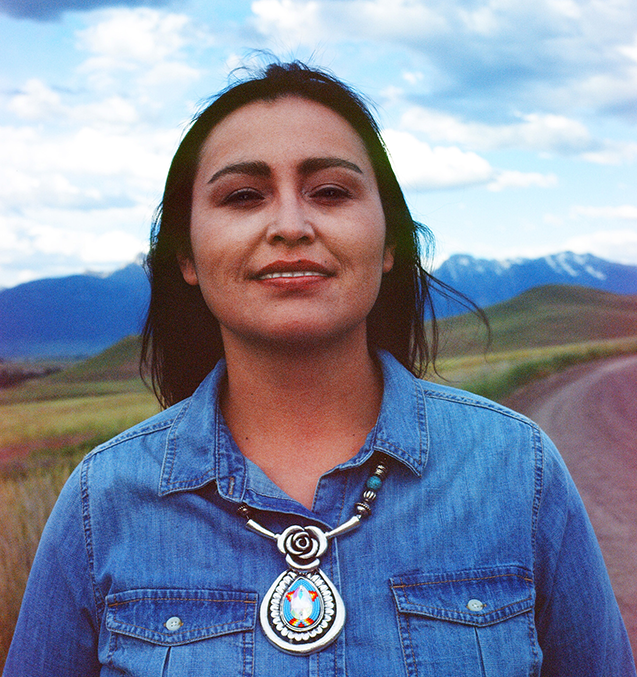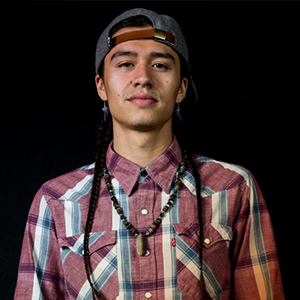 Frank Waln
Frank Waln is an award winning Sicangu Lakota Hip Hop artist and music producer from the Rosebud Reservation in South Dakota. A recipient of the Gates Millennium Scholarship, Waln attended Columbia College Chicago where he received a BA in Audio Arts and Acoustics. Waln's awards include three Native American Music Awards, the National Center for American Indian Enterprise Development 2014 Native American 40 Under 40, the 2014 Chicago Mayor's Award for Civic Engagement, and the 2016 3Arts Grant for Chicago Artists. He has been featured in Buzzfeed, The Fader, Playboy, Vibe, NPR, ESPN, and MTV's Rebel Music Native America.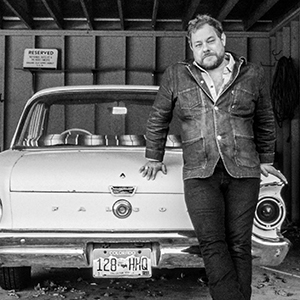 Nathaniel Rateliff
Nathaniel Rateliff is a singer and songwriter based in Denver, Colorado. He and his band, The Night Sweats, have released two albums; a self-titled release and a follow-up, "Tearing at the Seams". He founded 'The Marigold Project' in 2017 to address issues of economic, racial and social justice.
Portugal. The Man
Over the past decade, Portugal. The Man has established themselves as one of rock's most prized possessions and a live phenomenon, with over 1,600 shows under their belts and a storied reputation as festival favorites. Originally heralding from Alaska, the Portland-based band–comprised of John Gourley, Zach Carothers, Kyle O'Quin, Eric Howk, Jason Sechrist and Zoe Manville–soared to new heights in 2017 with the release of their RIAA certified-gold album, Woodstock.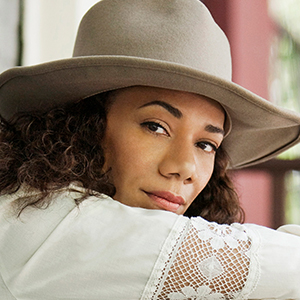 Martha Redbone
Martha Redbone is a Native & African-American vocalist/songwriter/composer/educator. She is known for her unique gumbo of folk, blues and gospel from her childhood in Harlan County, Kentucky infused with the eclectic grit of pre-gentrified Brooklyn. Inheriting the powerful vocal range of her gospel-singing African American father and the resilient spirit of her mother's Cherokee/Shawnee/Choctaw culture, Redbone broadens the boundaries of American Roots music. With songs and storytelling that share her life experience as a Native and Black woman and mother in the new millennium, Redbone gives voice to issues of social justice, bridging traditions from past to present, connecting cultures, and celebrating the human spirit.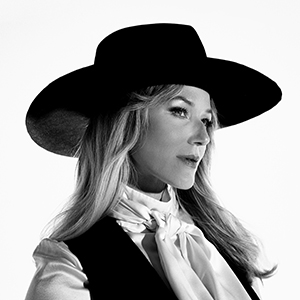 Jewel
Jewel went from a girl who grew up with no running water on an Alaskan homestead, to a homeless teenager in San Diego, to an award winning, Multi-Platinum Recording Artist who released one of the best-selling debuts of all time. Through her career Jewel has sold over 30 million albums worldwide, earned 26 Music Award nominations, including The Grammys, American Music Awards, MTV Awards, VH1 Awards, Billboard Music Awards, and Country Music Awards, winning 8 times.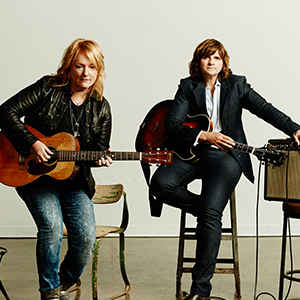 Indigo Girls
Twenty years after they began releasing records as the Indigo Girls, Amy Ray and Emily Saliers have politely declined the opportunity to slow down with age. With a legacy of releases and countless U.S. and international tours behind them, the Indigo Girls have forged their own way in the music business. Selling over 14 million records, they are still going strong. Amy & Emily are the only duo with top 40 titles on the Billboard 200 in the '80s, '90s, '00s and '10s.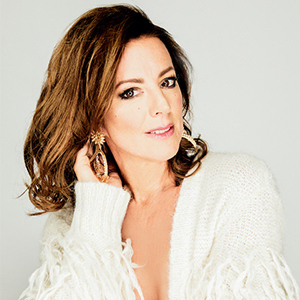 Sarah McLachlan
Sarah McLachlan is one of the most celebrated singer songwriters in entertainment with over 40 million albums sold worldwide. She has received three Grammy Awards and twelve Juno Awards over her career and has been inducted into the Canadian Music Hall of Fame. Sarah's music embodies the art of songwriting on its most personal level and her indelible vocals resonate with people everywhere.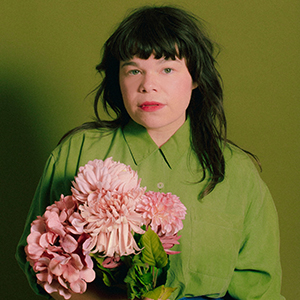 Samantha Crain
Samantha Crain is a Choctaw singer, songwriter, poet, producer, and musician from Oklahoma. She is a two-time Native American Music Award winner and winner of an Indigenous Music Award. Her genre spanning discography has been critically acclaimed by media outlets such as Rolling Stone, SPIN, Paste, No Depression, NPR, PRI, The Guardian, NME, Uncut, and others. She has toured extensively over the past 14 years nationally and internationally, presenting ambitious orchestrated shows with a band and intimate folk leaning solo performances.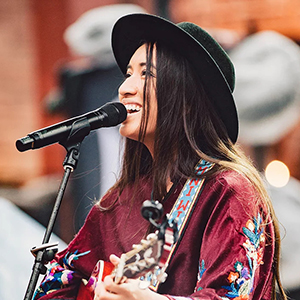 Raye Zaragoza
Raye Zaragoza is a galvanizing presence, a self-assured artist making music to fight for, represent, and celebrate those left too long outside the spotlight. Known for tenacious feminist anthems and fearless protest folk, her stage presence teems with determined morale. As a Japanese-American, Mexican, Indigenous woman, Zaragoza spent much of her early life trying to assimilate with the world around her, to meet punishing standards of beauty synonymous with just one color of skin—and not her own.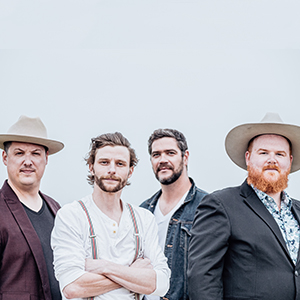 The Ghost of Paul Revere
Since forming in 2011, the band has created a following that has propelled them from a local to a national level, tallying 15 million total independent streams to date. The Maine quartet—Max Davis (vocals, banjo), Sean McCarthy (vocals, bass), Griffin Sherry (vocals, guitar), and Ben Cosgrove (piano, accordion)—examine life's ebbs and flows through a distinct and dynamic distillation of folk, bluegrass, rock, and alternative.
The American Indian College Fund invests in Native students and tribal college education to transform lives and communities. We've been around for more than 30 years, and our students still have the same experience many of our first students experienced in the beginning – they are still invisible. It's hard to imagine your future when you rarely see Native role models around you — in our government, on TV or in the movies, in corporate positions of wealth and power, in healthcare, in technology or even in education.
You don't even see yourself counted in most publicized data, like college graduation rates, medical data or research studies and, if we are, we are included in the "other" or "everything else" categories. According to the 2020 US Census, people who identify as Native Americans/Alaska Natives are now almost 10,000,000 people strong, nearly doubling since the 2010 census. It's time our voices are heard.
You can help make this happen by encouraging everyone you know to seek out Native voices and perspectives, learn more about the history of the land you live on, open someone's heart and mind to the hard truths of our history and hold people accountable for acknowledging Indigenous peoples and voices in the world today.