|  2021 E-NEWSLETTER  |  VOLUME 21, ISSUE 3  |
Let's Call It What It Is
We politely call it erasure. Erasure of language and culture, erasure of our voices, knowledge, and perspectives. We use the word erasure, as it's so much more comfortable for people to hear and accept. But given the events of the past several months, I will no longer call it erasure, I am calling it what it is and has always been – genocide.
I think we need to start being honest about the past. A past where Indian children were forcefully taken from their homes, placed in boarding schools that bore similar characteristics to internment camps, and were killed and buried in mass graves. This was done by the very country that fought against Hitler's Germany and the Holocaust.
How can we as human beings not feel the pain and loss of the families and communities whose children were ripped from their homes, never to return? And, most importantly, what is the impact today of the losses experienced by our families and communities? Some might say, "Oh, that happened a long time ago," but in reality, though many of the boarding schools were closed down by the 1930s, some still exist in the United States today. And in Canada, boarding schools were part of the country's policy until the 1990s. People of my generation were directly touched by boarding schools, as well as the children and grandchildren of those who survived and the relatives of those who did not.
When people say they don't believe historical events have to influence my life today, I simply must disagree. Poverty, addiction, depression, and anxiety are passed down from generation to generation. The stripping of resources, culture, language, land, ways of being and knowing, and, yes, even our children, created the challenges we still experience today with poverty, addiction, and suicide. Historical trauma is real.
Healing from the past and reclaiming our power is one of the hardest things we will do in our lifetime – made even more difficult by the continued reminders of erasure and, yes, genocide that still occur today. COVID was a glaring reminder of the inequities that currently exist in Native communities and for Native people, and of all the past wrongs against our people.
Healing from the past and reclaiming our power is one of the hardest things we will do in our lifetime – made even more difficult by the continued reminders of erasure and, yes, genocide that still occur today.

So, yes, I feel traumatized by the latest findings and validation of our history. But I also feel more determined than ever to be strong. And always to lean into education as the one truth and path to justice. Because education gives us the power to reclaim our truth and choose our future, today's generation of scholars will lead their families in healing and telling a new life story – one they choose and can pass down to their children, their children's children, and the next seven generations.
Please know how much you matter to us in this journey – your support makes all the difference in the world to our students. And even more importantly, your acknowledgement and sharing of truth will help ensure the future is a safer place for our students and communities – and for all of us.
Pilamayayapi (thank you) for your support and friendship,
Cheryl
Studying Law To Help Shape Tribal Futures
I grew up in the back of Tribal Council meetings, in the passenger seat of rental cars at self-governance workshops, and in convention centers for Bureau of Indian Affairs consultations. I watched Tribal communities contort around the legacies of America's colonial past, straining for our rights to self-determination in the hopes it could cure us of 400 years of genocide and colonialism. At the time, I didn't realize how deeply these experiences would come to shape who I am and what I hope to achieve, but they did and they proved to me we were inherently political peoples tied inextricably to the law and our legal systems.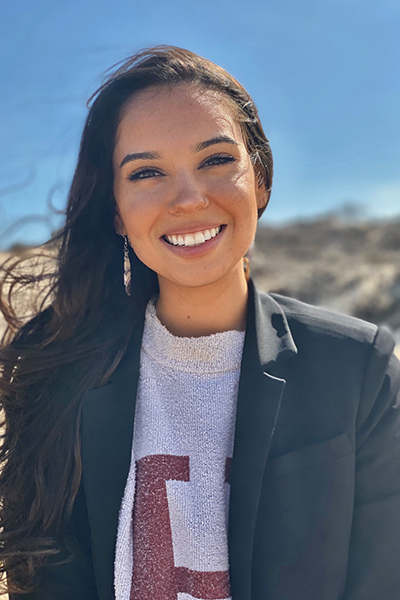 All citizens are impacted by the law and politics whether they see it or not. But, for tribes and for Native peoples, our very existence has been and remains shaped by federal Indian law and policy. America's Founding Fathers built its justice system on Native land at the cost of our displacement and designed it to eliminate us systematically. Through my lived and professional experiences, I watched how the very language used with these intentions still cycles through court rulings as precedents to chisel away at the sovereign rights of tribes.
However, today Native voices in the legal profession are changing the course of justice in Indian Country. Just this year, amidst all its chaos and tragedy, we saw groundbreaking work to uphold Native rights in the courts, and the recognition of tribal treaty rights and self-determination. The law therefore becomes both tribal sovereignties' most significant threat but also our strongest advocate. Diversifying the legal profession is therefore crucial in determining how the law will impact tribal communities for generations to come, but there are barriers.
Like many Native students, I often struggled to reconcile diligence with gratitude for the opportunities afforded to me in a world that says I don't deserve them. But, instead of letting this weight bury my dreams, I let it drive me through opportunities not granted to generations before, reminding me always what my education and experiences will do for my Tribe and other tribal communities. To me, a law degree means more than what I can achieve myself. It means playing a small part in designing a future where Native students can use their education to uplift our communities, rather than strip those identities from us. It means working towards my goals and, maybe one day, inspiring others to follow.
Samantha (Wampanoag Tribe of Aquinnah), American Indian Law School Scholarship Recipient, Juris Doctor degree at Harvard Law School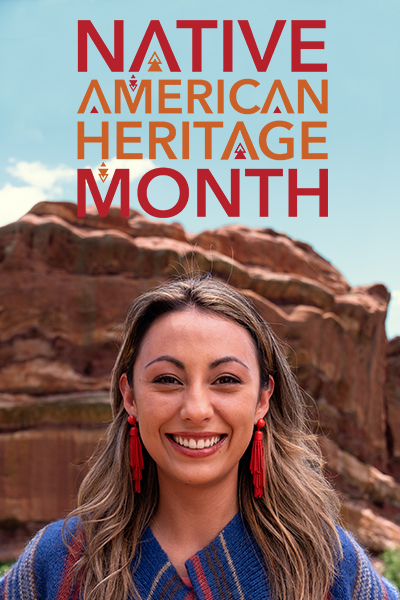 There Is Still Work To Be Done
Last November, we chose the phrase "We're worth celebrating!" to share students' stories during Native American Heritage Month. And while together with you and our closest friends we did celebrate, the national level of attention paid to Native people and communities during November is far less than what it should be. When we consider all the wonderful ways we celebrate Women, Pride, Black history, and many others, we see that there is work to be done in making Native American Heritage month all it can be.
This is the year that needs to change! Over the past 18 months, Native people and communities have overcome unfathomable odds, have risen to every challenge, have been confronted by historical unspeakable truths, and are still here, feeling more determined and hopeful than ever that we will build a better future. We see that every single day in our students. And, even though we've always been worth celebrating, that has never been truer than right now.
As Native American Heritage Month quickly approaches, we ask you to celebrate with us – acknowledge our determination, our resilience, the gaps left by those we've lost, the gaps filled through education and generosity. As a country we are at a crossroads – it is time to see and hear our first people and to support and encourage us in building the futures we all deserve.
Tell your relatives, friends, neighbors, co-workers, and even legislators the historical Native truths uncovered over the past 18 months. But also tell them all the great things you've learned about today's Native people and communities. Show them pictures of the students you're helping support, learn how to fancy dance from an online video, celebrate our music, our knowledge of and connection to the land, and our deepest belief that the environment is ours to care for and not destroy.
Celebrate that our determination and your generosity have helped increase the percentage of Native people with college degrees from less than 13% just a few short years ago to more than 15%. Now THAT'S worth celebrating! It's time.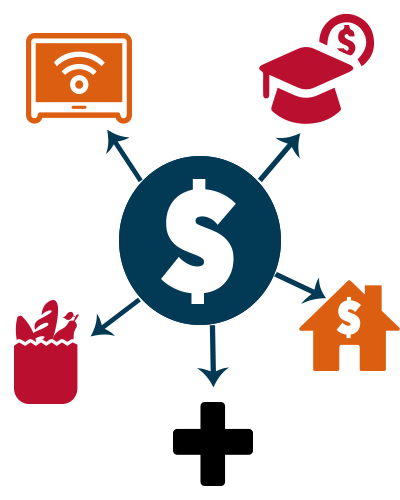 YOU Are Making an Incredible Impact!
Nearly

4,000

Native students received scholarships totaling more than $9 million in support for things like tuition, rent, food, healthcare, and technology.
86%

of scholars who received your support successfully completed their spring 2020 terms.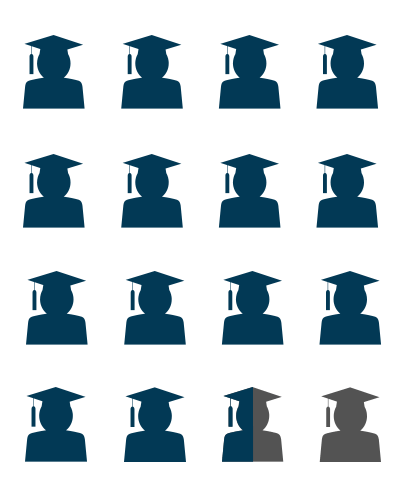 Congratulations to Our 2021 Graduates!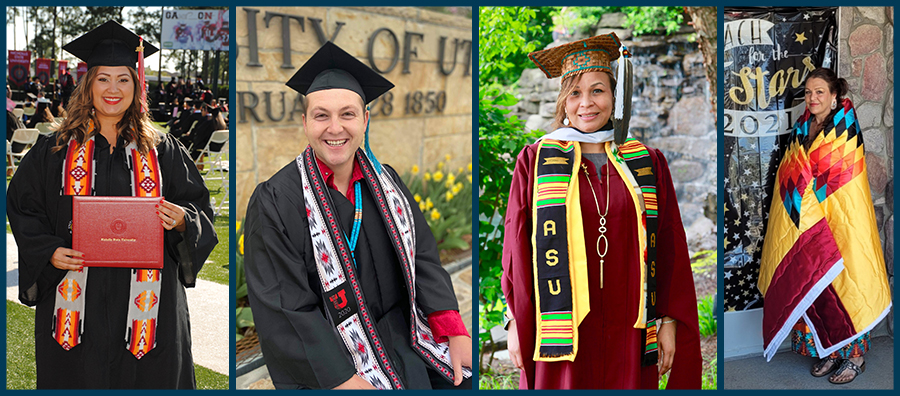 Their persistence while confronting a year that was like no other demonstrated their strength and will to succeed. Their commitment is an inspiration to their families, communities, and all of us.
To our graduates, we see you, we honor your achievements, and we wish you the best of everything in the futures that await you!
And to our donors and friends, we want to send a special thank you for believing in them and helping them cross the finish line!