|  2021 E-NEWSLETTER  |  VOLUME 21, ISSUE 2  |
Shaping the Future as We Move Forward
Today I write to you as someone who has been fully vaccinated, with hope and optimism that the worst of the COVID pandemic is finally behind us. While I know we've been communicating regularly during the pandemic and sharing news from our students and communities, I again want to thank you from my heart for all your support during the past year. You made so much possible for our students and schools, and we were constantly lifted and inspired by the demonstration of your love and care.
As I think about what's next, I think of many things – the importance of education in addressing the destruction and loss COVID caused for Native people; the need to reduce the deficits in Native communities in the areas of healthcare, food distribution, adequate housing, and technology; and the opportunities created by the conversations currently taking place around racial and social justice and the significant increase in awareness of Native people and communities.
Good things have come from increased awareness, but with those good things also come concern and trepidation. For centuries others have decided what is best for us and our communities. Today, will our voices be considered when important conversations are taking place and decisions are being made, or will others continue to try to make decisions for us? It is a giant step forward to have a Native person as the U.S. Secretary of the Interior and we are so proud to see our sister Deb Haaland in that role. But we also know that she cannot be the only person working to be sure Native voices are strongly represented in developing solutions for our communities.
And that's where education comes in. 74% of our scholars either stay or return to their homelands when they graduate, with the sole intention of using their knowledge to bring equity and justice to their communities. Supporting and empowering people to develop their own communities is one of the keys to successful, long-term change. So, we asked our scholars what justice and equity would look like in their community, and we received a lot of great – and consistent – feedback.

"For centuries others have decided what is best for us and our communities. Today, will our voices be considered when important conversations are taking place and decisions are being made, or will others continue to try to make decisions for us?"

The common themes were grounded in basic, fundamental rights and needs. Things like stronger representation in decision-making that impacts Native people; food sovereignty; a safe place to live; quality healthcare; access to education; and most importantly, not having to defend or explain their very existence.
Given where we are in our country's history, now finally feels like the time when we WILL ensure equity and justice for all Native people. But, just as Rep. Haaland cannot stand alone, neither can we. This is the time when we need you most. Your support empowers us and
strengthens our work and the efforts of our students to use this moment to make real and lasting change.
Until next time –
Pilamayayapi (thank you) for your support and friendship,
Cheryl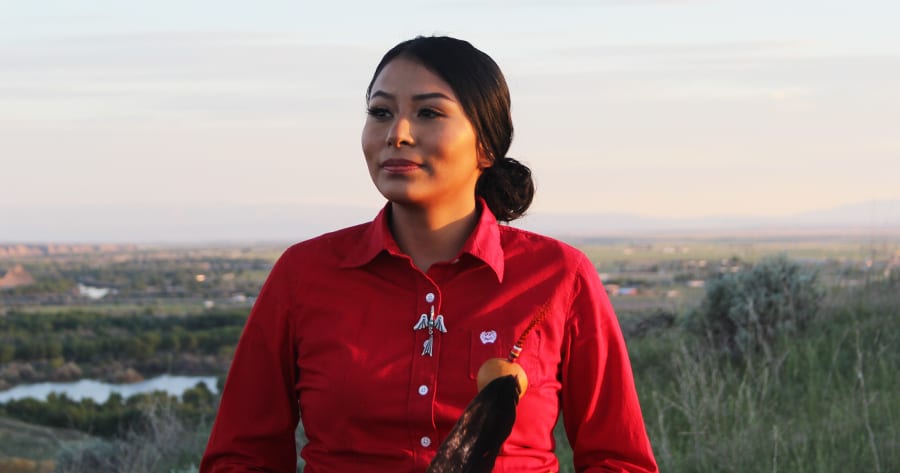 Deshawna, a College Fund scholar and student at Little Big Horn College in Crow Agency, Montana who is studying business administration, created The Courage to Bloom for the Tribal College Blanket Design contest. It was selected as the winning design from 48 entries.
Deshawna explained the arrow designs in her blanket symbolize finding a good path in life, while acknowledging the pitfalls and opportunities along the way. To honor missing and murdered Indigenous people, the hourglass shape at the base of the largest blossom symbolizes life's spiritual journey in the most difficult circumstances. "It's sad that it has to be something like this, but I hope that whoever is able to put on the design or wear it is able to get comfort from it…I hope it makes them feel good because I put good thoughts into it," she said.
The Courage to Bloom blanket is available for purchase in Pendleton's American Indian College Fund collection.
College Fund Scholar Mechelle
– From Student to Academic
Support Counselor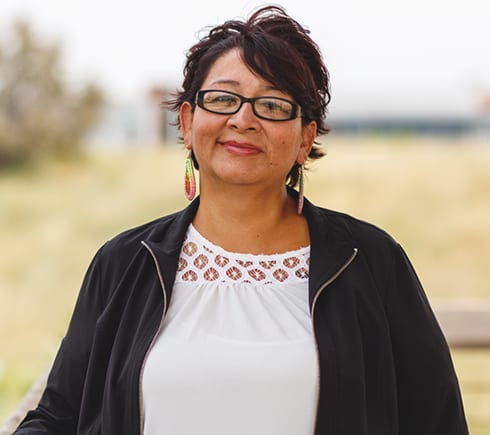 My name is Mechelle and I am a former College Fund scholarship recipient, a current College Fund Ambassador, and I work as an Academic Support Counselor at a tribally run college in New Mexico. Over the past year, my work in supporting students (which includes the children and grandchildren I have in college and grade school!) has been the most challenging and rewarding work of my life.
As a counselor I always try to meet students where they are, but over the past year that has meant working even harder to support students. If a student needed an internet connection, I would look up the mobile carrier in their area and get them a hotspot. If an older student didn't know how to email or Zoom, I walked them through it over the phone. I simply can't begin to count the many hours I've spent preparing orientation materials to send to students, and even more hours on the phone trying to support them emotionally.
I choose to pursue this path because of my own experiences as a student. For me going to school was a 'sink or swim' situation and my scholarships were the only thing that kept me afloat. The support I received from the College Fund and the mentors I met along the way inspired me to become a counselor so I can now show Native students they aren't alone and they, too, can succeed!

"For me going to school was a 'sink or swim' situation and my scholarships were the only thing that kept me afloat."

 Even though my struggles may have been different from the students I work with, nothing would have been possible for me without you. And that's even more true for students today.
What Justice Means to Us

Social media, celebrities, the news – everywhere we go people are talking about how to address the many injustices people of color experience in our world. Hundreds of millions of dollars are being committed to addressing inequity – but do justice and equity mean the same thing for everyone?
While people in general recognize injustice, what does a just world really look like? Because real justice includes empowering and resourcing people to name their own problems and develop their own solutions, we went right to the source and asked our scholars, "What would justice and equity look like for you and your community?"
This is what they said: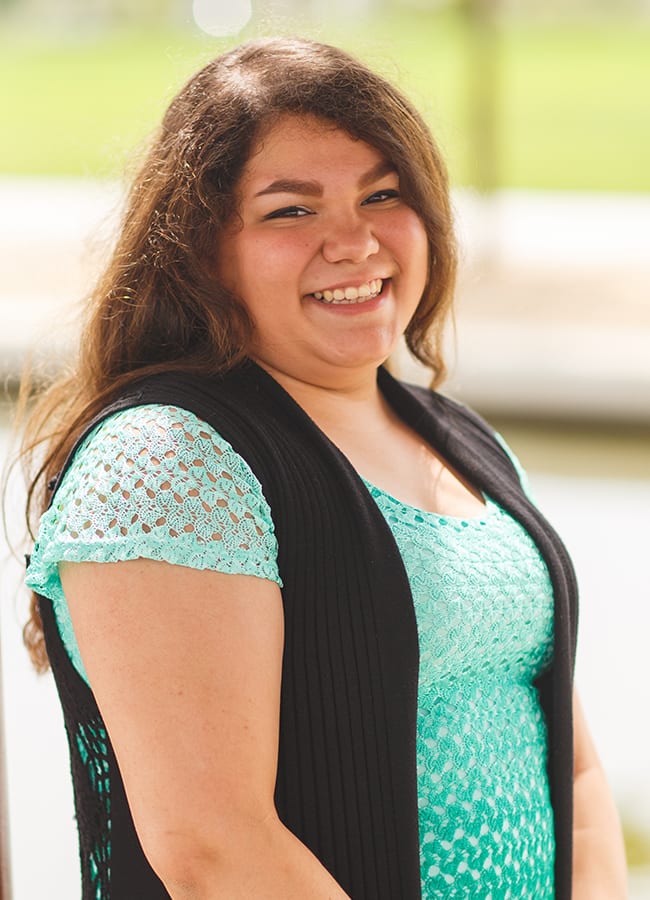 Samantha
————————————————-
"Justice is when we, as human beings, acknowledge all the indecencies inflicted on others, and work to amend, acknowledge, and prevent these atrocities from occurring again."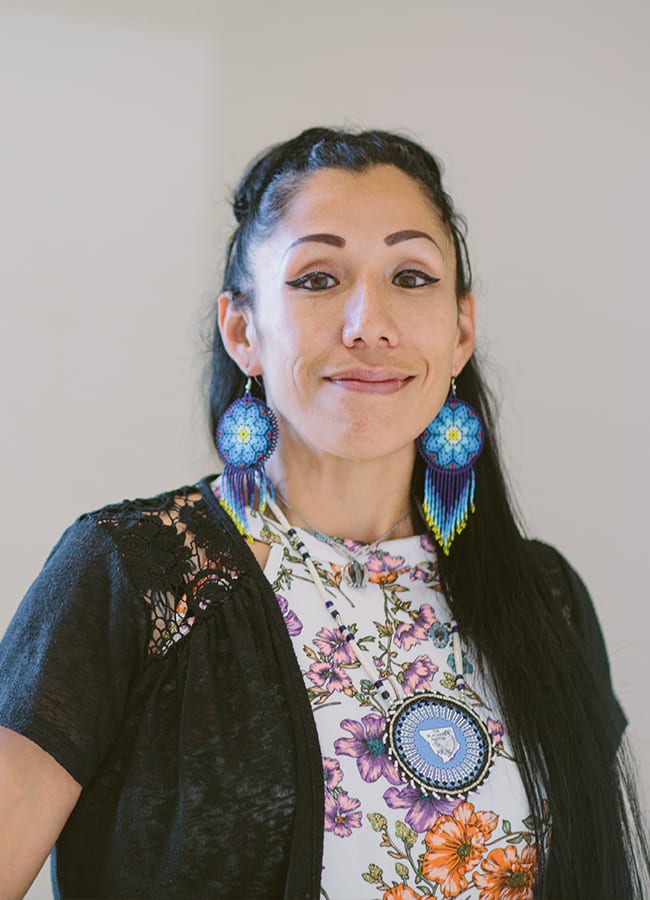 Autumn
————————————————-
"Justice is breaking cycles of addiction and trauma, which were meant to terminate us."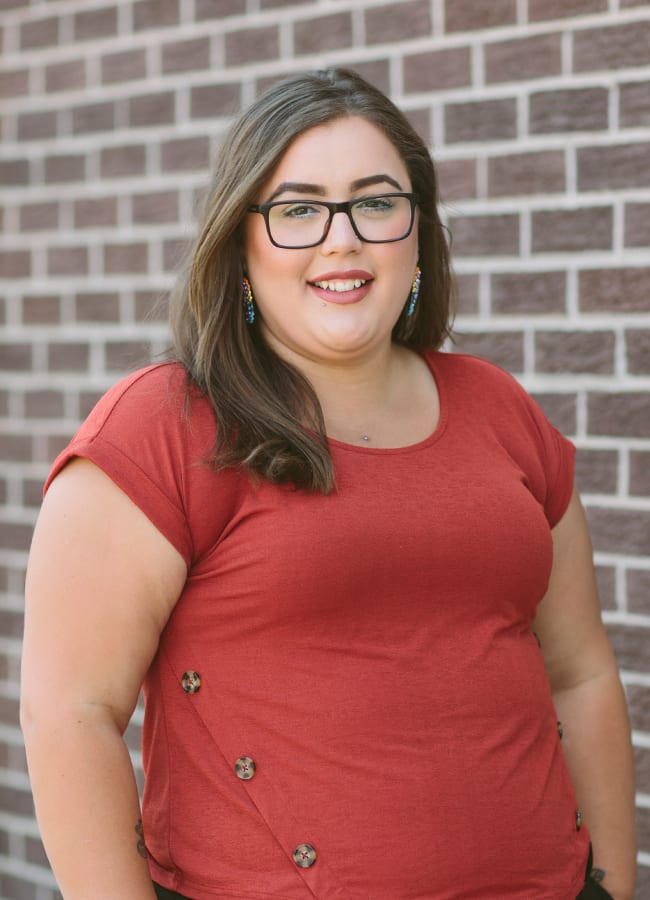 Shoshaunee
————————————————-
"Justice is when all Indigenous youth have equitable access to affordable and accessible education!"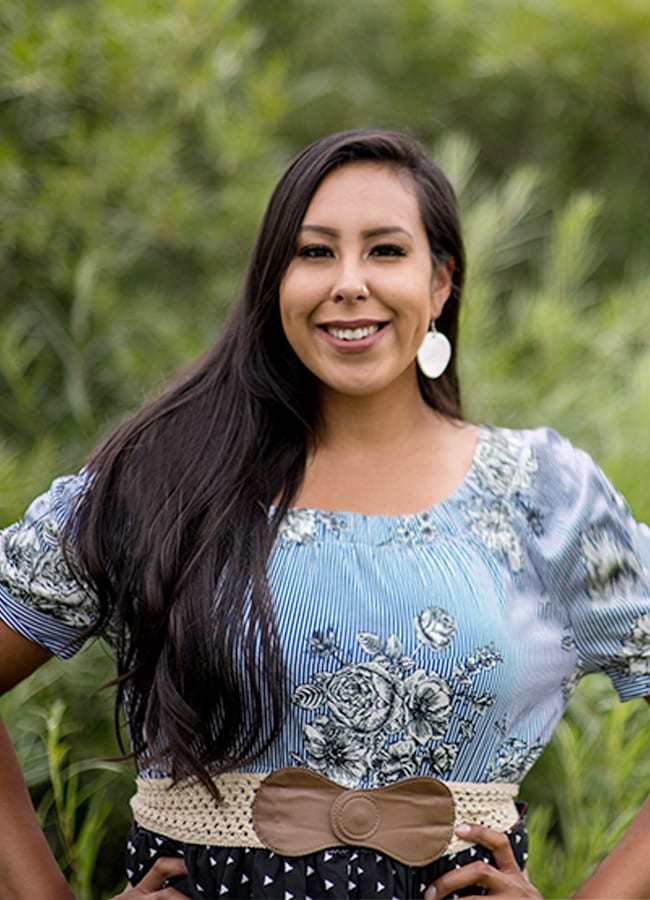 Christen
————————————————-
"My tribe (Blackfeet) has limited access into Glacier National Park. Justice is when I can harvest or gather on my own peoples' traditional lands."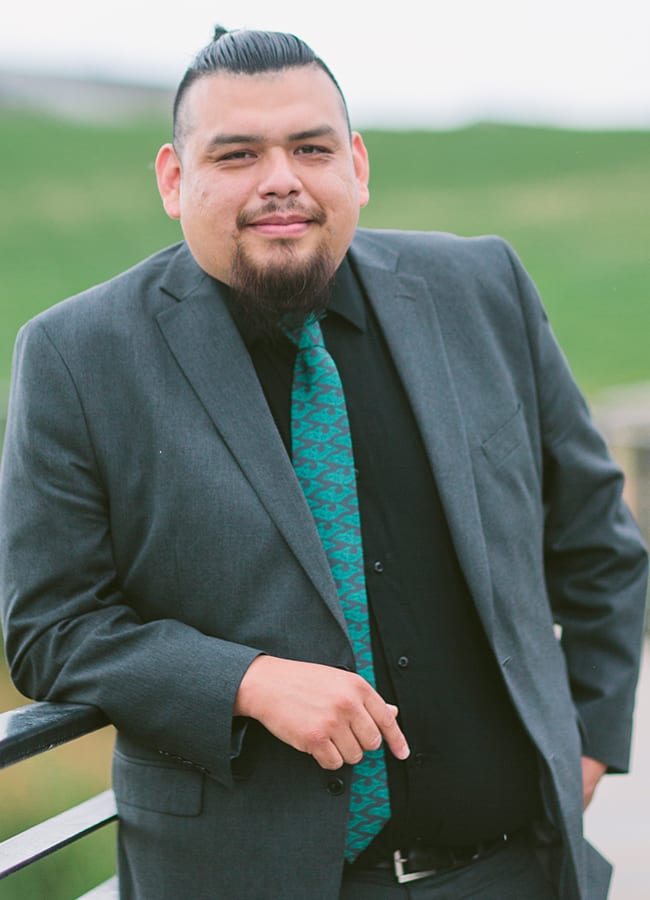 Jason
————————————————-
"Justice is when your people can continue their Sche'lang'en (way of life)."
Breanne
————————————————-
"Justice is when the history of Indigenous people is taught in K-12 schools."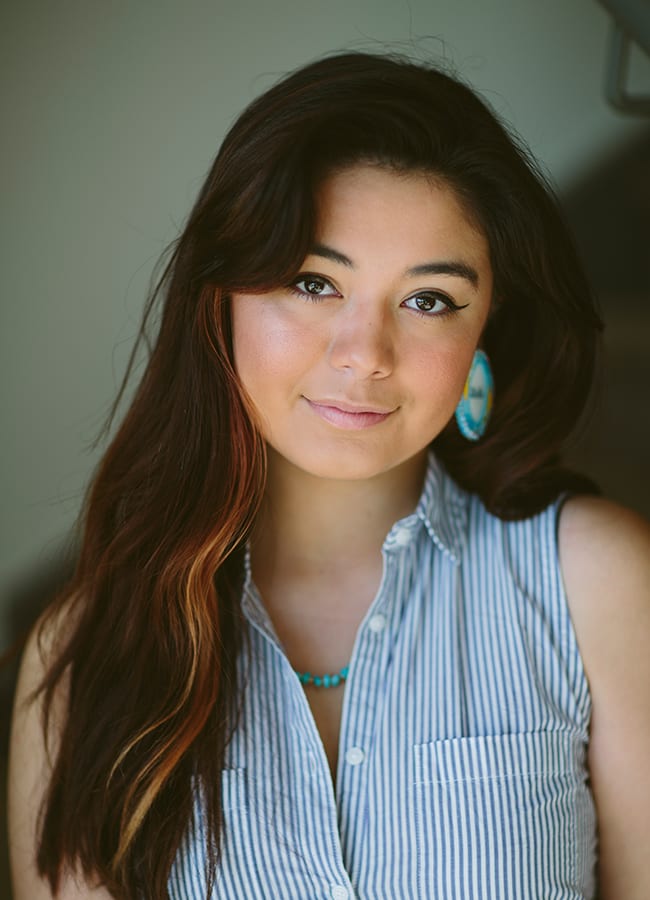 Maya
————————————————-
"Justice is more than just a seat at the table, justice is accountability and reparations."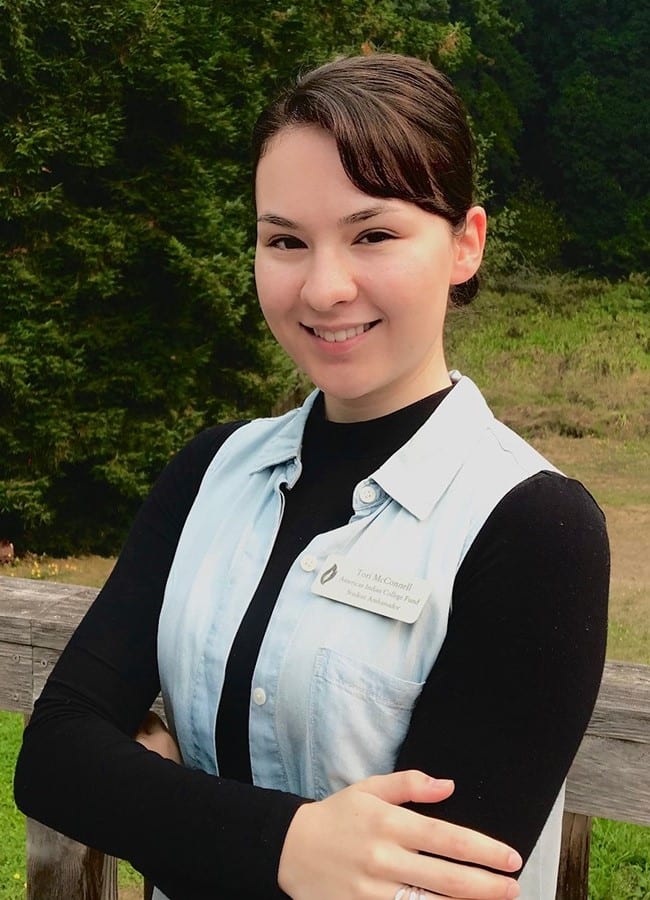 Tori
————————————————-
"Justice is when everyone has secure access to clean water, air, housing, and foods."
Meaningful Careers and Fighting a Pandemic
In considering the many urgent issues spotlighted by the COVID pandemic, the lack of quality healthcare in Native communities is at the very top of the list. With both confirmed cases and mortality rates more than double that of the general population, Native communities lost not only their treasured Elders to COVID, but also the culture, language, art forms, and history held by those who passed.
Some deeply passionate and committed College Fund supporters (who wish to remain anonymous) decided to do something that will not only increase the number of skilled healthcare workers in Native communities, but will also provide meaningful, well-paying careers for Native people. Through a $1,000,000 donation, they created the Melvin R. Seiden Nursing Scholarship Fund, with the goal of supporting more Native students as they complete their nursing degrees and provide quality AND culturally appropriate care to those in their communities.