Partners Amplify Our Voices
Students and communities alike benefit from the rich relationships we have with our corporate partners. Not only do these partnerships provide much needed financial support, they may also include internship opportunities, mentoring, student convenings and more.
We are grateful to our partners for amplifying Native voices and supporting the dreams of Native scholars.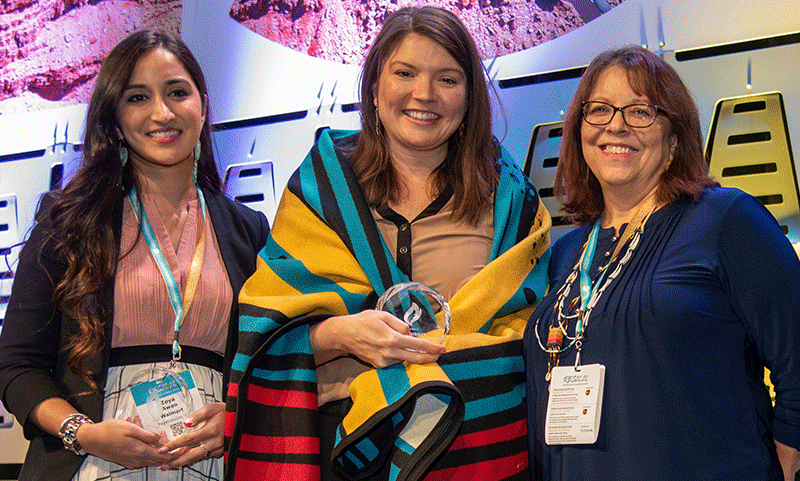 Walmart
Thank you Walmart for sponsoring Native American students with a special donation. And for understanding the importance of acknowledging and supporting the recognition of Native history and modern-day Native culture and stories.

Coca-Cola
Thank you Coca-Cola for doing your part to recognize and share stories of modern-day Native people and communities by launching a company wide commitment to promoting and supporting Native employees and communities in addition to supporting Native scholars for 30+ years through the American Indian College Fund Coca-Cola First Generation Scholarship Fund.
They will be doing the following:
-Sharing information with employees about tribal people and communities
– Amplifying the voices of Native people via social media
– Including Native representation in external presentations
– Introducing us and Native American culture and students to Coca-Cola corporate customers and suppliers
– Working with Big Y Foods to create and promote an Indigenous food recipe featured on Big Y Foods' website

U.S. Bank
Thank you U.S. Bank for hosting a series of internal events to celebrate Native American people and culture.
-Panel discussion on cultural appropriation and examples of microaggression in the workplace
-Sharing a Native American Awareness Month quiz
-Hosting a virtual community clean-up volunteer activity "Clean up Mother Earth"
– Providing a virtual crafting opportunity led by the Native American Business Resource Group

Charter Communications
Thank you Charter Communications for creating the opportunities for Native writers to pitch their scripts, projects and themselves to several network and studio development executives, as well as managers, and agents.
Charter Communications sponsored the Barcid Foundation's 9th Annual Native American Virtual Writers Pitch Fest, an event during LA Skins Fest – a Native American Film Festival November 17th – 22nd, 2020.

MGM Resorts International
Thank you MGM Resorts International for celebrating Native people and culture by using your employee website to feature one of the scholarship recipients of the MGM Resorts International Scholarship, Sydonia Yonkovich (Choctaw). Sydonia is pursuing a degree in Hospitality from North Dakota State University, which is possible thanks to your support. Thank you for helping Native scholars work toward their degrees and launch careers they are passionate about.
Partners Create Additional Funding Sources
Our students and Native communities benefit when partners' customers and the College Fund's mission align for good.
Start A Fundraiser In Just A Few Steps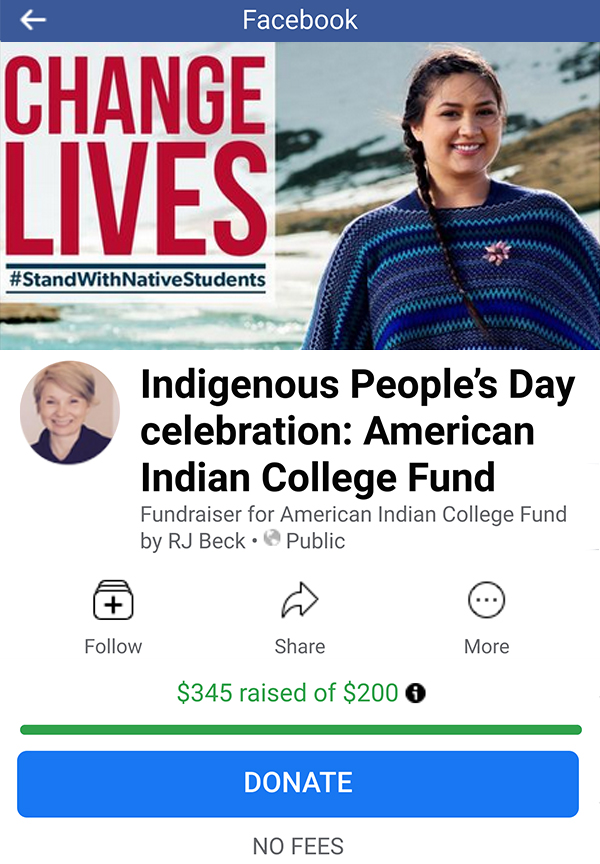 Make a wave of fundraisers!
You can do more than just support Native students and communities financially – you can grow visibility and awareness. Even sharing a friend's fundraiser is a powerful way to support Native scholars!
Start your own fundraiser in honor of Native students today.
A Conversation With Our Students
Get to know some of the students whose lives you are changing.
We understand our challenges and know what is needed to address them. We are the generation that will fuse western knowledge and tools with our cultural traditions and practices to build stronger, healthier, safer communities. We will also resolve the disconnect between tribal communities and the US government and re-establish our independence and sovereignty. We will use our knowledge to protect and manage our natural resources to create sufficient food, water and housing for our communities. We are pursuing degrees that will empower us to strengthen economic development and financial security. We will also lead the way in strengthening and updating our educational and healthcare systems. We will be less vulnerable as people and communities in the face of health crises and natural disasters.
Know Us and Stand With Us
Other Ways to Stand With Native Students