College Glossary
You have made the decision to go to college. Here are key terms and phrases that you'll encounter when talking to people about college.
Admission Tests
These are tests designed to measure students' skills and help colleges evaluate how
ready students are for college-level work. The ACT and the SAT are two standardized
admission tests used in the US. collegeboard.org/sat & act.org
Associate Degree
This kind of degree indicates the completion of a two-year college program.
Bachelor's Degree
A four-year degree awarded after completing 120 semester credits (approximately 40 college courses).
College Credit
Credits are measured in terms of credit hours. One credit hour equals one hour in class
per week. For each credit hour you will probably spend two to three hours outside of
class studying.
Common Application
A standard application form accepted by 700 colleges. You can fill out this application
once and submit it to any one of the colleges that are members of the Common Application Association.
Community and Technical Colleges
These schools offer associate degrees and certificates, as well as prepare students for
specific trades.
Cost of Attendance (COA)
The total amount it will cost you to go to college each year.
Deferred Admission
A student who has been accepted into college has permission to postpone their enrollment date, usually for one year.
Early Action (EA)
An option to submit your applications before the regular decision deadline. This allows a student to get admission decisions early, and if accepted are not required to enroll in the college if you are not accepted.
Early Decision (ED)
An option to submit your applications before the regular decision deadline. This allows you to get your admission decisions early and if you are accepted you are REQUIRED to enroll in the college if you are accepted.
Eligibility
Criteria determined by a group or organization to satisfy requirements for an award
or status.
FAFSA or the Free Application for Federal Student Aid
The standard form that all students and their parents/guardians must complete to apply
for federal and state need-based assistance/and programs and for some campusbased assistance/aid. studentaid.gov/fafsa
Full-Time Enrollment
To be considered a full-time student, you must enroll in 12 quarter or semester credits each term.
Grant
This is money you receive and do not have to pay back.
Letter of Recommendation
Letters that are written for you and about you, by trusted individuals like a teacher counselor, mentor, or employer.
Loan
A loan is money you borrow and must pay back with interest.
Open Admission
A policy of accepting any high school graduate, no matter what his or her grades are, until all spaces in the incoming class are filled.
Residency Classification
A process in which a student is classified as a resident student of the state or a nonresident student.
This classification process will determine the tuition rates that a student must pay.
Résumé or Resume
A document that presents a person's backgrounds and skills for acquiring employment or as supporting documentation to an application.
Rolling Admission
An admission policy that gives students a large window of opportunity to submit their application materials as the material becomes available.
Safety School
A school to which you know you will be accepted and may be considered a "backup" in case other schools do not work out.
Scholarship
Money awarded to you based on criteria such as academics, athletics, community service or financial need to help pay for education expenses. Scholarships do not have to be repaid.
Vocational or Trade School
Colleges that offer specialized training, skills or education for specific fields, such as plumbing, carpentry, etc.
Waitlist or Waiting List
Colleges can waitlist a student, which means the college has not officially accepted the student but may offer admission if space becomes available. Colleges are waiting t hear from accepted applicants before they fill spaces with students from the waitlist.
Native Pathways Guidebook
This culturally-relevant guide was developed to empower Native students to prepare, plan and successfully take the first steps of their higher education journey – with their identity firmly in hand. Helping students navigate school choice, applications, finances, and their first year at school, it includes contributions from Native graduates, professionals and artists.
Native Pathways to College
We're here to help you prepare for college, and be successful when you arrive. Check out all of our student tips and resources to, no matter your path!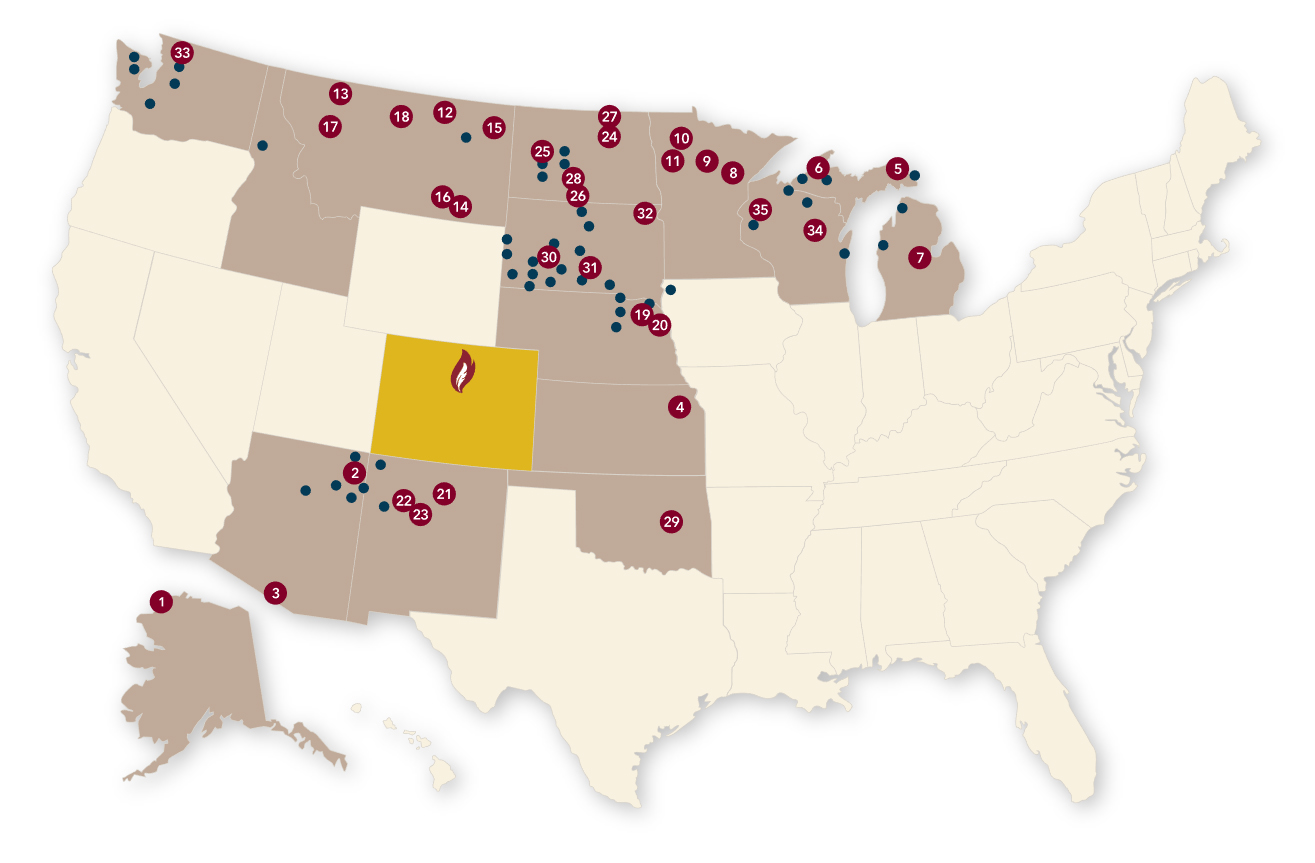 Tribal Colleges & Universities
The American Indian College Fund supports 35 tribal colleges and universities (TCUs). Discover a campus near you to unlock new opportunities.