American Indian College Fund 2018 Flame of Hope Gala to Help Provide Access to College for Native American Students
Vanguard Group Founder John Bogle Will Be Honored
Only 14% of American Indians have a college degree. The American Indian College Fund is changing that by providing Native students with access to a life-changing higher education. To support Native students in their efforts, the College Fund is hosting the 2018 Flame of Hope Gala on April 11 at Gotham Hall, 1356 Broadway, New York City. The event, which begins at 6:30 p.m. with a cocktail reception is followed by dinner at 7:30 and entertainment.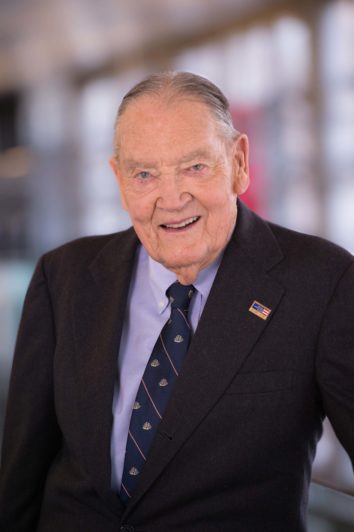 The College Fund will honor John Bogle, Founder of Vanguard Group, with its Billapaache Award. Billapaache means friend of the people in the tradition of the Apsaalooke (Crow) people of Montana. As a long-time American Indian College Fund supporter, Bogle has helped more than 500 American Indian students get a college education and served on the College Fund's Board of Trustees from 1996-2002. "Mr. Bogle helped create a stable and sustainable organization, which allows us to provide much-needed resources to thousands of American Indian students each year," says Cheryl Crazy Bull, President and CEO of the American Indian College Fund.
Speakers for the evening include current and former College Fund scholars Maya Ditloff, a film major at the University of California in Los Angeles who is working for the Native fashion designer b. Yellowtail; Breanne Luger, a Sitting Bull College student pursuing a bachelor's degree in elementary education and Native American Studies; Katie Jones, an alumna of Stanford University, Sinte Gleska University, and Yale University Law School and now an attorney at Kanji & Katzen; Len Necefer, an alumnus of Arizona State University, Carnegie Mellon University (where he earned a Ph.D.) and currently the CEO of Native Outdoors and assistant professor of American Indian Studies at the University of Arizona; and Tada Vargas, an upcoming graduate of Oglala Lakota College and research assistant studying bison genetics.
Attendees will enjoy headline entertainment by two-time Grammy Award-winning musician Rita Coolidge. Ms. Coolidge launched her singing career in 1969 with Delaney & Bonnie and Friends and went on to share the stage with such greats as Joe Cocker, Eric Clapton, George Harrison, Leon Russell, and her former husband Kris Kristofferson, to name a few. Her recording career has spawned several dozen albums worldwide including her multi-platinum disc "Anytime…Anywhere", which featured three of her biggest hit singles including "Higher & Higher," "The Way You Do The Things You Do", and "We're All Alone." As a Cherokee woman her most heartfelt commitment remains to the Native American community. Her Cherokee heritage and beliefs carry her through life with a philosophy of, "If we have the vision and the dream, anything can come true."
The Institute of American Indian Arts student musician Adrian Wall will perform on the flute. Adrian first started playing bass guitar in his teens. After being introduced to Native flute music, his first instinct was to combine what he knew about the Western music theory with traditional Native American flute. Today he uses technology to combine his musical influences and perform melodic, hauntingly beautiful arrangements. Adrian is the recipient of two Native American Music Awards (NAMA) with the Native rock band Red Earth. He has also received several nominations to the NAMA awards, include a best producer credit.
The Institute of American Indian Arts in Santa Fe, New Mexico will host a student art sale at the event, featuring a range of pieces from silver jewelry, mixed media, and ceramics. One hundred percent of the proceeds will benefit the artists.
The Presenting Sponsor of the 2018 Flame of Hope Gala is AT&T. Additional sponsors include Comcast NBC/Universal, Walmart, Amergent, Anheuser-Busch Companies, CBS Corporation, Coca Cola, Fed Ex, Ford Motor Company, Lannan Foundation, VeraData, Vladimir Jones, UPS, and Weil, Gotshal & Manges, LLP.
Journalists: Please contact Dina Horwedel at the American Indian College Fund at 303-430-5350.
Download the press release here>>