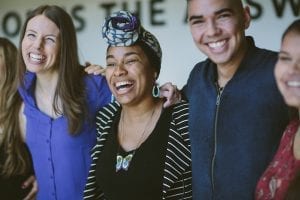 Native American and Alaska Native students are in a college-going and completion crisis. Research shows the national rate of all students going to college within six months of graduation after high school is 70%. For Native American and Alaska Native students, those numbers are closer to 20%.
The American Indian College Fund knows that education improves the lives of individuals, their families, and entire communities, yet scholarships are not enough for student success. It needed to create a college-going culture with prospective students to ensure the transition to college and support them while in college. Thanks to a $2.5 million grant renewal for 36 months from the Andrew W. Mellon Foundation, the College Fund will continue its work to increase college access and success through the College Fund's Native Pathways to College Program.
The College Fund's Pathways program is divided into four components working with students. The High School Admissions Pathway program works to increase the college-going rate of Native Pathways participants closer to the national college going rate. The College Bridge Pathway works to bring Tribal College and Universities (TCUs) and area high schools together to help prepare students for the academic and social environments at college. The Tribal College Transfer Pathway aims to increase the retention rate of TCU students, increase the number of TCU graduates, and increase the number TCU graduates transferring to a four-year institution. The Student Success Pathway will support successful transition and increase retention of students who transition into a new institution of higher education.
The program will continue its work in broadening a college culture and college completion at more schools across the nation, with the goal of working with 90 reservation-based high schools and 30 TCUs in 11 states, impacting approximately 16,000 students. The College Fund will provide training materials and will work with students, staff, and community members on college access workshops, coaching, and events.
Cheryl Crazy Bull, President and CEO of the American Indian College Fund, said, "The College Fund and the Andrew Mellon Foundation share a vision of equity that emerges when young people see themselves as having an education that leads to a better life. Engaged, active citizenship rooted in Native identity is our goal. We know that all of society benefits from healthy communities, diverse knowledge, and improved economies. We are pleased that the Andrew. W. Mellon Foundation looks beyond the academy to the future of our society in our youth."
About the American Indian College Fund– Founded in 1989, the American Indian College Fund has been the nation's largest charity supporting Native higher education for 30 years. The College Fund believes "Education is the answer" and provided 5,896 scholarships last year totaling $7.65 million to American Indian students, with more than 131,000 scholarships and community support totaling over $200 million since its inception. The College Fund also supports a variety of academic and support programs at the nation's 35 accredited tribal colleges and universities, which are located on or near Indian reservations, ensuring students have the tools to graduate and succeed in their careers. The College Fund consistently receives top ratings from independent charity evaluators and is one of the nation's top 100 charities named to the Better Business Bureau's Wise Giving Alliance. For more information about the American Indian College Fund, please visit www.collegefund.org.