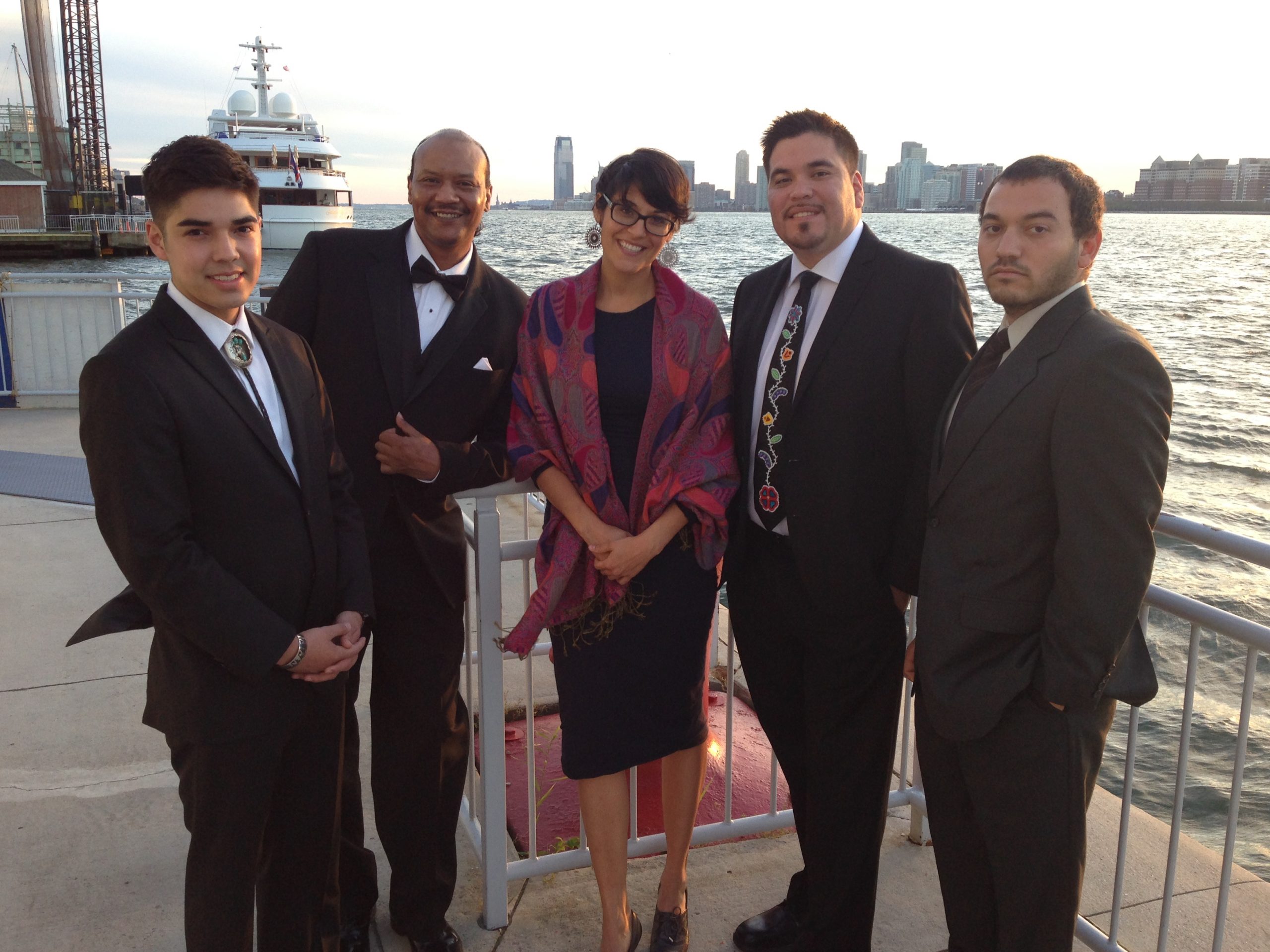 Above: American Indian College Fund Scholarship recipients in attendance of the 25th Anniversary New York City Gala are (from left to right) Joaquin Ray Gallegos, University of Colorado Denver; Lloyd Frieson Jr., College of Menominee Nation; Jessica Horstmann, Yale University; Jeremy Wilson, Fond du Lac Tribal & Community College, and Luke Tyree, Yale University. Cholena Smith (not pictured), a scholarship recipient attending St. John's University addressed the guests at the gala.

The American Indian College Fund (the College Fund) kicked off its 25th anniversary celebration and fundraising efforts with a black-tie gala that raised more than $1 million to benefit Native American education. The organization also announced several lofty goals for its future. The gala was held October 20, 2014 at Pier Sixty in New York City and was the largest and most successful fundraising event in the organization's 25-year history. The funds raised at this event will help provide up to 700 scholarships to American Indian and Alaska Native students.
Dr. Cheryl Crazy Bull, President and CEO of the American Indian College Fund, announced the organization has set a goal to increase current graduation rates to 60% by 2025 at its 34 tribal colleges and universities across the country.
A college preparedness program and revamping of the scholarship opportunities process are also in development, and a lofty goal has been set to serve 200,000 students by the year 2020, which would double the number of students served by the College Fund in its first 25 years. Unique efforts are underway to encourage the pursuit of STEM (Science, Technology, Engineering & Math) careers in order to increase earning opportunities as well, with a lead gift supporting these efforts recently acquired .
"We want to help every Native American in the communities we serve whose goal is to attain a higher education," said Dr. Crazy Bull. "The major obstacle facing our students is a financial one. Too many Native Americans are leaving their dreams – and their potential – behind. Currently only one in 20 of our applicants can afford to go to college without financial assistance. Our scholarships help students get into institutions of higher learning and programs that set our students up for success once they are there. We can change these statistics while making a substantial impact not just on our students lives, but on the lives of their families and the people in their communities."
In the past 25 years, the American Indian College Fund has awarded more than 100,000 scholarships, touching the lives of tens of thousands of students and their families. In 2013 alone, the College Fund distributed nearly $6 million in scholarship and program support to help more than 4,000 students. More than 1,500 of these students were the first in their families' histories to attend college.
As the College Fund celebrates its 25 year of service to providing Native Americans greater access to higher education, it is also looking forward to the future for ways to improve graduation rates for disadvantaged students and also build strong, prosperous tribal communities and nations, which all ultimately improve the quality of life for all people and hugely impact our country as a whole.
The 34 tribal colleges across the country also have expertise in developing student success programs. Graduation rates for Native Americans who attend tribal colleges are higher than for those who go through mainstream colleges. The College Fund is particularly focused on assisting rural, low-income students and those who are first-generation college students as they face the greatest challenges.
Holding the 25th anniversary event in New York City had special significance as the American Indian College Fund was established in 1989 in New York to raise funds for American Indian scholarships and to support the nation's tribal colleges and universities. Today 34 tribal colleges are located on or near Indian reservations across the country and provide higher education access to people living in remote, rural communities.
The New York event drew nearly 500 supporters for American Indian scholarships and tribal colleges and universities from across the country. Native American entertainers welcomed guests, who also enjoyed a silent auction of unique Native American art and jewelry. The event also honored six student scholars who served as gala ambassadors.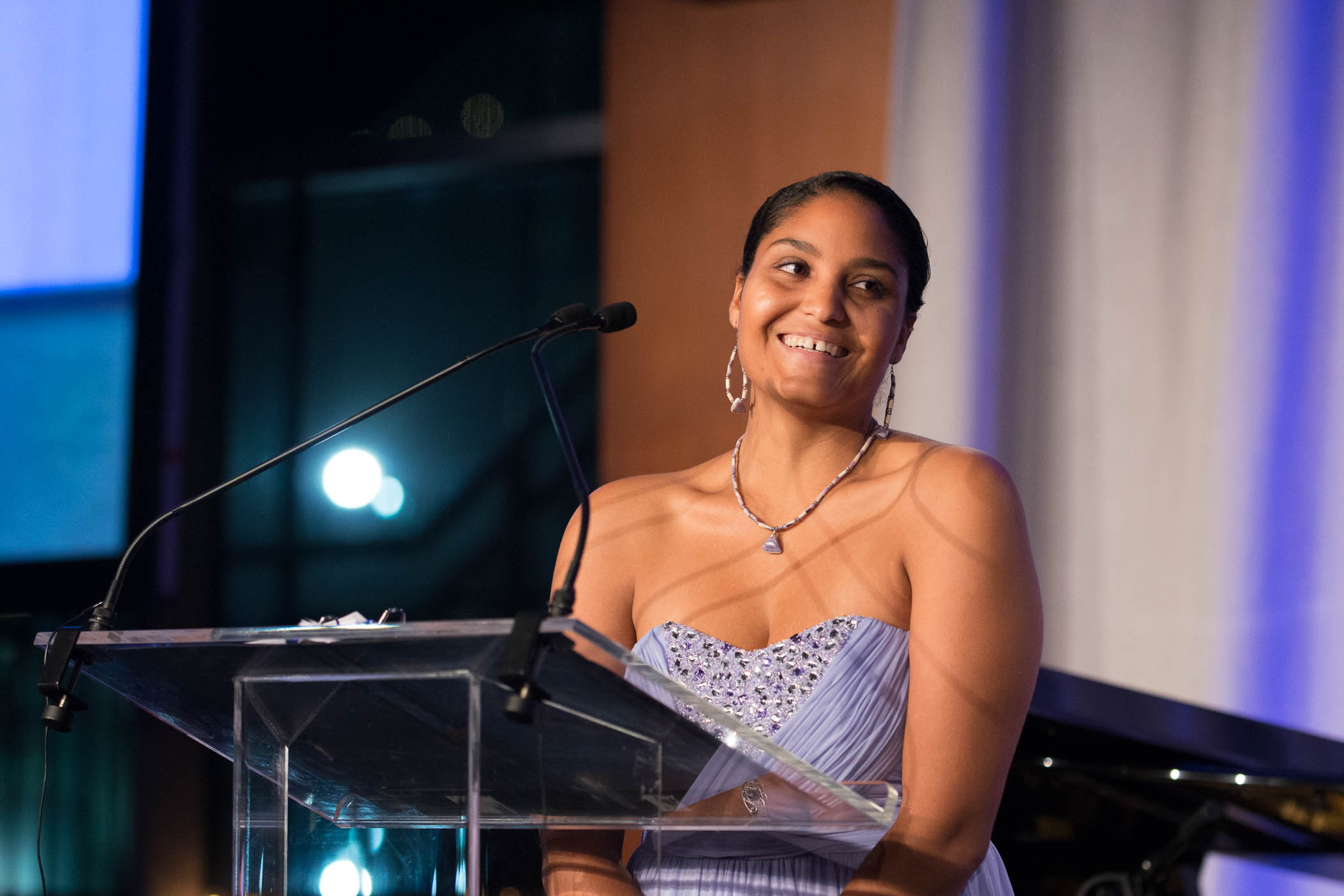 Guests were also treated to a special performance by Tony-award winning Broadway powerhouse vocalist Idina Menzel. VIP sponsors for the event also enjoyed an after-party with Ms. Menzel. Emmy-award winning television journalist David Ushery, who co-anchors the weekend editions of NBC 4's "News 4 New York" and the creator and host of "The Debrief with David Ushery," served as the event emcee.
"On behalf of the College Fund, I share my deep appreciation for the joyful celebration of the beginning of our 25th anniversary year at our New York City Gala," said Dr. Crazy Bull. "Our Gala brought back many memories of the beginning years of the College Fund, and we had a wonderful time with old and new friends. The beauty of the event is that not only did we celebrate, we supported more scholarships for many more tribal students through the generosity of our sponsors and supporters."
In honor of its 25th Anniversary, the American Indian College Fund will also be holding gala events in Los Angeles on April 11, 2015 and in Chicago in May 2015.
25th Anniversary National Sponsors include: Presenting Sponsor: Toyota Motor Sales USA. Gold Sponsors: Comcast NBCUniversal and Wieden+Kennedy. Silver Sponsor: Ford Foundation.
25th Anniversary National Sponsors include: Presenting Sponsor: Toyota Motor Sales USA. Gold Sponsors: Comcast NBCUniversal and Wieden+Kennedy. Silver Sponsor: Ford Foundation.