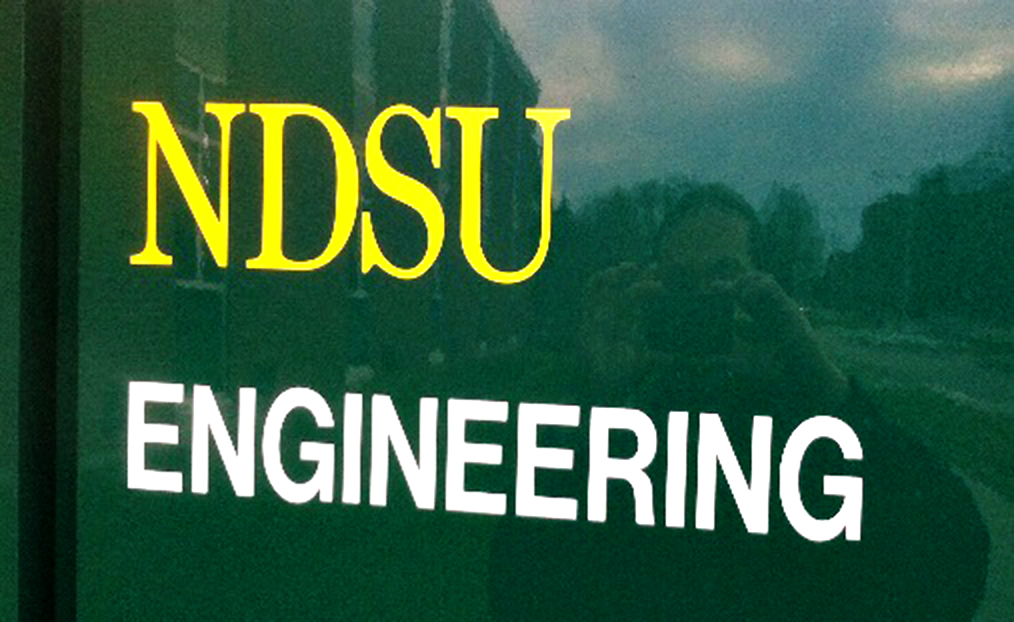 My name is Dane Allapowa and I am a sophomore at Cankdeska Cikana Community College (CCCC); a tribal college in Fort Totten, N.D., on the Spirit Lake Reservation. Thanks to the American Indian College Fund's Native Pathways to College program, I was able to take a tour of my prospective college,  North Dakota State University (NDSU).
As I drove down North University Drive in Fargo, I passed a huge building called the "Fargodome." According to my itinerary, I was just around the corner from the NDSU campus. I immediately recognized the football field from TV; since the NDSU Bison won four NCAA Football Championships and is always on the news.
As I pulled in to the admissions building I thought it looked like an old castle. Upon entering, I saw that this building was home to more than admissions. It was also the home of NDSU's TRIO office, housed the transfer counseling offices, and the top floor housed a professional counselor's office to help students to cope with stress and college workloads.
A lot of prospective students were waiting for a tour in admissions. Once we all met and introductions were made, I realized I was the only potential student living in North Dakota. Others were from Kansas, Florida, and a student all the way from North Carolina. This told me that if NDSU had people coming from that far it must be a good school.
We began the tour and walked by some pretty impressive buildings, including the President's house on campus and the Criminal Justice Hall (or as I like to call it, the Criminal Hall of Justice). Our guide took us to the Writing and Learning Center where students can take their essays for evaluation and help with finalizing their work free of charge. We also visited the NDSU campus library (the school also has a large library downtown). Hundreds of books were arranged on huge stacks and towards the back of the library computers were arranged for an on-line library. The library also had a lab for homework, various study rooms, and PC and Mac computers ready for student use. As we left the library and rounded the corner we ran into a huge bison art sculpture.  We were told it was one of five located around campus.
Next we visited the tri-level Health and Wellness Center. At the entrance was a huge rock-climbing wall extending from the first floor to the top. Students can take an extra-credit course in rock climbing for one credit. Located behind the wall were three large basketball courts and a running/walking track around the courts. Treadmills and exercise bikes were located by overlooking bay windows, providing a good view for people exercising.
We arrived at Health and Wellness center in the middle of a pickup game with the NDSU Bison basketball team. They were going hard doing 360 dunks and deep three-point shooting. We continued our tour to see a racquetball match on the court, weight-lifting equipment, and dance and martial arts training studios.
Next we walked to the freshmen dorms and viewed the male's residence halls; which had nice rooms with access to cable and internet. We proceeded to one of the three dining halls on campus, which was connected to the women's freshman halls and had the same amenities. We walked to the "Newman Outdoor Field" where the NDSU men's baseball team plays and the City of Fargo's Red Hawks team play. Along the lane we also saw the School of Pharmacy and School of Engineering, followed by the three-story NDSU union.
Inside we visited the Cultural Diversity center and the NDSU book and gift store. On the bottom floor are five restaurants serving students and visitors burgers, Chinese food, pizza, and sub sandwiches. The union also includes places for students to unwind and take a break from stressful studies, including a billiards room and a bowling alley.
After the tour I met with a transfer counselor to get started on my application, which is just what I needed after I got all the necessary information. I went to the mechanical engineering building where I had an appointment with, Dr. Chad Ulven. Before our meeting I had a tour of the mechanical engineering building. I was shown the main office and the labs; the first lab was Product Testing. It was neat to witness how they could set your project on fire to determine melting time, smash it to see how much pressure it could take, determine if it was waterproof, and put it through to electric shock tests.
Next I visited the robotics Lab. There they had various projects from years past including the Mars Rover, a hopped-up snow plow, and various robots. One robot even assisted handicapped people with climbing stairs in their wheel chairs. Finally, I visited the automotive engineering lab.  They had all kinds of machining tools; a cherry picker, value grinding set-ups, and an engine cleaning bay. I know this is where I will spend most of my time.
Once I finished my tour I was introduced to Dr. Ulven. He is a mechanical engineer from the University of Alabama in Birmingham, Alabama. Like me, Dr. Ulven, got his start in the automotive field and decided to go on the mechanical educational path. He told me about how he got to where he was and I told him what my educational goals were. He let me know about various resources to help me along my journey and we talked for an hour until I had to leave. It was great. I was already excited to transfer to NDSU and I thought I couldn't get any more excited. I was wrong! I am beyond stoked!  After my campus visit at NDSU, all I wanted to do is go back to Cankdeska Cikana Community College and kick it in gear and score a good GPA for my application. I can't wait to be a Bison.