Historic $17.5 Million Five-Year Wisdom of the People Program Concludes
October 22, 2012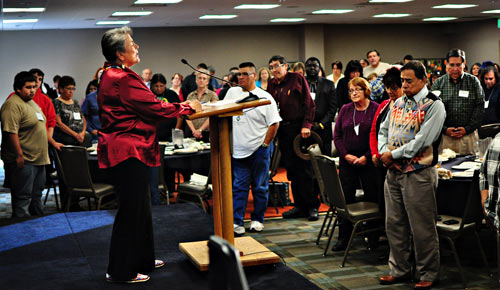 The American Indian College Fund's historic five-year $17.5 million grant from Lilly Endowment Inc., named Woksape Oyate, Lakota for "Wisdom of the People," has concluded its final year. The program helped 32 tribal colleges build upon Native intellectual capital by tailoring programs to address individual school needs while strengthening the entire tribal college system.
Woksape Oyate enhanced many tribal college functions, including faculty, staff, and student recruitment, retention, and development and leadership development. The program created pipeline programs to educate and keep the best and brightest students as teachers at their tribal college, addressing the issue of "brain drain" in remote Native communities.
The initiative also grew tribal colleges as academic centers of excellence in their reservation communities. Under the program, the schools developed honors programs, encouraged exchange programs to attract internationally-renowned instructors to their campuses, and provided professional development opportunities for faculty to expand their expertise, while also providing scholarship support to their brightest students.
One of many program's successes is that of Megan Shanahan. She began working at Keweenaw Bay Ojibwa Community College (KBOCC) as an admissions officer and adjunct instructor, teaching a computer class. When the Woksape Oyate project began, the president offered her the opportunity to pursue her master's degree at no cost. This was always Megan's dream, but prior to the Woksape Oyate program, financial constraints made it difficult to achieve.
Megan enrolled at Wayne State University in southern Michigan in fall 2009. After traveling more than eight hours each way for exams, it was not feasible for her to complete her degree so far away. Megan decided to pursue her master's degree online, enabling her to continue working full time while taking a full load of courses. Sixteen months later, Megan completed her master's degree. The Woksape Oyate grant allowed Megan to further her education, earn a promotion as KBOCC's business officer, teach business classes, revise accounting policies, develop new financial aid policies, and fulfill a life-long dream.
A video summarizing the Woksape Oyate program can be viewed below or on the Fund's YouTube channel at youtube.com/thecollegefund.
Lilly Endowment is an Indianapolis-based private philanthropic foundation created in 1937 be three members of the Lilly family—J.K. Lilly Sr. and sons J.K. Jr. and Eli—through gifts of stock in their pharmaceutical business, Eli Lilly and Company. The Endowment is a separate entity from the company devoted to the causes of education, religion and community development.