"Many Nations" The Latest American Indian College Fund Student-Designed Pendleton Blanket, Now Available For Purchase
Diné College Student, Dustin Lopez, Creates Winning Design
Denver, Colo., March 23, 2023 — Pendleton Woolen Mills, the acclaimed lifestyle brand of Portland, Oregon, together with the Denver-based American Indian College Fund, has announced that the winning Tribal College Blanket Design for 2022, Many Nations, is now available for purchase in Pendleton's American Indian College Fund collection.
Pendleton has created wool blankets in partnership with the American Indian College Fund for more than 20 years. A portion of the blanket line's sales support about $50,000 in Native student scholarships annually. Pendleton also contributes to a scholarship endowment, today valued at over $1 million.
Dustin Lopez is a student at Diné College pursuing a Bachelors of Fine Arts degree. His winning design, Many Nations, was selected from 107 entries. As the winning designer, Lopez will receive a $5,000 scholarship, $2,000 for books and incidentals, and six blankets for his design portfolio.
Lopez explained that the design of Many Nations is meant to represent the identity crisis felt by Indigenous people who are descendants of more than one tribe or have some non-Native ancestry. Indigenized DNA strands pay tribute to water as the element we cannot exist without. The hourglass shape is made up of the initial M and B for "mixed-blood," but the hourglass also symbolizes the Tsiiyéeł, or matriarchal society, for many Navajo artists. Star shapes represent parents, both biological and figurative, that pass along traditional teachings and help those struggling with their identity to navigate the world on and off the reservation.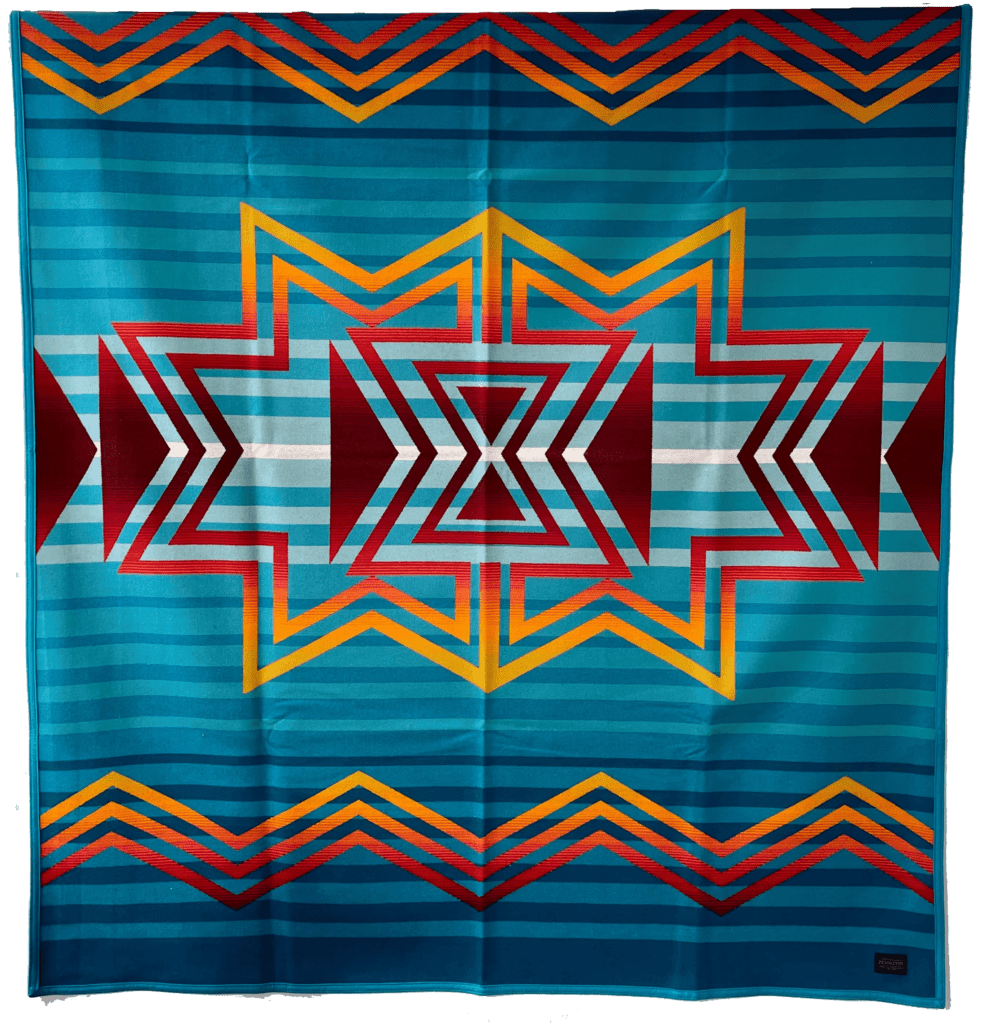 Lopez used a serape design to honor the Yaqui and Laguna Pueblo side of his family and those shades of red that reminded him of his home in Coyote Kills Canyon. Finally, the triangles represent the artist radiating with pride, a feeling he hopes to instill in other Indigenous people with all his works, no matter the mixture of their DNA.
This piece, along with many of Lopez other designs, was partly inspired by the acceptance he found in the powwow circle. "In powwow we have many 'inter-tribal' dances, and we normally dance for prayer. It was in that arena that I learned to embrace my nations as I would the dances with a full heart and open mind."
Lopez previously served as a firefighter for four years until a month-long bout with COVID-19 forced him into an early retirement. He spent the next several weeks in reflection before deciding to apply to Diné College. Lopez had already owned his own graphic design/creative company for 14 years by that time but wanted more. Once he completes his bachelor's degree, he plans to transfer into the Master of Fine Arts track with a focus in graphic design and teaching.
The Tribal College Blanket Design Contest is open to all Native TCU students. Applications open every November on the College Fund's website at https://collegefund.org/pendletoncontest. The contest seeks to create greater recognition for promising artists' work, to provide valuable design experience working with an internationally known brand, and to give students scholarships and cash awards to assist with college costs. The program also helps the College Fund and Pendleton honor the richness of Native arts, cultures, and stories by sharing original Native student designs with the public.
About Pendleton Woolen Mills Pendleton Woolen Mills is a heritage brand and the leader in wool blankets, apparel and accessories. Weaving in Oregon since 1863 and located in Portland, Oregon, Pendleton weaves iconic designs in two of America's remaining woolen mills, located in Pendleton, Oregon and Washougal, Washington. With six generations of family ownership, Pendleton is focused on their "Warranted to Be a Pendleton" legacy, creating quality lifestyle products with timeless classic styling. Inspiring individuals from the Pacific Northwest and beyond for over 150 years, Pendleton products are available at Pendleton stores across the US, select retailers worldwide, and on pendleton-usa.com.
About the American Indian College Fund—The American Indian College Fund has been the nation's largest charity supporting Native higher education for 33 years. The College Fund believes "Education is the answer" and provided $14.45 million in scholarships and other direct student support to American Indian students in 2021-22. Since its founding in 1989 the College Fund has provided more than $284 million in scholarships, programs, community, and tribal college support. The College Fund also supports a variety of academic and support programs at the nation's 35 accredited tribal colleges and universities, which are located on or near Indian reservations, ensuring students have the tools to graduate and succeed in their careers. The College Fund consistently receives top ratings from independent charity evaluators and is one of the nation's top 100 charities named to the Better Business Bureau's Wise Giving Alliance.
For more information about the American Indian College Fund, please visit www.collegefund.org.
Reporters: The American Indian College Fund does not use the acronym AICF. On second reference, please use the College Fund.
Photo 1: Dustin Lopez with his award winning Pendleton Blanket Design.
Photo 2: Many Nations blanket design.