by Megan Thoms
What do you think of when you think of a community college?  I simply think of a two-year institution that students attend before transferring to a four-year institution. That was before I visited Navajo Technical College (NTC), a tribal community college that just recently became a four-year institution.
Navajo Technical College is located on the Navajo reservation in Crownpoint, in northwest New Mexico, a town with a population of about 2000 people.  The closest 'city,' Gallup, is about an hour away and has a population of about 21,000 people.
Community oriented, inspirational, and cutting edge are just a few of the words I would use to describe Navajo Technical College.
Community Oriented.  It is immediately noticeable when stepping onto campus that NTC is not only a part of the Navajo community, but embraces the community.  The community is part of their history.  The Navajo Nation chartered the college in 1979.  NTC exists to serve their community, the Navajo Nation.
Like most community colleges, NTC provides practical degrees so that their students can find jobs and succeed after graduation.  However, unlike most community colleges, NTC provides housing for families and single students, transportation, and even a daycare center.  Due to the fact that many students commute up to 100 miles each day to get to NTC, NTC provides a van for students to get to and from campus, from as far as Farmington (82 miles away) and Pueblo Pintado (43 miles away).
If anything demonstrates commitment to community it's the Internet to the Hogan project.  Due to its rural location, NTC immediately realized that a fast internet connection is absolutely necessary in order to advance their programs and their students, essentially in order to run a successful college.  The Internet to the Hogan project creates a hub at NTC from which high-speed internet access will be extended to chapter houses and other sites in the Navajo Nation and surrounding areas.  NTC realized that getting access to high-speed internet is not only necessary for the college, but it's necessary for the Navajo Nation as well.  As a result of the project, NTC is able to provide an online learning environment for its students and internet access to Crownpoint and Whitehorse Lake chapter houses.  As NTC continues to gain access to cell towers, the connectivity project is expected to grow.
If you have any other doubts about NTC's commitment to their community, their vision makes it clear.  "The vision of Navajo Technical College is to educate Navajo individuals; to utilize state-of-the art technology; and to enhance desirable character traits of integrity, self-discipline, loyalty and respect, which give the Navajo people hope, courage, and the resiliency essential to their survival as a people, using the strengths inherent in the Navajo cultural values and traditions." The school wants its students to be complete people, intellectually, personally, and culturally.  They want to 'educate the mind and spirit' of their students.  They care about their students, because that is their community.  It's one and the same.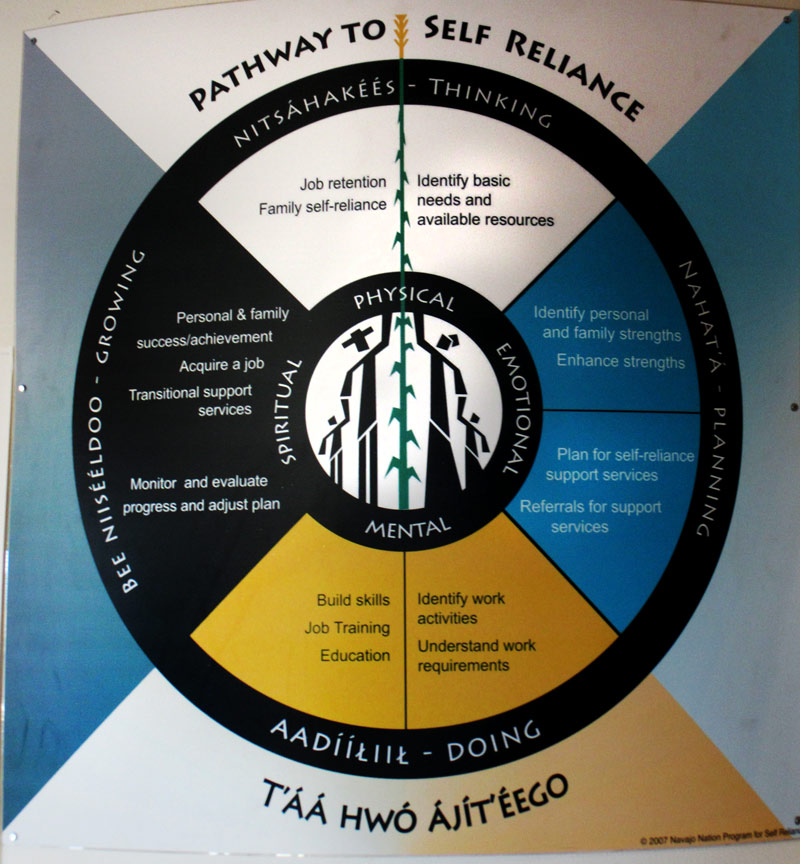 Inspirational.  NTC is inspirational.  Their student enrollment is inspirational.  Their retention rate is inspirational.  The fall 2012 enrollment was 1777 students, which is up 53% from last year.  Their retention rate is 81%.  Compare that to the national average retention rate of 51% for all colleges and universities in the U.S.  These are students who are not well off, and who are travelling up to 100 miles each way to get to campus.  It's clear that these students want an education, not only for themselves but for their community as well.  They understand that the only way to improve their situation is to get an education.
The staff is inspirational.  They are enthusiastic about the subjects they teach, and they strive to provide hands-on learning experiences for their students.  They know that is the best way to learn, and they know that having hands-on experience with advanced equipment are skills they'll need in a job.  In the IT department, one of the courses created their super computer cluster that was located in their classroom.  They acquired the equipment, put it together, and used the cluster for advanced data analysis.  These are skills necessary to manage any computer cluster, and the students are ready.
NTC incorporates the Diné philosophy into everything they do. The college is committed to a high quality, student-oriented, hands-on-learning environment based on the Diné cultural principles: Nitsáhákees, Nahátá, ?ína, Siihasin.  The college is not ignoring their roots or their culture.  Every instructor is encouraged to incorporate these principles into their courses.  There are posters everywhere explaining the principles (see photo).  Essentially, every person has a physical, spiritual, mental, and emotional component that needs to be cared for.  This is inspirational.
Cutting Edge. NTC is looking to the future, always.  In the past year, the Higher Learning Commission approved two new bachelor's degree programs for NTC: a bachelor of science degree in industrial engineering and a bachelor of arts degree in Diné culture, language, and leadership.  The college is planning to add more advanced degrees, including a master's degree in Diné culture, language, and leadership.
NTC makes sure that it has the latest technology in their courses.  The engineering, math, and technology department has a 3D printer and laser scanning equipment.  The laser scanning equipment was recently used to scan a building for NASA to determine if it was big enough for a piece of developmental rocket hardware.  The laser scanning equipment was also used to scan a lava tube in Louisiana to determine its exact dimensions.  These are exciting, cutting edge opportunities for NTC students.  NTC's location, size, or any other factor does not prevent them from acquiring cutting edge technology for their courses and making sure their students get that hands-on experience.
NTC is Community Oriented, Inspirational, Cutting Edge, and so much more!  All mainstream community colleges could strive to be a little more like NTC.
By American Indian College Fund staff member Megan Thoms