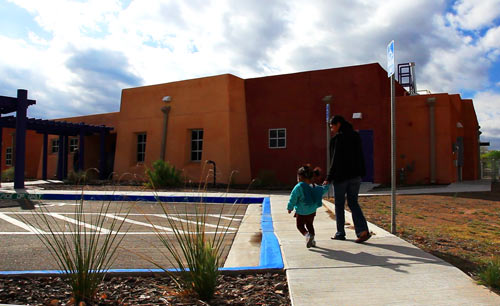 Four Tribal Colleges to Receive an Initial $800,000 Under Early Childhood Education Project
July 26, 2011
In April 2011, the American Indian College Fund announced a $5 million grant award from the W.K. Kellogg Foundation to fund four early childhood education projects located at tribal colleges and universities and serving Native children. Under the program, initial grant awards of $800,000 per college over a period of four years will be awarded to four tribal colleges whose submitted proposals best supported the goals and objectives of the program to improve young Native students' skill acquisition; prepare them for grades K-12 and post-secondary education; improve the quality of early childhood teachers in Native communities through partnership opportunities with post-secondary teacher training programs at the tribal colleges; bridge early childhood and K-3 education; integrate Native language and culture into early childhood curriculum; and empower Native families and communities as change agents in education for their children.
Richard B. Williams, President and CEO of the American Indian College Fund, said, "The generosity of the W.K. Kellogg Foundation will help transform learning opportunities for young Native children who are vulnerable in Indian Country. By providing the opportunity for these four selected tribal colleges to focus on high-quality early childhood development, the Fund will pave the way for Native children not just to succeed, but to excel in K-12 and post-secondary education. This exciting initiative furthers the ability of our tribal colleges to enhance intellectual capacity in our communities while expanding their vital role in Indian communities."
The American Indian College Fund is honored to announce the following four tribal colleges as the 2011 Wakanyeja "Sacred Little Ones" Early Childhood Education Initiative Grantees:
The College of Menominee Nation, Keshena, Wisconsin—The college's We Will Make A Path for the Children program will develop an early childhood instruction model to enable disadvantaged low-income students gain academic skills, motivation, support, and confidence necessary to succeed in elementary education. The program will be developed within existing infrastructure for program sustainability.
Ilisagvik College, Barrow, Alaska—The college's Uqautchim Uglua, an Iñupiaq Early Learning program, is rooted in the values, history, and language of the Iñupiat. It will serve the North Slope Borough's 11 schools across an 89,000 square mile region in northern Alaska. The program will serve eight predominately Iñupiaq communities offering a culture-based early learning center and teacher training program patterned after the language nest model.
Northwest Indian College, Bellingham, Washington—The program will host a collaborative effort between two school systems and the Northwest Indian College's Early Learning Center and Early Childhood Education program to serve infants, toddlers, K-3 students, parents, early childhood education students, and early childhood education staff. The program will create learning communities and create a seamless transition from the Early Learning Center to Head Start to K-3.
Southwestern Indian Polytechnic Institute (SIPI), Albuquerque, New Mexico—The SIPI Early Childhood Education program will reflect best practices in Native and non-Native early childhood development, learning, and teacher training through courses and web-based tools, while infusing programs with Native culture and language.
About the W.K. Kellogg Foundation
The W.K. Kellogg Foundation, established in 1930, supports children, families and communities as they strengthen and create conditions that propel vulnerable children to achieve success as individuals and as contributors to the larger community and society. Grants are concentrated in the United States, Latin America and the Caribbean, and southern Africa. For further information on the foundation, please visit www.wkkf.org.