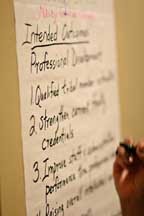 This past week we spent two days hearing about the projects that the tribal colleges have been implementing over the past year for the Woksape Oyate Wisdom of the People project.
Programs have been designed for growing their own college faculty and staff; preserving and teaching tribal languages and culture not just amongst the tribal members, but serving as a resource for state curriculum; learning centers that teach not just study skills but leadership and management; and public administration degrees that meet the needs of both the tribal communities and surrounding state and counties.
The project is in its first year of implementation after a year of planning, but already the results have been remarkable. Tribal colleges are building stronger institutions, stronger and more confident students, and are serving their communities in ways that they never have before–all the while building their expertise and standing not just in the Native community, but in their counties, regions, states, and academia.
Read more about the tribal colleges' Woksape Oyate projects or share your ideas for Thinking Indian and preserving intellectual capital by posting a comment here.