Written by: Michelle Wilson
In the life of a parent, there is so much to keep up with that it can be easy to forget to slow down and enjoy the ride. I have to take a moment and remind myself that the children are only going to be this small once. Some day, my boys are going to be grown and start families of their own. The days of baby cuddles will be remembered only in my heart. The days of waking up early on the weekends for youth league soccer will be replaced with a phone call from college. Take time to slow down and cherish all of the firsts, because before you know it, they will be nothing but sweet memories.
This is what the Sacred Little Ones Ké' Family Engagement Initiative has taught me.
It is a beautiful reminder of what is truly important in life. Our children. Our family. The bills and the chores can wait (trust me they are not going anywhere). Take the time to make bath time fun or listen to the latest happening in middle school. This is what really matters: Being present for your children to show them, teach them And to love them.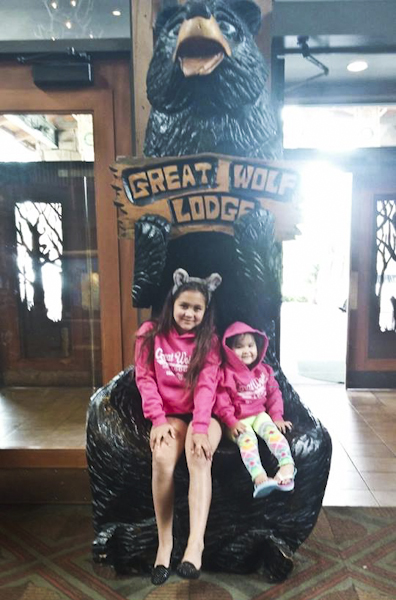 Our trip to the Great Wolf Lodge gave our family the opportunity to do that. The Sacred Little Ones program took care of the logistics and funded the whole trip. There were literally no worries! That was the greatest gift of all. For one weekend the stress of daily life melted away and we were free to just have fun and enjoy each other! Laptops and email were replaced with Slushees and smiles! There are no words that can express how grateful I am for the gift of carefree family time. We got to reconnect with one another. Mother and child. Father and child. Husband and wife.
Time will march on and the complications of daily life will come creeping back, but every time I trip over the fuzzy wolf ears I am going to stop, smile, and remember. Take the time to play. Take the time to laugh. Take the time to listen. Take time to love. Be a family.