Being in the same room as the nominees for President of the United States, President Barack Obama and Governor Mitt Romney was a once-in-a-lifetime experience for me. Many of us have traveled to Washington, D.C. to visit Congress and federal agencies and never get to see the President.  Many of us attend rallies for one of the candidates but rarely get to see the two nominees in the same room.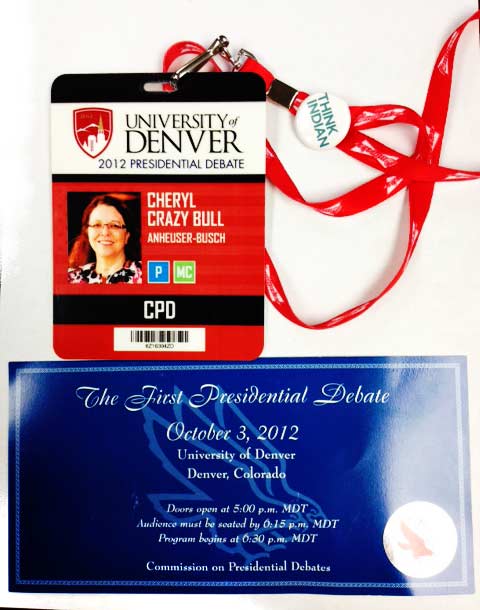 When the nominees entered the Ritchie Center at the University of Denver campus, everyone in the audience stood and clapped.  In honor of the sacrifices of our ancestors to protect our homelands and because these men need our prayers, I did the "lillili" during this time. It was a poignant moment for me because in my heart, I am still a girl from St. Francis and Rosebud and I know how the decisions of these men will affect each of us in our daily lives.  I prayed for guidance for both of them.  I wore my eagle plume that my adopted mother, Doris Leader Charge, had given me, and a nice Northwest Coast shawl.
Every election for President affects us as Native people. The President and Congress are the enactors of the trust responsibility inherent in our Nation-to-Nation relationships and retained in our treaty relationships.  As all of you who follow our Native columnists like Mark Trahant (www.marktrahant.org) or the writers at The Last Real Indians (www.lastrealindians.com) know – we are a small constituency for the President – but how we are treated is a reflection of the integrity and commitment of the President as the leader of a country built on the dreams and blood of our ancestors.
The American Indian College Fund joins other national, regional, and local Indian organizations in our support of Native Vote (www.nativevote.org).  It is very important for all tribal college students to register to vote, check to see if their friends and family are registered, and to get out and vote on Election Day, November 6. Each candidate for office, whether local or national, will make decisions that affect our daily lives. The President of the United States and the members of Congress decide how much PELL grants are. They create the charitable and tax environment that supports the scholarships that so many of our students depend upon.
Presidential candidates have positions on issues that affect us such as the environment, energy development, and government regulation of financial corporations, trade, transportation, and wars. These candidates are starkly different on issues such as health care, militarization, and taxation.  We only need to look around our own reservation communities to see if enough resources are being allocated for our housing, health, education, and infrastructure needs as we decide who to vote for and what our expectations are of our elected leaders.
Presidential debates are an exclusive experience for those who are able to attend in person – the election of the President, however, is a shared experience for all of us. We are in this together and our vote counts.
I want to share my appreciation with the people from Anheuser Busch , especially Margarita Flores, who was gracious enough to invite me as a community partner through the Fund.  They were generous and friendly hosts.  Anheuser Busch is a long-time sponsor of the Commission on Presidential Debates. I learned more about them as a multinational corporation and about the Commission as a result of this invitation.
A few fun things about the experience:

 It was dark in the hall and we were instructed on penalty of public humiliation to not clap, boo, or otherwise make noise during the debate.
All the pre-debate discussion included admonitions not to use our cell phones and when someone took a picture from my side of the room during the debate everyone turned and stared at him.
The nominees are much taller in person then they look on TV.
It was warm in the afternoon, windy during the hospitality time prior to the session, and very cold when we came out.
The secret service agents really do wear ear phones with curly wire attachments.