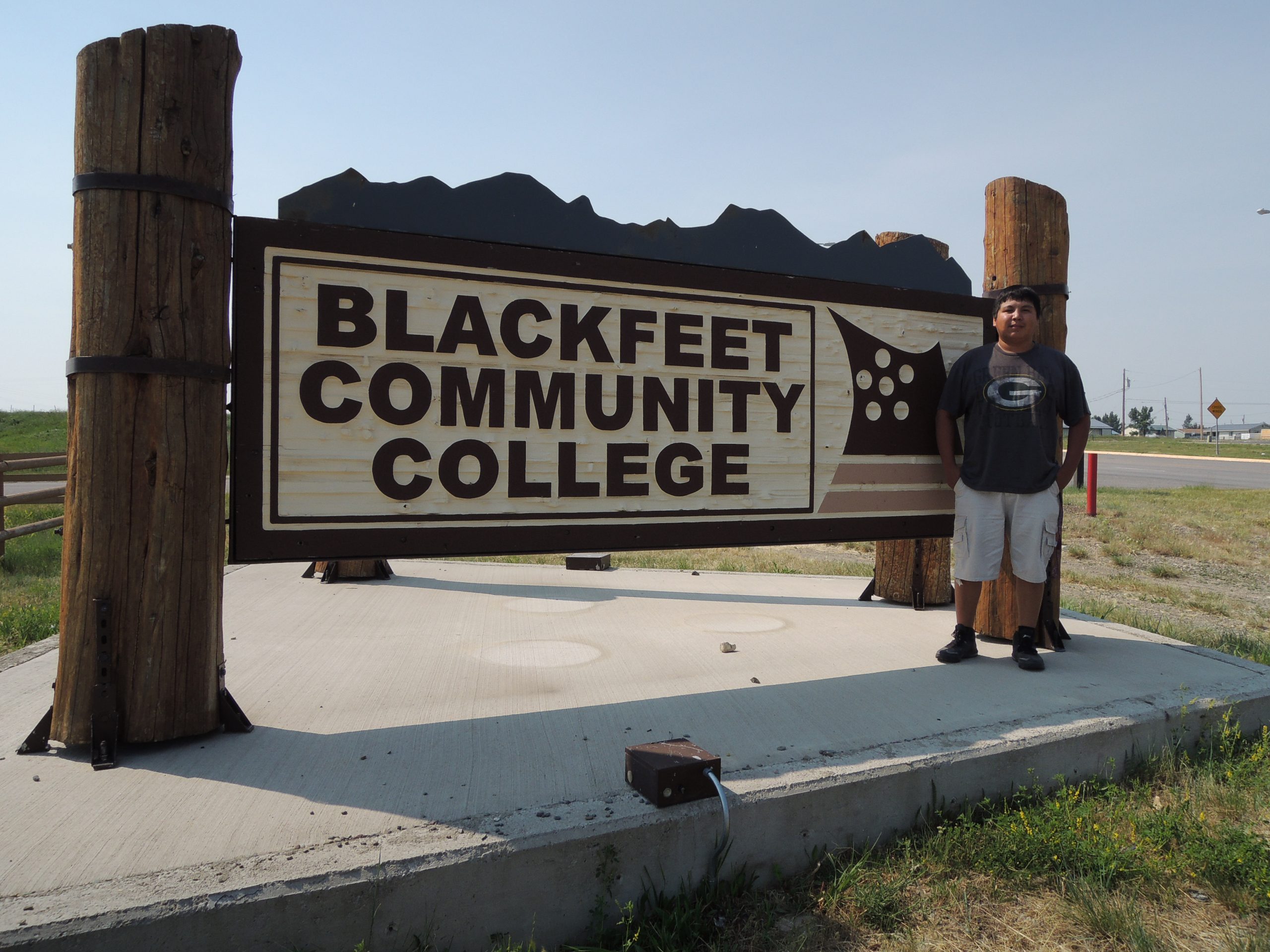 Mark Zuckerberg, founder and President and CEO of Facebook, visited the Blackfeet Reservation last week. He posted his impressions about the social, economic, and health issues he encountered last week, including joblessness, substance abuse, diabetes, and more.
We are thrilled that Mark Zuckerberg is interested in these issues and is helping to direct national attention to the challenges that our communities confront. But he did not address the power of higher education to make positive change in our communities.
Please share YOUR story! If you are a tribal college and university (TCU) faculty or staff member, a student, or an American Indian College Fund supporter, please share YOUR higher education experiences and stories with Mark Zuckerberg here in the comments section of his post. We want Mark Zuckerberg to see the incredible work our students, the tribal colleges, and the College Fund are doing to make positive changes. Your stories can also giving him ideas about how he can help us make an even greater impact in our communities through education, one student at a time.
Whether you share a story about how the College Fund started you on your academic journey, the healing power of education, the creation of an early childhood program or a peer tutoring program that is helping young people succeed in your community, or how your career path was launched through a TCU, your voice is important. The world needs to hear about the positive work that our students, the tribal colleges, and the College Fund are doing in our communities.
We know the Blackfeet Nation is not alone and that American Indian reservations across the country face similar issues.
We also know that the solutions to community problems that are most successful are those that are germinated in those very communities. One of those grassroots solutions is the TCUs, which provide an affordable, culturally based higher education to Native people–right in their own communities.
The American Indian College Fund's tagline, Education is the Answer, is based on that solution. An education equips people to solve any number of challenges facing them. The TCU founders created these remarkable institutions to do just that through a quality education firmly rooted in cultural values.
The very first TCU was created in 1968 by the Navajo tribal government to provide people with an education while also helping to preserve the Navajo language, culture, and traditions.
Other Indian tribes also saw the power that an affordable, culturally based education could offer its citizens. Today there are 38 TCUs across the United States.
The TCUs provide the education, and the American Indian College Fund, founded in 1989, helps students to pay for it while also helping to support the TCUs. We were established to support TCUs while helping Native students access a higher education through financial support. In 2015-16 the College Fund provided more than 119,000 scholarships, $170 million in student support, with $7.2 million distributed directly to students last year. We also provide funding to TCUs for construction of labs and other buildings, early childhood education programs, leadership programs, bridge programs for high school students to college, art preservation programs, and language revitalization.
Any community would be at a disadvantage addressing the complicated issues Mark Zuckerberg witnessed without the power and confidence that knowledge provides. But our communities were also founts of great wisdom, beauty, and traditional knowledge. The College Fund, working with Native students and the TCUs, know that education is the answer to sustainable change in Native lives and communities by reviving, returning to, and drawing upon the strengths of Native people and traditional knowledge to create solutions that will work.
 "Students who attend tribal colleges are committed to the collective improvement of the tribe and the reservation," President Billy Jo Kipp, Blackfeet Community College, says in How 2 Colleges Help Native Students Succeed.
Want to learn more about Native students and tribal colleges and universities? Additional reading:
The Chronicle of Higher Education's "From the Reservation to College," an occasional series of articles on the transition to college for Native American students, featuring interviews with students, tribal college presidents, and College Fund President Cheryl Crazy Bull.
How 2 Colleges Help Native Students Succeed, by Kelly Field, The Chronicle of Higher Education, January 8, with a look at Blackfeet Community College.