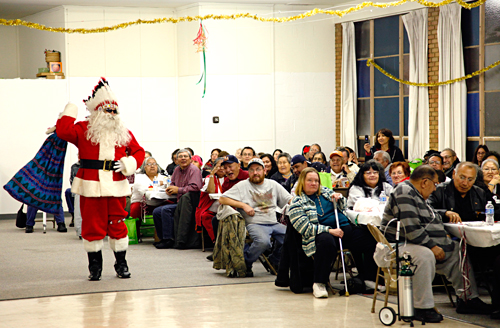 Not all holiday dinners are created equal. The Denver-based Native Elders Holiday Dinner sponsored by the American Indian College Fund has a distinctly Native flavor, from the meal itself (buffalo) to a Santa Claus that wears a war bonnet. The event, now in its 11th year, honored American Indian elders 55 and older in the Denver community with a free dinner and program at the Church of All Saints, on Tuesday, December 13.More than 230 elders from Denver's American Indian community turned out to devour the 220 pounds of buffalo, mashed potatoes, gravy, fry bread, 30 pies, four cakes, four large cookie trays, and six large cupcake trays. They also received gift cards from Wal-Mart, hams, and a goody bag to take home with them from Santa "Claws," the American Indian Santa sporting a headdress, sunglasses, a Pendleton gift sack, and plenty of attitude!

According to Richard B. Williams (Oglala Lakota/Northern Cheyenne), President and CEO of the American Indian College Fund, elders are esteemed for their guidance and are considered to be sacred in Native tradition. The Fund first began hosting dinners in 2000 after two local women from the Native elder community in Denver approached Williams and said there were no local events for the elders.

John Gritts (Cherokee) of the U.S. Department of Education served as master of ceremonies for the evening. He got the party started by doing a roll call, asking the elders to raise their hands when he called out the name of their tribe. "How many are wannabes?" he joked, adding, "And how many are hungry tonight?" as a row of volunteer servers took trays loaded with food catered by Tocabe: An American Indian Eatery in Denver and served the seated elders in the old way.

The Denver Singers drum group played throughout the evening. Richard Williams was honored for his role in founding and sponsoring the event for 11 years by elder Charles Bearrobe (Lakota). Before the honor song, Bearrobe held an eagle feather aloft and said, "This was our country's first flag," then lead Williams, his wife Sally Carufel-Williams (Lac du Flambeau Ojibwe/Dakota), and daughter Ida Williams around the perimeter of the room.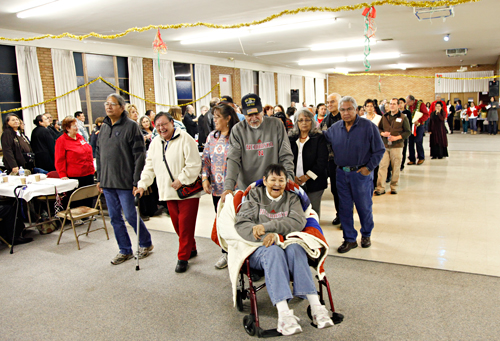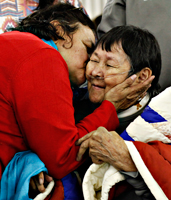 Ida Bear (Ho Chunk, Nebraska), one of two women who first approached Williams about sponsoring an elders event, was honored for her contributions with the Elder of the Year award during the program. Her voice broke in tears as she described how much the event and the honor meant to her.Bear said later that she is a catechist at the Church of All Saints, which has been home to the dinner for 11 years. After she approached Williams about hosting the event, she secured the use of the church since there was no place to host such a large gathering of seniors.

The Children's Performance Workshop from the Denver Public Art University, a free community outreach project, performed songs and dance for the elders.

Edith Wilson (who identified herself as Sioux) won an award for being the oldest elder present at 90 years young.

At the conclusion of the program, an Indian Santa "Claws" arrived singing, dancing, and jingling his sleigh bells. He gave out hugs and told jokes as his many helpers distributed hams, gift cards, and goody bags to the elders, whose eyes twinkled like children.

In addition to the American Indian College Fund, community sponsors of the event include:
Alzheimer's Association

Church of All Saints

Denver Regional Council of Governments (DRCOG)–Area Agency on Aging

Denver Office on Aging

Intertribal Buffalo Council

King Soopers

Montana Coffee Traders

Native American Fish & Wildlife Society

Office Depot

Oglala Sioux Parks and Recreation Authority

Wal-Mart/Sam's Club

Sonny White & Family

Richard and Sally Williams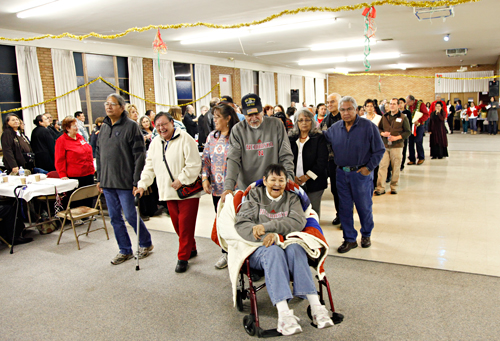 Read more and see a video about Indian Santa at denverpost.com