September 17 Event to Benefit American Indian College Fund for Native Students; Tocabe Co-Founder Ben Jacobs to Serve as Host Chef
Denver, Colo., August 23, 2019–Denver's rich Native American history stretches back 13,000 years. Once the winter home of the Arapaho and a bustling trade center prior to the gold rush, today Denver is ranked as one of America's best cities to live and is home to a burgeoning restaurant scene. But in the shadow of Denver's prosperity, many Native Americans cannot afford a college education to escape grinding poverty. And of those who do go to college, many go hungry.
The American Indian College Fund, a Denver-based national charity, invited Ben Jacobs to serve as the host chef of the College Fund's first-ever Denver Epicurean Award to Support Scholars (E.A.T.S.S.) to raise money for Native American students. Ben is a Native American chef and co-founder of Tocabe, an American Indian Eatery. Tocabe has been recognized by Food Network, Food & Wine, The New York Times, The Atlantic, and other national media outlets. A member of the Osage Nation, Ben believes in the power of education and the potential of every Native American student. Ben expands on Osage family recipes using Native and nutritious ingredients with a new and unique take on American Indian cuisine. He will take that same approach with three elite Denver chefs at Denver E.A.T.S.S. to make Native cuisine more visible—and accessible.
Attendees can sample the chefs' creations along with food from Tocabe and libations. Live Indigenous cooking demonstrations will be on display by Native culinary students attending Lac Courte Oreilles Ojibwa Community College and Navajo Technical Institute (both tribal colleges and universities serving Native American communities supported by the College Fund and the event).
Event Details:
When/Where: September 17 from 5:30-8:30 p.m. at Mile High Station
Cost: Tickets are $55 and are limited. Attendees are urged to purchase tickets or make a reservation online.
Participating Chefs: In addition to host chef Ben Jacobs, participating chefs include, in alphabetical order: Will Harris, Executive Chef, Linger; Zachary Patz, Executive Sous Chef, Il Posto; Paul Warthen, Chef de Cuisine, Potager Restaurant and Wine Bar; and Claire Westcott, Lead Production Chef, Safta.
Chef Biographies:
Will Harris, Executive Chef, Linger
Will Harris is the executive chef at Linger, the Edible Beats restaurant located in a former LoHi mortuary. Throughout his career he has served as an executive chef, part owner, culinary school instructor, and worked in Michelin starred kitchens.
Will started cooking professionally at the age of 14 and became an executive chef when he was 23. After studying at the Culinary Institute of America in Hyde Park, New York, he became an executive chef at a small French café in his hometown of Coronado, California. He worked at Chez, Loma, and Bleu Boheme, and was part-owner of a kebab concept and microbrewery. Will had the pleasure of being the[/vc_column_text][/vc_column_inner][/vc_row_inner][vc_column_text]opening chef for Sam Fox's True Foods Kitchen and helped grow the company to seven locations nationwide. He stopped briefly in Denver to open Bistro Barbes in Park Hill before heading back to New York as the chef at Geoffrey Zakarian's National Restaurant in Midtown Manhattan. He later became chef of Tessa, a Michelin-recommended restaurant serving high-end Mediterranean on the Upper West Side. He had a short stint at the famous Robert's and Blanka to Michelin-starred restaurant in Brooklyn.
Will moved back to Denver with his wife to settle into the family life. Of life as an executive chef with Edible Beats, he says, "I couldn't be happier serving thousands each month at this landmark restaurant."
Zachary Patz, Executive Sous Chef, Il Posto
Arizona-born, Colorado-raised Zachary "Patzy" Patz started his cooking career in Denver when he enrolled at Cook Street, a small culinary school with a four-month program. After graduating at the age of 20, he helped open Pizzeria Locale in Boulder in 2010.
Later with the help of a program at Cook Street, he took a cooking class in Italy that set him up with a stage at Trattoria Zappatori under Chef Christian Milone. The chef liked him so much that he invited Patzy to return. He spent time hopping back and forth between Italy and Colorado, working for restaurants like Frasca Food and Wine and Root Down before taking a job in Milan at the Hotel Boscolo for eight months.
Upon returning to Colorado in 2015, Patzy started at The Nickle, where he got his first sous chef position. Deciding to change cuisines, he found himself working the pasta station at Il Posto and fell in love.
Nicknamed the Prince of Pasta, he brings creative pasta shapes, colors, and fillings to the Denver scene, creating dishes that can't be found elsewhere in the city.
Today Patzy is paired with his longtime friend Chase Carlson. The duo is leading Il Posto's kitchen under the direction of Chef/Owner Andrea Frizzi.
While in Italy, Patzy found he had a knack for languages (something he had failed horribly at in school) and enjoyed experiencing new cultures. That experience made him a travel lover. He has been fortunate enough to travel the world and experience many different cuisines. He always tries to do something work related on holiday, whether staging, taking cooking classes, or experiencing authentic local cuisines. He spends most of his free time doing low-cost activities like playing video games while he saves up money for his next excursion.
Paul Warthen, Chef de Cuisine, Potager Restaurant and Wine Bar. Paul Warthen grew up on a 500-acre dairy farm in western Maryland where his family raised beef cattle, pigs, and chickens and Paul helped milk 300 cows twice a day. Days on the farm began at two in the morning and ended when the sun went down. Paul's family had giant gardens and corn fields that stretched as far as the eye could see, where he worked many summer mornings and nights until he was old enough to work in the hay barn and eventually the milking parlor.
Paul's Granny, an amazing woman, fed the family and all the farm hands breakfast, lunch and dinner. It was around these tables that Paul began to understand kinship and community. Granny also ran a kitchen for the biggest restaurant in town. It was in her kitchen that Paul realized the value of food and how it brought people together. Paul's culinary journey has taken him to both coasts. As a young cook, he worked for the Patina Group in Los Angeles and was a tournant, travelling from one Joaquim Splichal restaurant to another. Soon after, he worked in Philadelphia with James Beard award-winning chefs like Roy Yamaguchi and Marc Vetri, before landing his first executive chef job. Paul spent 10 years in New York City, where he met his future wife, Eileen, and later spent two years in the Shenandoah Valley managing the culinary side of an 800-acre organic farm. Everywhere Paul has gone, he has worked with farmers, and that is what brought him to Potager​.
Claire Westcott, Lead Production Chef, Safta. Claire developed a passion for food at a young age as she was growing up in the Rocky Mountains of Colorado. Inspired by her Ute heritage, Claire developed an interest in foraging and preparing local ingredients. Many years later Claire attended Johnson & Wales University, graduating with a degree in Culinary Arts, Food Service Management, and Entrepreneurship. Claire has launched a career in Denver and has spent the last five years cooking in some of the city's best restaurants. She is drawn to the farm to table movement and sourcing and cooking with local ingredients. Claire's passion for incredible food and in encouraging fun, respect, and positivity in the kitchen found her a happy home at Safta Restaurant in Denver's RiNo Art District.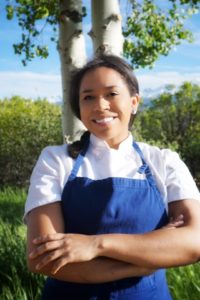 Claire Westcott of Safta