Indigenous Visionaries: Native Women Leadership Fellows, 2017-2018
Enacting Native arts as a means of providing trauma therapy.

Teaching the Dakota language and culture to young people in the community.

Developing networks and knowledge to advance environmental sustainability in Native communities.

Learning to advocate for Native children with special needs and their families so that all Native children are valued learners and recipients of a strong and effective education.

Studying language nest programs to bring traditional language and culture knowledge to Native children.
These are the areas of focus for the 2017-2018 Indigenous Visionaries Native Women Leadership Fellows.
The Indigenous Visionaries initiative builds upon the American Indian College Fund's previous work for a number of years developing Native women leaders, through education, mentoring, and networking. Indigenous Visionaries focuses on connecting students at tribal colleges and universities (TCUs) with faculty members in their area of study.
Within their academic disciplines, Indigenous Visionaries fellows will engage in research and programming that builds on and expands their studies, mentored by a tribal college faculty member with expertise in their field. Through this mentoring relationship, fellows will participate in a community project, learn how to address tribal and local issues, understand what it takes to create change in a community, and experience possibilities for a potential career in their field of choice.
The College Fund's goal is to develop Native women leaders who have a foundation in Indigenous knowledge, culture, and history, and who will bring visionary leadership to Native communities in the future.
In 2017-2018, Indigenous Visionaries fellows will be focused in one of three areas in which the College Fund currently has program initiatives and professional networks in Native communities:
Native Arts and Culture
Environmental Sustainability, and
Early Childhood Education
2017-18 Fellows
This year's fellows currently attend Sisseton Wahpeton College (SWC), Fond du Lac Tribal and Community College (FDLTCC), and Salish Kootenai College (SKC).
Native Arts and Culture Students
The two Indigenous Visionaries fellows in the area of Native Arts and Culture are students at Sisseton Wahpeton College (SWC) in Sisseton, South Dakota.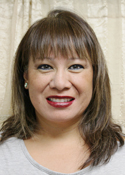 LaVerne Whitebear is both a student and mother, majoring in behavioral science and planning to become a clinical psychologist focused on helping her people recover from various forms of trauma. Enrolled in both the Assiniboine and Pabaksa Dakota tribes and descended from the Arikara people of the Fort Berthold Reservation in North Dakota, Whitebear is from the Fort Peck Reservation in eastern Montana. Through the Indigenous Visionaries fellowship, Whitebear will be using the traditional art of quillwork to help provide therapy and connect tribal members to their origins, while developing a traditional quillwork curriculum to teach quillwork as a method of therapy for combating childhood trauma after she completes her education.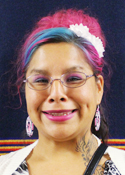 Jennifer Saul is a single mother of three children, enrolled in the Sissituwan Wahpetuwan and Santee bands of Dakota people, and majoring in Dakota studies at SWC.  In the past year, Saul has learned how to quill, hide tan, and play traditional games; she would like to use her knowledge to teach her children and others in her community about their cultural heritage and Dakota values and beliefs. As part of her fellowship Saul wants to help teach the Dakota language culture; as a leader, Saul wants to be a role model for young people in her community.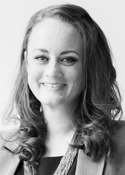 Mentor: Erin Griffin will advise Whitebear and Saul throughout the term of their Indigenous Visionaries fellowships. An enrolled member of the Sisseton-Wahpeton Oyate in South Dakota from the Westerman family, Griffin is currently the Director of Dakota Studies at SWC, where she has worked since 2013.  With a master of arts degree in sociocultural anthropology from the University of Oklahoma, Griffin has used her lifelong interest in traditional arts, language, and history to transform the Dakota Studies Department at SWC with the establishment of extensive new programming, including the Traditional Dakota Arts workshop series, the SWC Archives, the Dakota Studies and Tribal Arts Center, the Dakota Language teaching certificate, and the Voices of Our Ancestors Dakota Language immersion program.  Griffin is an established beadwork and quillwork artist.
Environmental Sustainability Students
In the area of Environmental Sustainability, the two Indigenous Visionaries fellows are students at Fond du Lac Tribal and Community College (FDLTCC) in Cloquet, Minnesota.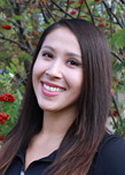 Arianna Northbird, an enrolled Fond du Lac (Ojibwe) band member, "Never thought college was going to change her life the way it did."  Taking advantage of this opportunity in higher education, Northbird is focused on improving environmental conditions in her community, where community members are "fighting for a change and wanting their voices to be heard when it comes to land and water issues." Northbird will use her opportunity as an Indigenous Visionaries fellow to develop stronger networks, knowledge, and outreach capabilities in the environmental field, working with the Twin Ports-Collegiate Sustainability Network (TP-CSN), an inter-disciplinary board comprised of students, faculty, and staff from six colleges in the Minnesota region that develops student leaders in the environmental fields. During this fellowship year, Northbird will also participate in the development of FDLTCC's 2018 Earth Week Activities.
Kayla Jackson is a member of the Pyramid Lake Paiute Tribe from Nixon, Nevada and has lived on the Fond du Lac reservation since she was five, when she moved to Minnesota.  Majoring in environmental science, Jackson wants to utilize her Indigenous Visionaries fellowship to develop her own skills, focusing primarily on communication, education, and leadership. Understanding that collaboration as an important aspect of leadership, Jackson anticipates "coordinating and communicating with surrounding tribal and community colleges about sustainability practices and resources," particularly through her work this year with TP-CSN. In addition to her work on environmental issues and research, Jackson wants to be a visible and effective leader in her community, so that young people will understand that "Native women are strong and can make a difference."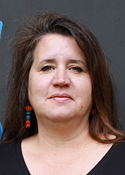 Mentor: Courtney Kowalczak, Director of the Environmental Institute at FDLTCC, will serve as mentor to Northbird and Jackson for their Indigenous Visionaries fellowship. In her role at FDLTCC, Kowalczak oversees coordination of research and extension projects between Fond du Lac Tribal and Community College and their partners, including the National Aeronautics and Space Administration (NASA) Gidakiimanaaniwigamig (Our Earth Lodge) STEM Camp: Investigating climate change and its effect on Ojibwe lifeways; the Environmental Protection Agency Tribal EcoAmbassador Dragonfly Research project; and United States Department of Agriculture (USDA) National Institute of Food and Agriculture (NIFA) funded projects such as the St. Louis River River Watch Project, Bimaaji'idiwin Ojibwe Garden, Building Capacity in STEM, and Thirteen Moons Ashiniswi giizisoog.
Early Childhood Education
The two Indigenous Visionaries fellows in the area of Early Childhood Education are students at Salish Kootenai College (SKC) in Pablo, Montana.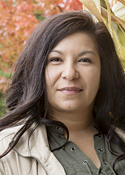 Joni Connelly was born and raised on the Blackfeet Indian Reservation in Montana; a mother of five children, the youngest of 10 children, a wife, daughter, and aunt, Connelly is pursuing a B.S. degree in the Early Childhood Education Preschool- Third Grade program, and eventually hopes to earn her Special Education endorsement. Connelly's pursuit of education is deeply personal; as a mother of a child with special needs, she acted as her son's voice and advocate, working with determination to get him the help and education he needed and deserved. As an Indigenous Visionaries fellow, Connelly seeks to grow her knowledge as an advocate for other families that need support in voicing their children's needs; she would like to develop an information exchange or healthy communication forum that benefits all of the children and their families. Connelly's long-term goal as a visionary leader is to bring awareness to her community that education is important for all children and that all children have the divine right to education to the best of their individual abilities.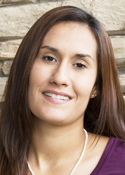 Kayla Dix, a direct descendant of Chief Charlo, the most notable Chief of the Bitterroot Salish, was raised on the Flathead Reservation in Northwest Montana, riding horses and herding cows. Currently pursuing a B.S. degree in the Early Childhood Education Preschool-Third Grade program, Dix is a gifted educator who seamlessly weaves together Sqelixw language, classroom management, awareness of early childhood development, and knowledge of early childhood curriculum. Dix is passionate about learning her language and culture, and as a mother of two daughters, who are both Bitterroot Salish and Blackfeet, she is equally passionate about passing on her knowledge to the next generations. Having learned the Salish language through an adult language program, Dix now teaches the next group of Salish adult learners; she also speaks the language to the babies at a newly-funded language nest and teaches at Horse Camp, a place where the youth learn indigenous horse culture.
Through her Indigenous Visionaries fellowship, Dix seeks to learn about the challenges and successes of other tribes in starting and operating language nest programs to further her knowledge and future leadership in teaching tribal language and culture to young children.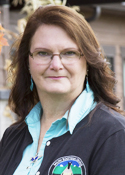 Mentor: Kathie Maiers will mentor Connelly and Dix. Maiers is the Project Coordinator for SKC's Restorative Teachings Early Childhood Education Initiative, and administrative assistant, grant manager, and adjunct faculty in SKC's Division of Education. Maiers works closely with students enrolled in the Division of Education pre-service teacher programs as an instructor, advisor, and mentor. She developed and implemented a pre-service teacher mentorship program to connect teacher candidates with community and professional educators as a way to foster professional relationships and build resources. This work motivated her to enroll in a graduate program; Maiers is currently pursuing her master's degree in student affairs in higher education at Colorado State University. Maiers is an active staff member on SKC's campus, serving on the Presidential Advisory Committee, Campus Emergency Response Team, Office Professions Advisory Board, Benefit Committee, and the Safety Committee. Outside of her work, Maiers enriches her life with her love of nature; she spends her free time hiking, fishing, hunting, and camping with her family and friends.
The American Indian College Fund welcomes this first class of Indigenous Visionaries Native Women Leadership Fellows and their mentors! We expect that these fellows will follow in a long tradition of emerging Native women leaders at TCUs, going on to do important work and playing critical roles within their communities after completing their educations.