Pendleton Launches Endowed Scholarship Program with American Indian College Fund
April 16, 2010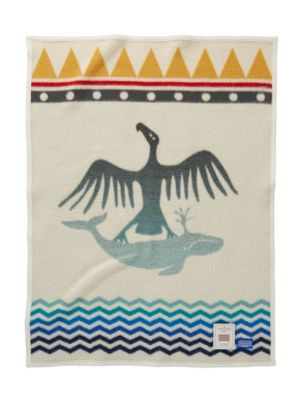 Denver, Colorado – Oregon-based Pendleton Woolen Mills has donated $39,000 to establish an endowed scholarship program benefitting American Indian tribal college student scholarships through a partnership with the American Indian College Fund (the Fund). This endowed scholarship program, entitled the Pendleton Endowment, will provide financial assistance to Native students attending any of the 33 tribal colleges located throughout the United States.
In addition to the Pendleton Endowment, the company provides royalty payments to the Fund for limited edition American Indian College Fund blankets sold by Pendleton. These payments fund the longstanding Pendleton Woolen Mills Tribal College Scholarship Program which supports American Indians at Northwest Indian College in Washington state or Blackfeet Community College, Chief Dull Knife College, Fort Belknap College, Fort Peck Community College, Little Big Horn College, Salish Kootenai College, and Stone Child College in Montana.
Since the Bishop family (now in its sixth generation of managing Pendleton Woolen Mills) opened the woolen mill in Pendleton, Oregon in 1909, the company has woven hundreds of thousands of Indian trade blankets, most of which were historically purchased by American Indians. The Bishop family and the town of Pendleton came together to build the town's mill, which continues to weave Pendleton jacquard fabric for Indian Trade Blankets.
Today, Pendleton is one of a handful of American companies still weaving fabric at their own USA mills. They focus on legendary craftsmanship and world class innovation for the specialty woolens that comprise their home and apparel collections. All Pendleton items are woven with care and quality and carry the iconic label "Warranted To Be A Pendleton." Pendleton has been manufacturing limited edition blankets for the American Indian College Fund, the proceeds of which have benefitted scholarships, for more than 10 years.
"Our heritage is integrally tied to the Native American," says Mort Bishop III, president, Pendleton Woolen Mills. "They were our first customer. Our remarkable friendship over 10 decades is one that we hold with respect and appreciation. Pendleton blankets are woven for an entire culture, which gives us both tremendous pride and responsibility. This new scholarship fund is one way we can continue to help young people in tribal colleges around the country become stronger through a quality education."
"We are thrilled that Pendleton Woolen Mills has chosen to expand its commitment to American Indian education by establishing an endowed scholarship program," said Richard B. Williams, President and CEO of the American Indian College Fund. "Pendleton is known throughout Indian Country for its commitment to making quality blankets and apparel, and it continues to build on that reputation for its commitment to a quality, culturally based education for Indian people."
About Pendleton Woolen Mills
Pendleton is a Pacific Northwest-based manufacturer and retailer of fine home, menswear and womenswear products. Pendleton products can be found at select department stores, specialty stores, and 70 Pendleton retail stores nationwide. Pendleton merchandise can also be ordered online at the company's Website (www.pendleton-usa.com) or from Pendleton's seasonal catalogs. Order Toll Free 1-800-649-1512.