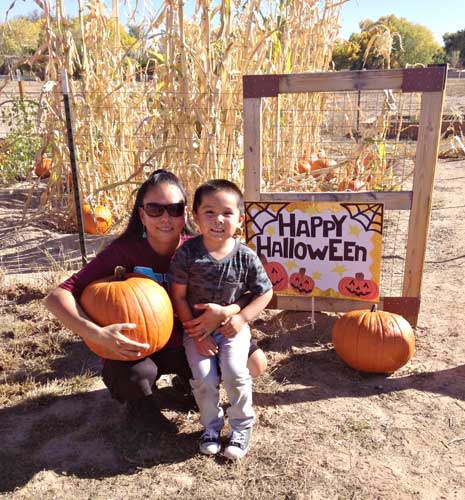 Every year for Halloween, families and communities come together to give children an experience of laughter, festivities, and pumpkin carving!  Halloween is an opportunity for our children to have fun dressing up in costumes, but more importantly celebrate the fall season! The children at the Southwestern Indian Polytechnic Institute (SIPI) YDI Head Start and Early Head Start decorated their homes with a pumpkin and other arts and crafts projects from the child's classroom courtesy of the Ke' initiative.
Each family was given one ticket to choose a pumpkin from the garden.  SIPI early childhood students worked very hard to transform the community garden into our very own pumpkin patch, by placing the big round pumpkins amongst and beneath the corn stalks to resemble a pumpkin Fall harvest!  Infants, toddlers, and preschoolers took pride in examining each pumpkin and chose one that was just right for them.  Parents shared stories with their children about their pumpkin experiences.  One parent said, "It was amazing and it felt awesome to have our child choose a pumpkin from the pumpkin patch that was grown this past summer!"  Their testimony represented the entire parent consensus.
Other parents were happy to have an engaging time with their families during Halloween. Like myself, I enjoyed that following night with my family members and children by finding pumpkin carving ideas that were themed to this year. My daughter was very excited to know she choose her pumpkin and decided to make her pumpkin Curious George!  Personalizing the pumpkin will make for a positive childhood memory she will cherish.
The pumpkin this year brought to our family a memory flash back of family times that involved pumpkin pies or using the pumpkin and cooking it in the oven like slices. For my family, another memory shared with the kids was a family recipe of boiling cutup pumpkin pieces, and eating them sprinkled with brown sugar.  The pumpkins helped us carry on oral traditions.
We were able to have our children dig out the insides of the pumpkin with their hands. It was squishy and we were able to wash the seeds and try to preserve some for next planting season.  This emphasized preserving culture, and thinking ahead for next season. Our daughter was so curious she tried to taste one seed but found it not pleasant to her taste buds. We will see what next year holds for my family and community! A nice gesture to have pumpkins given to us this year by Ke' Family Engagement Initiative, it made our evenings for Halloween that much more festive and exciting!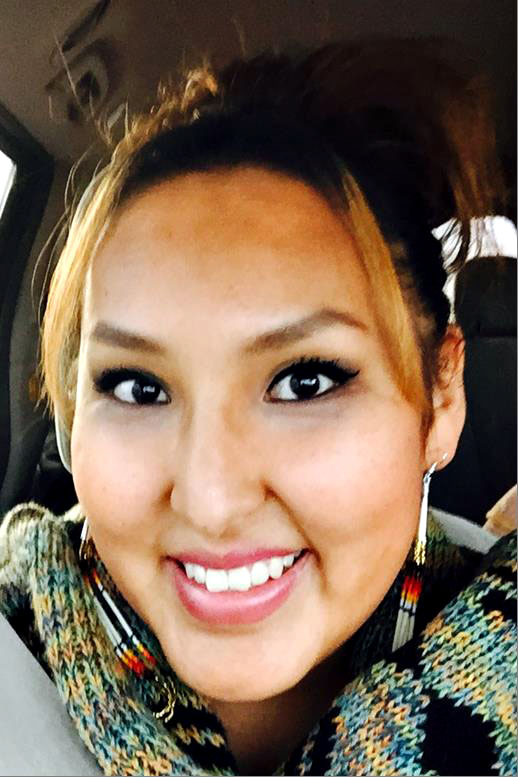 ABOUT THE AUTHOR: Stacie (Jicarilla Apache/Navajo) is from Cuba New Mexico, but currently residing in Albuquerque, NM. She is the proud mother of two children, Aisha, and Daeghen. Stacie will be receiving her bachelor of science degree from the University of New Mexico (UNM) in family studies. She is also attending Southwestern Indian Polytechnic Institute (SIPI) and UNM concurrently for the Spring 2015 trimester to receive credits towards her bachelor of science degree from UNM. Stacie is the vice president of the Southwestern Indian Polytechnic (SIPI) Youth Development Incorporated (YDI) Head Start Parent Task Force,an active team member with the Wakanyeja "Sacred Little Ones" early childhood initiative and also serves as a parent intern with the SIPI Ke' Family Engagement Initiative.  She is the co-founder of Plus Light Productions a Native American owned production company in Albuquerque, N.M. and of the American Indian Albuquerque Network, a social media outlet that serves as a communication source for the Albuquerque surrounding area. She is a singer an actress on her down time and was featured in Native American films. She is driving life force and is committed to the empowerment of her Native American people.