25th Anniversary LA Gala Honors Founders
April 16, 2015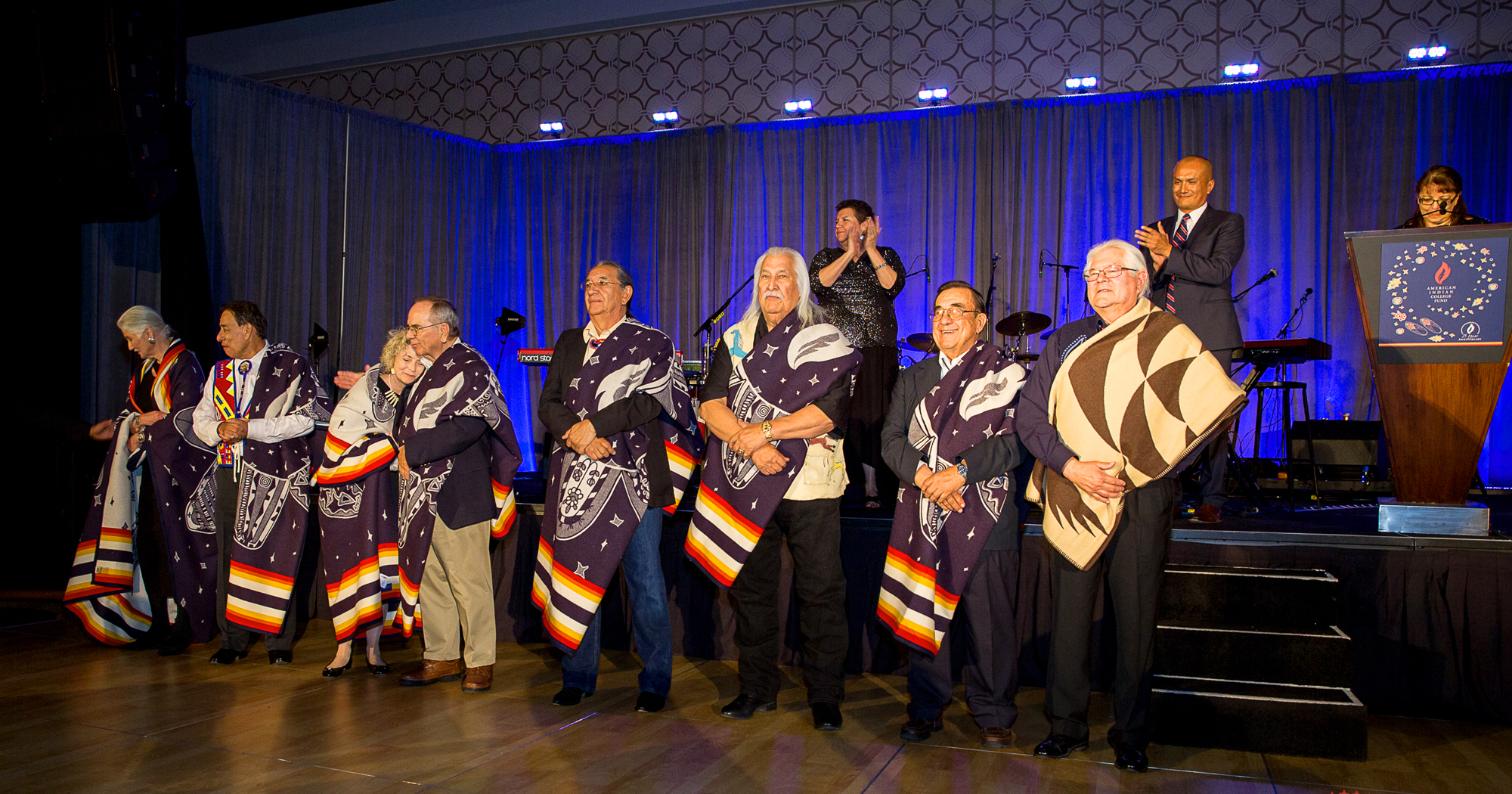 The American Indian College Fund (the College Fund) celebrated its 25th Anniversary Gala in Los Angeles, California, where more than 210 attendees gathered as the College Fund honored 10 of its original founders at the event to benefit its mission to provide Native American access to higher education.
The honorees included:
Lowell Amiotte, Director of Indian Education in South Dakota. Amiotte served as president of Oglala Lakota College from 1987-98, helped found three tribal colleges, and organized and supported building associations that support critical issues of Native people.
Dave Archambault, Sr., a lifelong educator from South Dakota who has influenced and continues to impact both grassroots level and policy level education through his commitment to educational alternatives and served as the first president of the College Fund from 1990-92.
Lionel Bordeaux, founder and longest-serving president of any college in the United States. Bordeaux is still president of Sinte Gleska University in Mission, South Dakota. Bordeaux is a renowned educator whose passion for indigenous peoples' prosperity and work restoring Native languages, lifeways, and governance systems helped increased support for tribal colleges among funders and legislators.
Gail Bruce, a former model and actress who is a New York-based artist based, Bruce's advocacy and networking built 29 cultural learning centers among the tribal colleges which were often the first new buildings ever built on the colleges' campuses and are still in use.
David Gipp, former president of United Tribes Technical College in Bismarck, North Dakota for 37 years. Gipp served as the first director of the American Indian Higher Education Consortium.
Anne Sward Hansen, a former television actress now based in Utah, and the first chairwoman of the College's Fund Board of Trustees.
Phyllis A. Howard, a founder of Fort Berthold Community College who now serves as the Health Equity Office Director for the North Dakota Department of Health.
David Kennedy, co-founder of Portland, Oregon-headquartered advertising firm Wieden+Kennedy, which made the College Fund the number one pro bono account of that firm.
Joseph 'Joe' McDonald, the founder and President Emeritus of Salish Kootenai College in Pablo, Montana, who led in the creation of the 1994 legislation that designated tribal colleges as land-grant institutions.
Gerald "Carty" Monette, first director and then president of Turtle Mountain Community College in Belcourt, North Dakota. Monette played a key role in the establishment of the American Indian Higher Education Consortium and realized the role of tribal colleges as economic engines and innovators.
Attendees also enjoyed a silent auction featuring the Kawasaki motorcycle which appeared in the Disney movie The Lone Ranger and other items to benefit the American Indian College Fund, along with a program emceed by Ellen Leyva, the co-anchor for ABC7 Eyewitness News in Los Angeles at 4 p.m. and 6 p.m., and headline entertainment by the Oscar-winning actor Jeff Bridges and his band, Jeff Bridges & the Abiders.
Sponsors for the 25th Anniversary and this event include the Toyota Motor Sales; USA, Inc.; Comcast NBCUNIVERSAL; Wieden+Kennedy; Ford Foundation; San Manuel Band of Mission Indians; The Walt Disney Company; AT&T; The Walton Family Foundation.