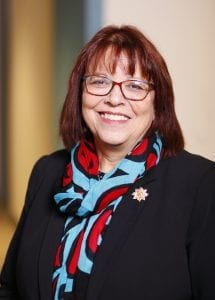 By Cheryl Crazy Bull, President and CEO, American Indian College Fund
International Women's Day (March 8) is a day when people around the globe are asked to imagine a world that is diverse, equitable, and inclusive; where difference is valued and celebrated; and where we come together to forge women's equality by working to #EmbraceEquity.
As an Indigenous woman and the leader of a national non-profit providing Native people with access to a higher education, I know firsthand how Native women have served as leaders in our communities. Native women have provided vital services and support as health care professionals, educators, government leaders, law officials, scientists, philosophers, poets, musicians, and more, all while ensuring our children have the tools and support they need so that they may carry forward our sacred ways and traditions.
I also know as an Indigenous woman that like us, women around the world have had to fight to have their voices heard and respected and their dreams and goals supported.
As we celebrate International Women's Day and Women's History Month this March, my wish is that women of all nations be included to achieve gender parity as we work together to dismantle bias, stereotypes, and discrimination against women and particularly women of color.
How do we do this?
We must advocate to elevate women in sport; to create greater health care choices for women; to create equitable access to science, technology, engineering and mathematics careers; to create workplaces that allow women to thrive in their chosen professions; to elevate the visibility of women in the creative fields so their unique voices are heard, whether it is the visual arts, music, or literature; and to celebrate all women who are working in their communities to create vital and lasting change.
The American Indian College Fund helps women in Native communities to access a higher education at a tribal college or university (TCU) so they can fulfill their dreams and goals. We help women like Nylana Murphy (Diné), an American Indian College Fund student ambassador and scholar at Navajo Technical University is following her dreams to learn how to ensure successful space missions. We also serve women like Paula Mashkosiikwe Cooper, a member of the Sturgeon Clan, an American Indian College Fund Indigenous Visionary fellow, and a human services major at Lac Courte Oreilles Ojibwe University who is in turn serving her community by reintroducing the Anishinaabe Grandmother Moon ceremony to women in her tribe. The ceremony was given to her tribal nation by its matriarchs to express gratitude and return people to health and well-being by clearing trauma.
Today more than half of TCU students are Indigenous women, working to create a better life for themselves, their families, and their communities.
I am inspired by the many ambitious Native women across Indian Country that we serve at the College Fund, both students and graduates, and I can't help but think back to when I started my own education career many years ago at Sinte Gleska College (now University), a TCU. When pondering what road I would take in my own career journey, I knew that I wanted to give back to my community.
As I reflect back on that time, I know it takes every one of us to create positive change for our children and our children's children. One-half of the world's population—women—cannot and should not be ignored.
This year as we celebrate International Women's Day and Women's History Month, let's raise our voices to celebrate the many Indigenous women who are making the world a better place—while working to help the next generation of women leaders, artists, scientists, and more succeed to in their work to create a better world tomorrow.
We invite you to share the story or stories of successful Native women in your lives (or your own stories) in the comments to raise awareness of the work Native women are doing in our communities. Please use the hash tag #Embrace Equity.