Supporting Our Relatives
Investing in Students and TCUs
We want all of our relatives to be seen, supported, and valued. Through programming that supports underrepresented demographics at TCUs, we strive to elevate these voices and experiences.
Women's Leadership Programs
By connecting Native women students at TCUs with faculty within their academic disciplines, and providing support for strong mentoring relationships, the College Fund is helping to develop the next generation of Native women leadership.
Indigenous Visionaries
Active Program Dates: 2017 – Ongoing
The Indigenous Visionaries initiative builds upon the American Indian College Fund's previous work for a number of years developing Native women leaders, through education, mentoring, and networking. Indigenous Visionaries focuses on connecting students at tribal colleges and universities (TCUs) with faculty members in their area of study.
Embrey American Indian Women's Leadership Project
Active Program Dates: 2010 – 2016
In March 2010 the American Indian College Fund (the Fund) received a grant from the Embrey Family Foundation to initiate a women's leadership program. The Embrey American Indian Women's Leadership Project was a four-year leadership program for 20 American Indian women attending tribal colleges who have a high potential for future leadership and the desire to earn a bachelor's degree.
Honoring Those Who Hold Us: An Elder Story Series
Active Program Dates: 2023 – Ongoing
Through the storytelling series, the College Fund highlights Indigenous voices through moments and memories shared by TCU students, faculty/staff, and leadership about the elders who have held and continue to hold them through the many stages of life, particularly in their education journeys.
Two-Spirit and LGBTQ+
Active Program Dates: 2022 – Ongoing
The American Indian College Fund believes that our Two-Spirit and LGBTQ+ relatives should be celebrated and supported and is invested in supporting Tribal College and University faculty, staff, students and leadership towards stronger advocacy, education, healing, and support of our Two-Spirit and LGTBQ+ relatives. Please feel free to utilize the sessions, slides, and additional resources promote education, advocacy and healing.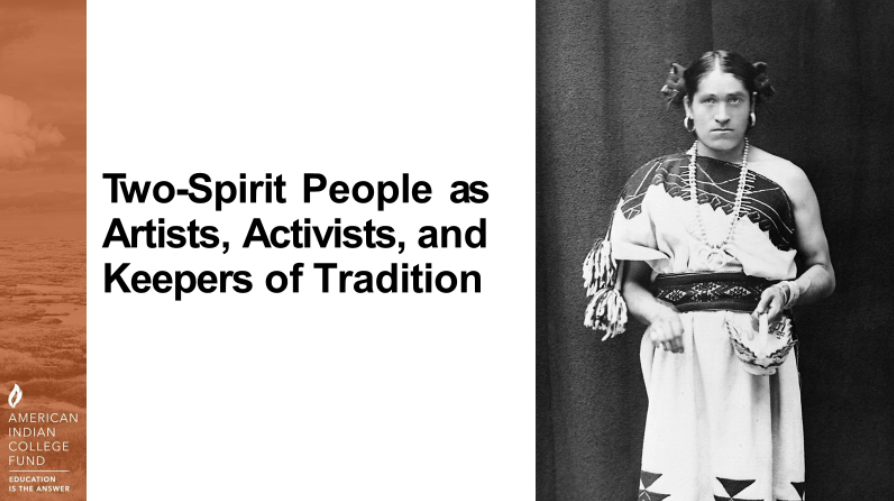 With this, as Two-Spirit and LGBTQ+ tribal college students, you might be right out of high school, and you might be returning much later in life. While the educational journey is not the same for anyone, the path of sorting through how you identify along the 2SLGBTQ+ spectrum will also not be the same for anyone. And while on that path, your understanding of your identity will likely change and evolve many times, and this is the experience of being alive.