In the summer of 2022, the American Indian College Fund (College Fund) provided initial funding to develop capacity building and knowledge sharing to support our Two-Spirit and LGBTQ+ relatives both internally at the College Fund and externally at tribal colleges and universities (TCUs).
During this first year, the College Fund engaged with Alfred Walking Bull (he/they) of Walking Bull Story + Culture (
https://walkingbull.com/
), to support our work. Alfred's participation and facilitation skills have been essential to developing a trusting environment during the TCU virtual sessions.
Hosts, guests, and relatives who attended the virtual sessions shared authentic, and sometimes very vulnerable personal stories regarding their own 2SLGBTQ+ identities and/or gender journeys.
Sessions reiterated information to support our 2SGLTBQ+ relatives, and also relatives who show up or want to understand how to show up with us.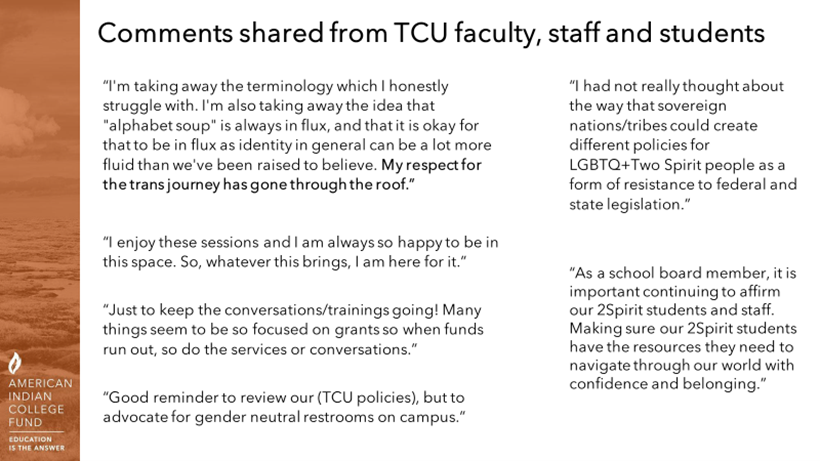 The College Fund has since established that all bathrooms located in the Denver office are identified as all-gender restrooms and has been reviewing processes regarding student engagement to account for the many ways, we as Indigenous and mixed-race Two-Spirit and LGBTQ+ relatives show up.
All previous sessions' recordings and slides can be found on the College Fund's website (https://collegefund.org/two-spirit-and-lgbtq/). We encourage TCUs, and students to utilize these as a resource to support your own personal journey, for the classroom, or on campus. Continue to check the webpage for updates and additional resources!
Read Part 2: For our Two-Spirit and LGBTQ+ Tribal College and University Students