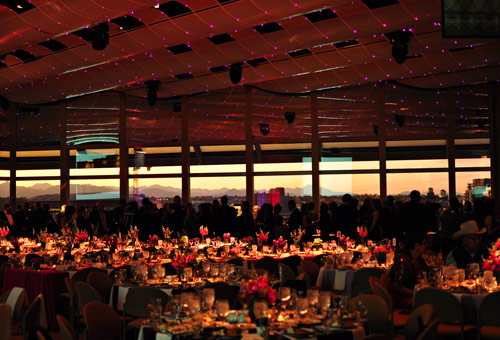 The American Indian College Fund's16th annual American Indian College Fund Flame of Hope Gala raised more than $300,000 for American Indian student scholarships. The event, held October 20 at the Seawell Grand Ballroom at the Denver Center of the Performing Arts in Denver, Colorado, included headline entertainment by Native flutist R. Carlos Nakaí and The Jared Stewart Band. Hattie Kauffman, award-winning television journalist with CBS, served as Mistress of Ceremonies.A silent auction featuring artwork donated by premiere Native artists, including a birch bark basket, beaded moccasins, and a cradleboard to name a few, was also part of the evening's entertainment.

Haskell Indian Nations student Danielle Denton, a member of the Iowa nation and a business major, addressed the more than 200 supporters about how a scholarship helped her to pursue her dream to earn a business degree while embracing her Native culture. Denton was chosen as one of three Native students, the first-ever Native student cohort to serve as a student intern at Wal-Mart Inc.'s corporate headquarters in Bentonville, Arkansas, where she will join the corporation as an employee after graduation in spring of 2012.

The American Indian College Fund honored the W.K. Kellogg Foundation for its support of early childhood education at tribal colleges to prepare Native children for success in college, and Elouise Cobell, who passed away October 16, for her groundbreaking work to uphold American Indian contract rights and ensure an education for Natives in the future.

• USA Funds
• Coca-Cola Foundation
• Ford Motor Company
• Nissan North America, Inc.
• UPS Foundation
• Wieden + Kennedy
• CBS
• IBM
• Jenzabar, Inc.
• Kauffman & Associates LLP
• McDonald's Corporation
• NBC Universal
• University of Phoenix
• Amergent
• CADDO Solutions
• Fredericks, Peebles & Morgan LLP
• Native American Bank, NA
• UMB Bank
• Watershed Investment Consultants

Thank you to everyone who attended the event and the sponsors and donating artists who helped to make the evening a success!