The 'Think Indian' Book Club focuses its book selections on Indigenous authors, voices, and storytelling.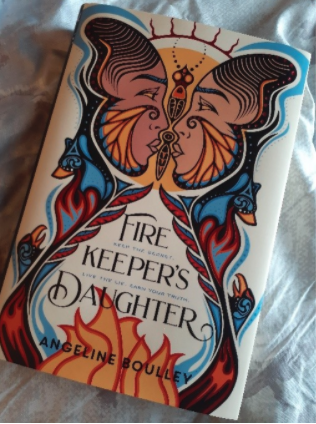 Firekeeper's Daughter by Angeline Boulley is a coming-of-age story centered around eighteen-year-old Daunis Fontaine, who feels like she does not fit or belong in both her hometown and her nearby Ojibwe reservation. Daunis wants a fresh start in college, but her dream is put on hold when family tragedy strikes that sends her on a path she could not imagine.
Growing up in a town where hockey is everything, Daunis, a former superstar on the team, meets Jamie, the new hockey player on her brother Levi's team. She and Jamie become very close, but he seems to be hiding something. Daunis is soon thrown into the world of an FBI investigation after witnessing a murder that is tied to a new lethal new drug showing up in both of her communities.
Using her knowledge of both Ojibwe medicine and chemistry, Daunis goes undercover to find and track down the suppliers. The more she investigates, the more secrets she exposes and learns that everything she thought was right and true may not be.
Firekeeper's Daughter is a phenomenal book that showcases a strong Ojibwe woman who is bold, fierce, strong, and intelligent. A Native American character that young Native people can look up to a see themselves in has been a rarity, especially in the young-adult book market.
Boulley has written characters that are not afraid to shy away from sensitive and triggering issues that Native peoples continue to face every day such as alcoholism, abandonment, drug use, Missing and Murdered Indigenous Women (MMIW), racism, and suicide. But Boulley also highlights the triumphs and strengths of Native people in her characters from the exuberant Granny June and the Ojibwe elders who help Daunis see the importance of family and community; to Daunis's best friend Lilly, who has shown light and teaches the value of forgiveness and second chances; to her aunt, who teaches Daunis about hard truths and how to stick up for herself; and to Jamie, who helps Daunis see the importance of seeking the answers to find out who you are.
Boulley utilizes the land as a character that she beautifully and poetically describes. Sault Ste. Marie, Michigan, and Sugar Island play a big role in Daunis's journey as she navigates both worlds throughout the book. In the past year readers have endured separation from not only family and friends and missed community events. Boulley captures the essence of a nice day at a pow-wow, where Daunis takes Jamie to meet her community. Descriptions of the sea of dancers and the smell of freshly made fry bread helps the readers to visualize a community event that we have missed, and for a moment we are transported back there as spectators.
Lastly, Daunis shows and honors her teachings from her people throughout the book. As a Native reader, I thought this was one of the strengths of the book because it gives readers the opportunity to learn about Native culture and teachings, especially for those who are not familiar with them. Daunis is shown at times laying tobacco and praying to the creator, she explains the importance of the seven generations, she seeks the teachings from the elders in her community, and she utilizes the traditional knowledge to help identify plants. These events are woven into the story to show a large part of who Daunis is and how each of these helps her as she solves the crime that has been thrust upon her.
Firekeeper's Daughter is a moving and thrilling book that takes the reader on an incredible journey with a courageous and strong female Native lead with her community there to help guide her way. Most important, this is a contemporary story about Native people written by a Native author to show that we are still here. This of one of many beautiful stories out there ready to be heard.
Trigger Warning: Alcoholism, death, drug overdose, drug use and selling, grief, kidnapping, murder, physical abuse and harm, racism, sexual assault/rape, and suicide.