Last week, I had the pleasure of attending the American Indian Higher Education Consortium (AIHEC) winter meetings for Tribal College Presidents and Students.  Each year representatives from the 37 different tribal colleges and universities (TCUs) meet up for an advocacy workshop and Capitol Hill visits. It was amazing to see 150 representatives in one room, ready to share their TCUs' story. The students were especially inspiring. For many of them, this was their first visit to Washington, D.C. They were excited and eager to fill the halls of House and Senate building to share the importance of their TCU with their State's representatives.
The students had prepared their two-three minute stories, shared and practiced with their fellow students, and were encouraging and proud of one another. Because so many TCUs are isolated, many students have never met one another. It was wonderful to see them make connections with other tribal college students and share their similarities and differences! I was so impressed with the initiative students made to find these connections with one another.
It was a wonderful experience to learn not only from our students but from other Native American organizations and supporters located in Washington, D.C. It was a great reminder that we are all seeking the same thing: to empower and strengthen Native Americans and their communities. Meeting to discuss and share our successes is important to achieving our goals. I hope to see this event grow with even more students and tribal college representatives attending. It is important to have this presence in Washington D.C. and to advocate for the importance of tribal colleges and universities.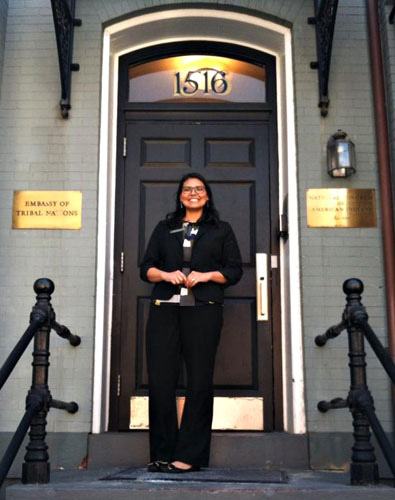 Tiffany Gusbeth, Internships and Career Readiness Program Administrator at NCAI National Congress of American Indians at the Embassy of Tribal Nations in Washington, D.C.