Indigenous Visionaries
2021-2022 Cohort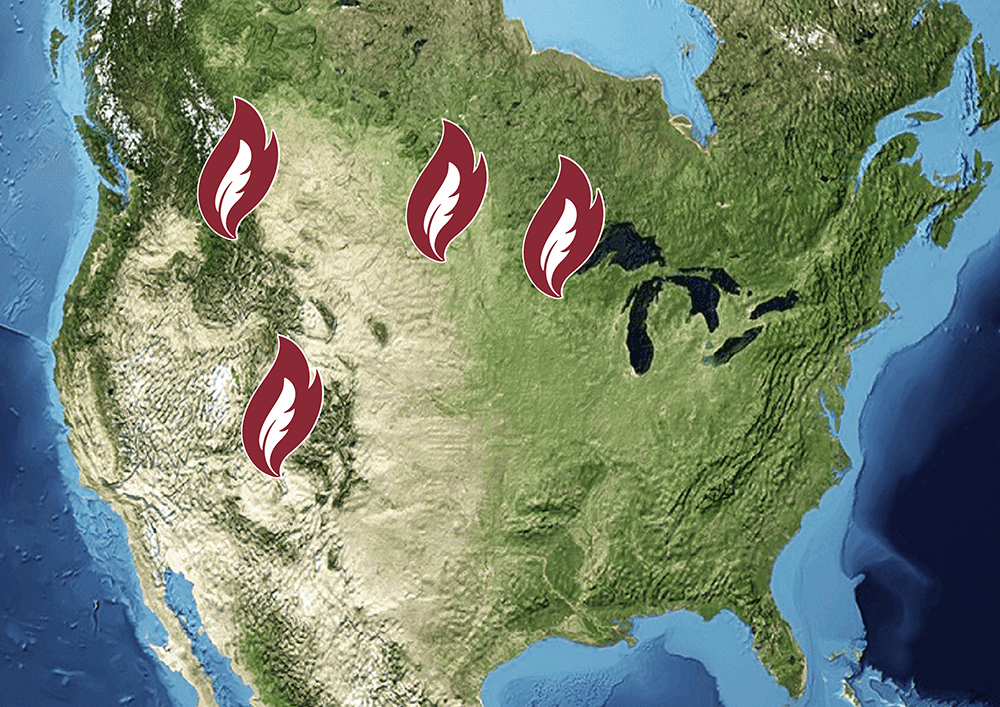 The Indigenous Visionaries program builds upon the American Indian College Fund's ongoing work of developing Native women leaders through education, mentoring, networking, and storytelling. Indigenous Visionaries connects students at tribal colleges and universities (TCUs) with faculty in their area of study.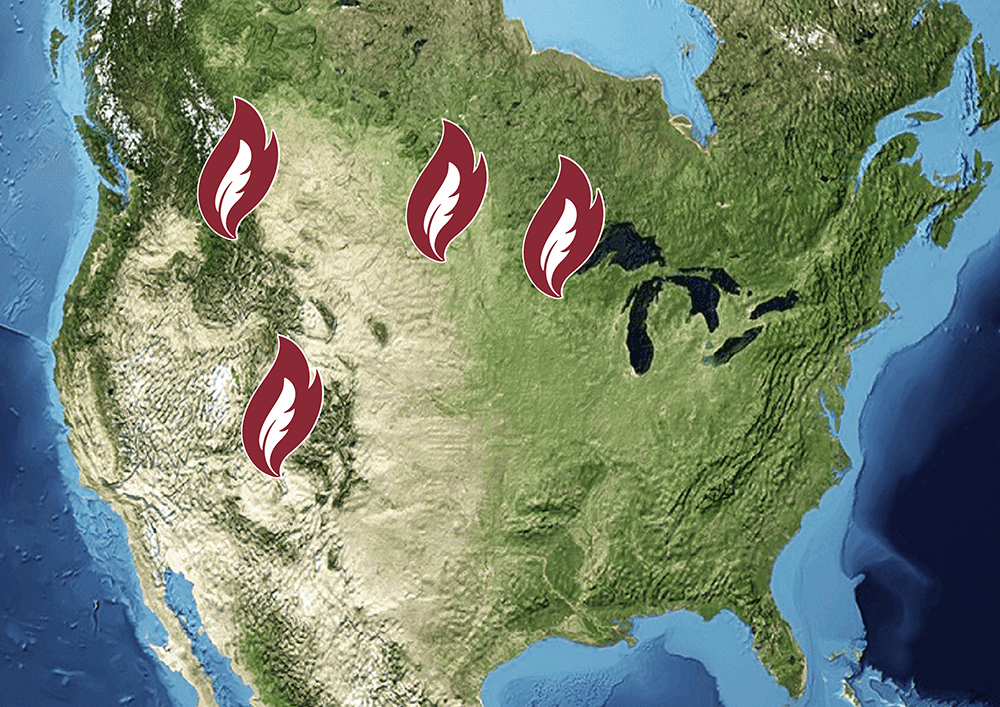 The Indigenous Visionaries program builds upon the American Indian College Fund's ongoing work of developing Native women leaders through education, mentoring, networking, and storytelling. Indigenous Visionaries connects students at tribal colleges and universities (TCUs) with faculty in their area of study.
Lac Courte Oreilles Ojibwe University
Hayward, WI
Nueta Hidatsa Sahnish College
New Town, ND
Salish Kootenai College
Pablo, MT
Community-based Project
Voter outreach and education – Voter outreach, education, and laws that hinder voter participation have led to low proportionate voting numbers for Native American populations. The voter outreach and education project will expand voter education, advocate for timely communication about voting, and ensure support of access to voting across the Navajo Nation.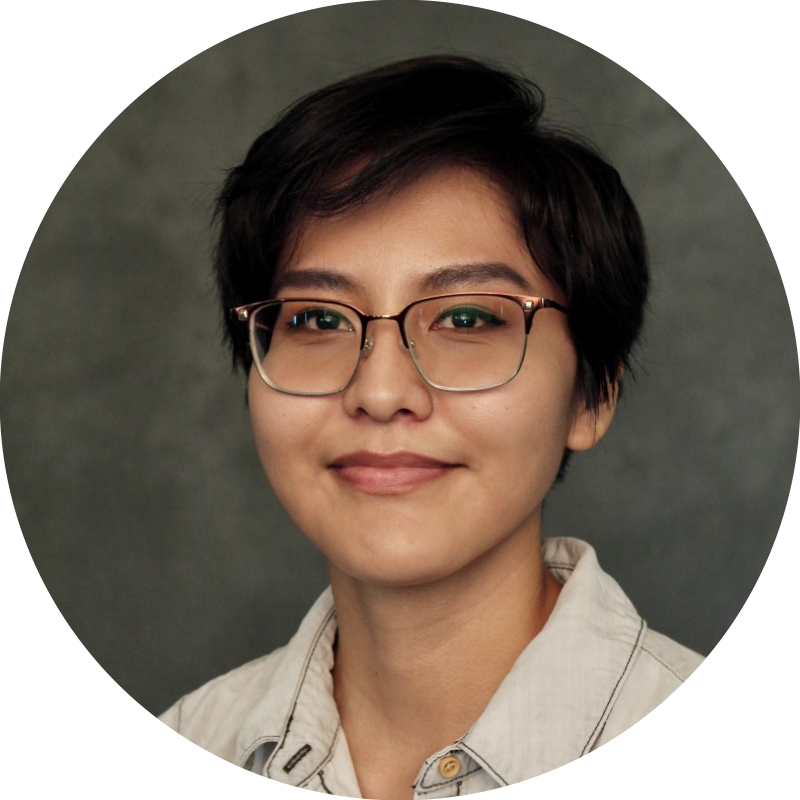 Fellow
Harley-Daniel Interpreter
Navajo
Psychology, BA, Senior
About Harley
Yá'át'ééh shidine'é. Shí 'éí Harley-Daniel Interpreter yinishyé. 'Ádóone'é nishlínígíí éí Tł'ogí Dine'é nishłį, Dziłghá'í báshíshcíín, 'Áshįįhí dashicheii, Tł'ízí Łání dashinálí. 'Ákót'éego 'éí 'asdzání nishłį. Tsiiyi' Be'ak'idéé' naashá. 'Ółta'í nishłį. Harley-Daniel Interpreter is currently pursuing the Psychology BA program at Diné College and is the Social Media Engagement Agent under the Office of the President. She comes from the small, rural community of Forest Lake on the Navajo Nation.
One of the most significant accomplishments to the College was Harley-Daniel's role in the virtual 2020 Voter Educational Forum. She worked alongside the Association of State Democratic Committees (ASDC), students, staff, and the Native American Voter Engagement Office. The Voter Educational Forum was a student-led event to inform and educate on voting as a fundamental responsibility. She was also a student ambassador for the 2020 AIHEC Legislative Summit in Washington, DC. She got to meet National and State level representatives and their staff and other student ambassadors to represent their associated Tribal Colleges, to address ongoing challenges and solutions to aid tribal student educational pursuits.
Harley-Daniel was very honored to gain a leadership internship position for the Social Media Engagement team. Just as she participated in the growth of Diné College, she hopes to aid in the development of whatever projects, organizations, or communities she meets.
Outside of academic and professional endeavors, Harley-Daniel likes to learn new things. Lately, she's gotten back into designing with Photoshop and Illustration (among other apps), which has opened a whole world of creative outlets. She is learning to create a digital Navajo language workbook. She has also become more involved in organizing efforts on the community/public level and learning about various issues. She listens to podcasts or watches theory/analysis/review videos on YouTube. She and her mother also started a small garden this past summer. They grew squash, cucumbers, tomatoes, jalapeños, and mint. This past year was their 3rd year Participating in Pat's Run 4.2mi marathon. Other interests include journaling/blogging, traveling, drawing, cooking, and reading.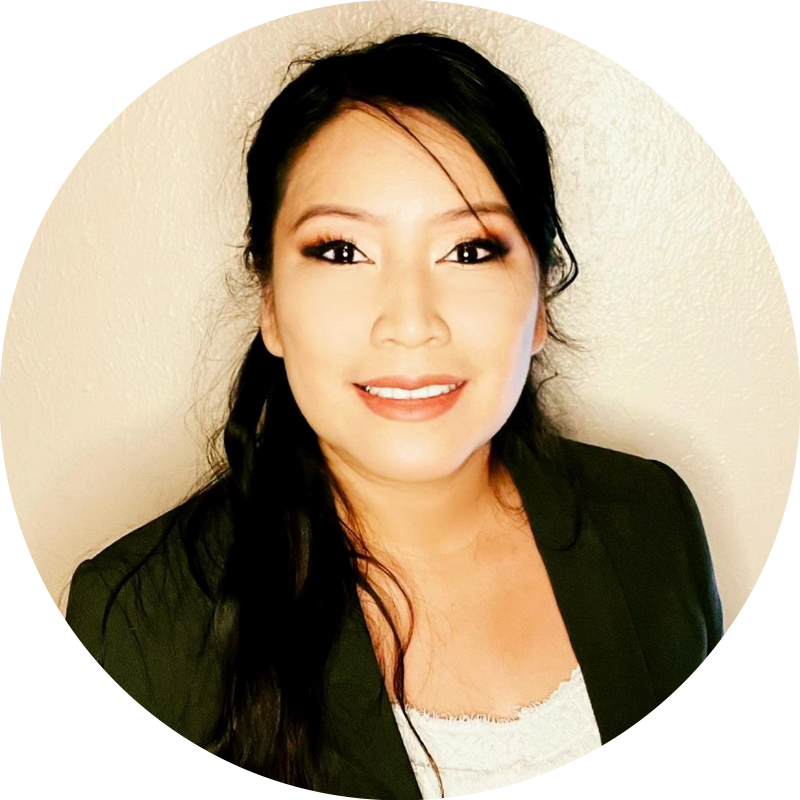 Mentor
Crystal Cree
Navajo
Director of Office of Legislative Affairs and Policy
About Crytsal
Yá'át'ééh shi éíyá Crystal Cree yinishyé. Tó Naneesdizídéé naashá, ákondi Tseehílíídi keehasht'i. Ádóóné'é nishlinigii ei Tsé Deeshgizhnii nishlí, Biih Bitoodni báshíshchíín, Tł'ízíłání da shichei, áádóó Tá Neeszáhnii da shinálí. Ákót'ééhgo Diné asdzaaní nishłí.
Crystal started her higher education at Diné College. After Diné College, Crystal went on to receive her bachelor's and master's from Northern Arizona University. She is currently pursuing her doctorate degree in Justice Studies from Arizona State University. As the Director of Legislative Affairs and Special Projects for the Office of the President at Diné College, Crystal directs and coordinates legislative affairs on behalf of the College with the Navajo Nation government, State Legislatures (AZ and NM), and Federal government offices. Crystal provides analysis of potential policies and legislations and its impact on the College. She also manages multi-million dollar projects, the Warrior Scholarship Fund, the Warrior Protection Fund, and other various funds set up for student support.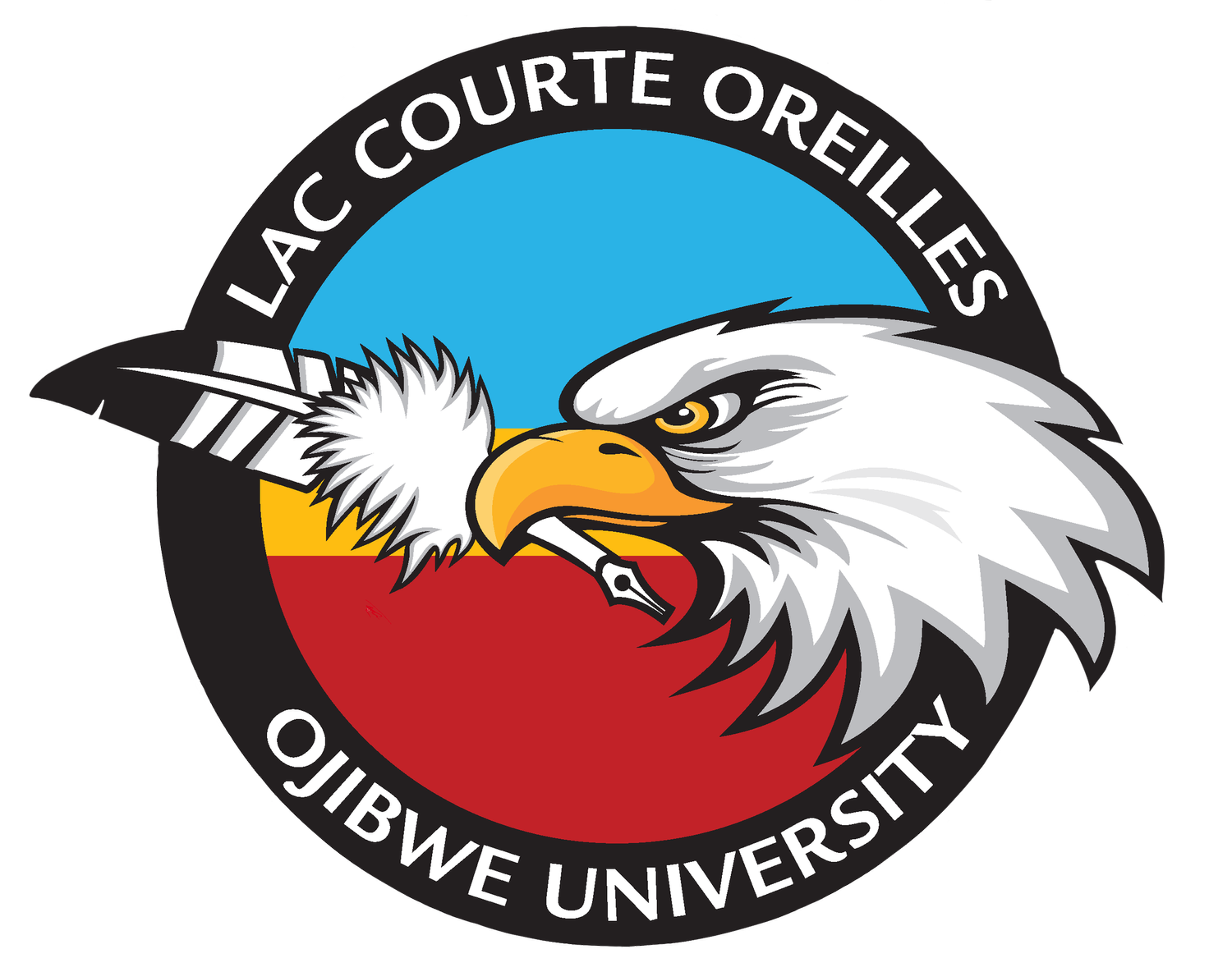 Community-based Project
"Kwe Book" – The contributions of women leaders who helped found the Lac Courte Oreilles Ojibwe University will be highlighted in the "Kwe Book". In this community project the fellow will catalog the interviews and stories of these remarkable women.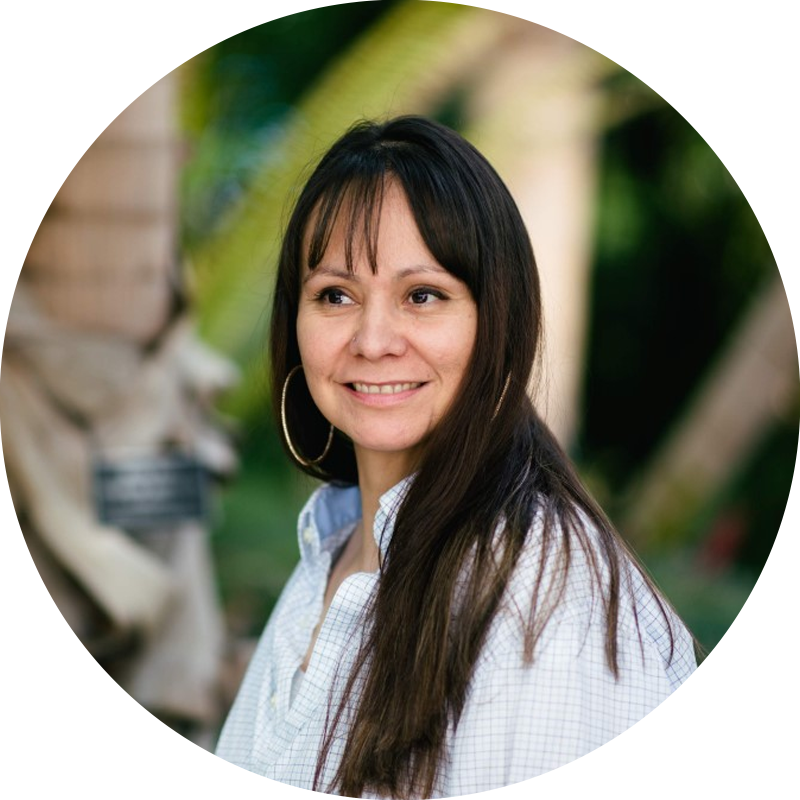 Fellow
Louise K. Waakaa'igan
Lac Courte Oreilles
BS Human Service, Year 1
About Louise
Louise Waakaa'igan, Anishinaabe, is an enrolled member of the Lac Courte Oreilles Band of Ojibwe in Northern Wisconsin. She is the daughter of Marie Kuykendall, and the granddaughter of William, Binéshi, Baker.
She is currently the Advancement Coordinator for the Lac Courte Oreilles University as well as pursuing her Bachelor's Degree in Human Services. Louise received her Associate of Arts Degree from Inver Grove Community College in Minnesota.
In 2020, Louise published her first collection of poetry, This Is Where, from Aquarius Press. Poetry and community involvement are two of her passions. She also loves yoga, creativity, and learning how to make ribbon skirts.
Mentor
Faith Smith
Lac Courte Oreilles Ojibwe
Curator
About Faith
Faith Smith, Anishinaabe, is an enrolled member of the Lac Courte Oreilles Band of Ojibwe. She has a Bachelor of Arts degree in Education from Purdue University and a Master of Arts degree in Social Science along with post-graduate studies from the University of Chicago.
Faith has extensive experience in education and other related fields where she was a consultant, mentor, manager, and facilitator. She started her career as a social worker at the American Indian Center in Chicago (1966-1971). She was also President and Founder of the Native American Educational Services College (1975-2005), Director of the American Indian Health Project (1971-1975), Founding Manager of Chippewa Wood Crafters (2005-2008) and Team Leader at the Integrated Resource Management Plan for the LCO Tribe (2009-2010). Today, Faith is the Curator at the Kinnamon School Museum and Visitor Center in Hayward, Wisconsin.
On an International scale, Faith was active as an international witness for documenting violations of human rights in Ireland. In Australia and New Zealand, she conducted outreach to Indigenous communities to establish working relationships with Native communities in the US. She researched and compared African education systems in Zimbabwe, Mozambique, and Namibia with Native American education systems. Finally, she participated in an international gathering of Indigenous leaders for the Kellogg Foundation in Salzburg, Austria.
Her public service includes volunteer work for the Northwoods Human Society, Co-organizer of the Public Event and Ceremony Honoring Native Veterans of World War II and the Korean War, and the LCO Elders Council where she serves as facilitator, organizer, secretary, and member. She has also served as a board member for numerous foundations and organizations. She has been honored as a Fellow for Leadership Greater Chicago and the Chicago Community Trust. She was named Honored Alumnus by Purdue University and was a recipient of the Women in Leadership Award from Chicago Women in Philanthropy.
Community-based Project
Continuation and expansion of Recycling at NHSC – Increasing community awareness about land stewardship through recycling is the focus for the recycling project at NHSC. Currently the Fort Berthold reservation does not have a recycling program. With the nearest drop off being 150 miles away, this project aims to develop a more efficient method of collecting and transporting recyclables, to develop community relationships, and to increase community awareness.
Fellow
Sasha Sillitti
MHA-TAT
Business Administration
About Sasha
Sasha Rae Sillitti, a member of the Three Affiliated Tribes- the Mandan (Nueta), Hidatsa, and Arikara (Sahnish), and grand-daughter of the Prairie-Chicken and Water Buster-Hidatsa Clans, was born and raised on the Fort Berthold Reservation in North Dakota. Sasha is the current student account's counselor, accounts receivable manager, and a full-time business administration student at Nueta Hidatsa Sahnish College, located on the Fort Berthold Reservation, in New Town, ND. Sasha is active in various research projects and programs at NHSC as well, including as NHSC Recycling Program manager, in cultivation and research of the juneberry – a nutrient and antioxidant rich berry that is a traditional Nueta, Hidatsa, and Sahnish diet staple, as a Four-Sisters Traditional Gardens member involved in the planting and study of traditional fruits and vegetables, in the Air Quality and Environmental effects research project in response to the increased oil and gas activity and natural gas flaring on and around the Fort Berthold Reservation, and as Student Alumni Association President. Sasha earned her first degree at NHSC, an Associate of Science in Environmental Science in 2013, and is a semester away from receiving her second degree at NHSC, an Associate of Science in Business Administration, after which Sasha will pursue her Bachelor of Science in Accounting and then plans to become a Certified Public Accountant. She ultimately intends on utilizing her educational and career accomplishments and experiences in ways that benefit other TCU students by helping improve financial literacy and encouraging and assisting them in successfully completing their own academic goals. Sasha values spending time with family and outdoors, hiking, gardening, and fishing, whenever possible.
Mentor
Pansy Goodall
MHA-TAT
Business Faculty Department Chair
About Pansy
Pansy Goodall (wax noon sapeera' daypaku, "Pawing Tiger"), Arikara of the Fort Berthold Reservation, has lived in New Town, ND most of her life. She is the business instructor and advisor at the Nueta Hidatsa Sahnish College in New Town, ND.
Pansy graduated at the age of 16, then enrolled in various workshops to keep busy. At age 18, she attended college at Northwest Bible College and then attended college at Fort Berthold Community College (FPCC) for a semester taking a welding course and a Tribal Studies class. For 10 years, she took time off to work and pay off her financial aid bill, during which she was employed full-time at Four Bears Casino & Lodge, while taking care of her son and elder mother until 2004 of her passing.
Pansy decided to attend college to get her own degree, enrolling in the spring of 1999 at FBCC. She became a mentor and tutor for the first couple months, and four months later she was employed at Nueta Hidatsa Sahnish College in the Agriculture Department. In 2004, she became an adjunct, teaching aerobics classes at FBCC, and in 2007 became a full-time business instructor. In 2008, she was Director for Early Childhood Learning Center at the college until 2010, and became a full-time instructor until present.
Pansy holds several degrees: a liberal arts degree, business administration/management degree, A.A.S. degree, A.A. in NAS Native American Studies, B.A. in Native American Studies Degree, and CDA Certificate from Fort Berthold Community College; as well as a B.A., an MBA in Business Management, and MBS of Business Administration from University of Mary.
Pansy enjoys going to the movies, walking, writing skits in spare time, acting when time permits, various types of clothing from cloth to leather, collecting Native American Books and books written by Native American writers, and values spending time with her two grown children. Her son is 33 and her daughter is 26, and she has a 12-year-old granddaughter and another on the way.
Community-based Project
Cedar Paddle workshop – Promoting wellness through the Salish culture is the goal for the Paddle for Life Project. Through this project, young adult community members will participate in Salish language lessons while creating their own cedar paddle.
Fellow
ArriAnna Henry
Salish
Social Work/Senior
About ArriAnna
ArriAnna Henry is an enrolled member of the Confederated Salish and Kootenai Tribes, a Bitterroot Salish. ArriAnna was raised by her mother, Michelle Matt, her grandparents LeeAnne and Clark Matt, and her uncle John Matt, all who instilled cultural, traditional, and educational values in her. ArriAnna holds an associate degree in chemical dependency counseling and is currently pursuing her bachelor's degree in social work and her certification of completion in intensive Salish language, all through Salish Kootenai College. ArriAnna is an intern at the All Nations Health Center, working in the Behavioral Health Department.
ArriAnna has spent years devoted to serving her tribe and other Indigenous youth. Her commitment to community development began in 2016 after she attended her first United National Indian Tribal Youth (UNITY) conference in Oklahoma City. Since then, ArriAnna devoted her life to serving her community through seeking intensive Salish language learning and higher education. She is currently a representative on the National UNITY Council Executive Committee and the Montana Native Youth Suicide Coalition, and she hosts school and community events.
ArriAnna's ultimate goal is to be a positive and reliable asset to Indigenous people.
Mentor
Rosemary Matt
Salish
Native Language Teacher Education Department Head
About Rosemary
Rosemary Matt (Séliš/Ql̓ispé) is from the Flathead Reservation in Montana. Rosemary's parents are Fred Matt and Kathy Ross, both members of the Confederated Salish and Kootenai Tribes. She is a single mother of two amazing, talented young men. Rosemary was raised by her mother, an educated Séliš woman who instilled strong community and leadership values in her. Rosemary serves as the department head and faculty for Salish Kootenai College Native Language Teacher Education program.
Rosemary holds a Master of Arts in Educational Leadership from the University of Northern Colorado and a Bachelor of Science in Education from Montana State University-Billings. She has served in many professional capacities over the past twenty years including: teacher, grant director, youth prevention program director, curriculum director, HISET Chief Examiner, school director, and program coordinator.
Rosemary's commitment to Salish Language and Culture started when she was hired at Nk̓ʷusm Salish Language School as the Curriculum Director in 2009. This position started her adult journey into learning Salish and understanding the importance of Salish revitalization efforts within her community and the northwest. Her commitment to her community includes serving as the Advisor for the Nk̓ʷucin (One Voice) UNITY Youth Council and being a co-founder of The Salish Institute, a community-based non-profit whose mission is to improve the health, culture, education, and environment of the Salish and Pend d'Oreille people. Currently, she is a mentor for the American Indian College Fund Indigenous Visionaries Native Women Leadership Fellowship.
Indigenous Visionaries Blogs
Articles and success from the College Fund programs team.
The Standing in Our Power Ojibwe cultural project is working to reduce the impact of the long history of cultural genocide. The project aims to provide women with the opportunity to learn cultural roles and teachings to take back power and reclaim their sacredness as women.
read more
Other Programs
Select a program to learn more.