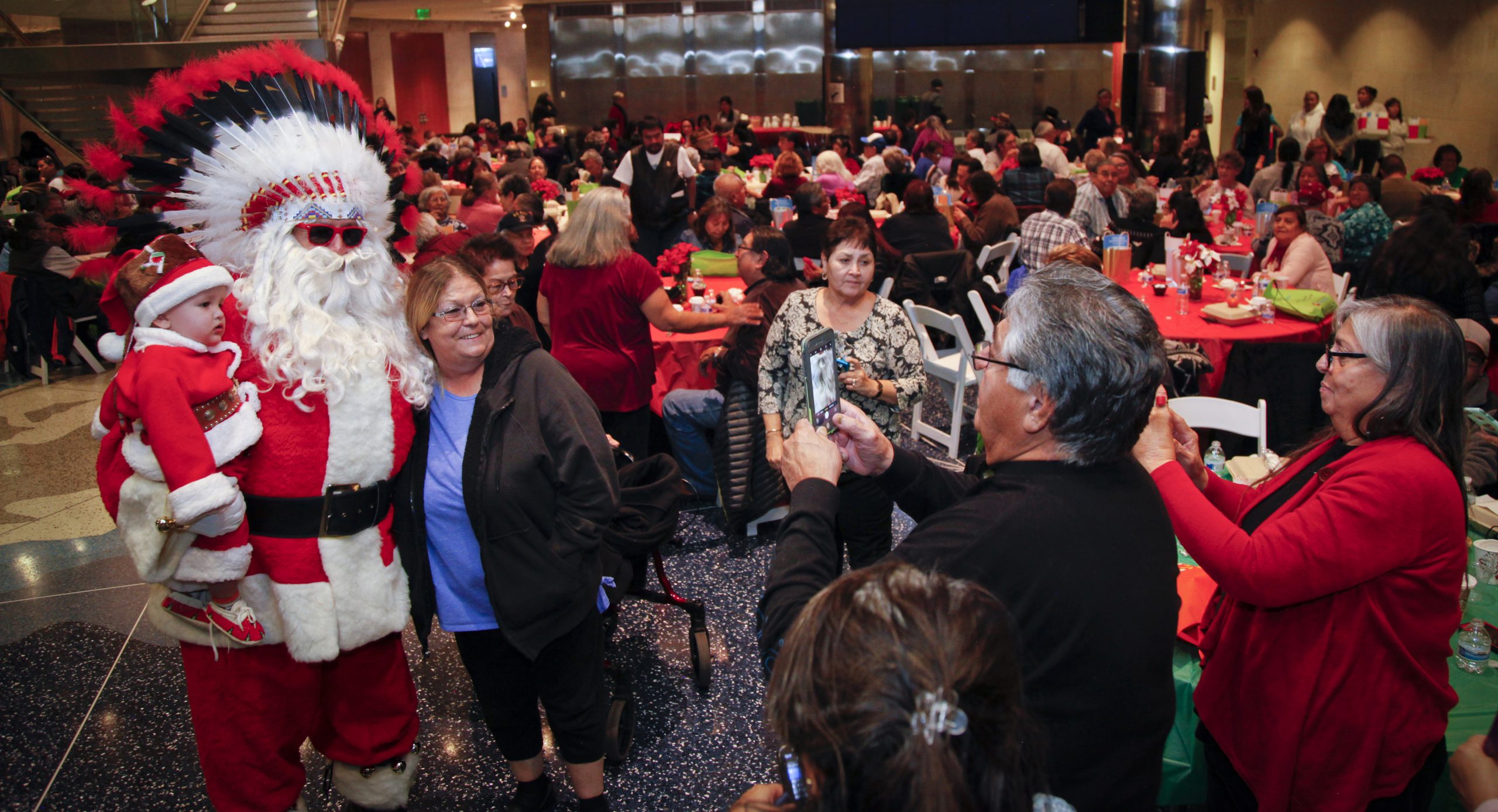 The American Indian College Fund honored Native American elders Theresa Halsey of the Lakota Tribe and Isaac Wak Wak of the Colville Confederated Tribes of Washington state at its Seventeenth Annual Denver Elders Dinner at the University of Denver's Cable Center. Nearly 300 American Indian elders attended the traditional buffalo feast, which honored them for their guidance throughout the year.
Both Wak Wak and Halsey were chosen for exemplifying the Native value of mentoring younger generations, specifically with regard to encouraging Native youth to continue their educations.
Wak Wak is a strong believer in education because education gave him opportunities and experiences in his life. He grew up in a small subsistence community in Washington State and then moved to Chicago, where he lived and attended and graduated from Truman College, part of the City College system, where he studied Indian history. He went on to work for the college system until he retired in October of 2000. He moved to Denver shortly after, settling into the community as a volunteer and ambassador.
"It is a thrill to be supportive of young people in their education clubs, Indian clubs, and school clubs. It is such a thrill seeing these kids excel! If I get one to go to college I am proud and happy. It is so vital that we get kids to go on to college, or in the service, or to do anything for themselves that they want."
He has worked for the Denver Indian Center as an ambassador, greeting tribal members there, as well as with the Denver March Powwow, Cathedral Plaza downtown, his own tribe with assisting people who relocate to Denver, and the Unity Program, which is near and dear to his heart as he is "staunch about education." "I am proud to see kids going to a two-year and four-year program, then going on to succeed in their chosen fields." He particularly enjoys mentoring students one-on-one, helping them steer pass roadblocks to college and giving them ideas and people and organizations to contact for scholarship help and other advice.
Halsey graduated from the University of Colorado-Boulder. In addition to working for more than 30 years in community radio at KGNU, she served at the Denver Indian Family Resource Center, worked as an advocate and activist, and provided services in the health and social services fields. She shares her pride in being Native American with young American Indian people to ensure their success. She worked for the Upward Bound program across the west, including at the Southwestern Indian Polytechnic Institute, a tribal college in Albuquerque, New Mexico.
Halsey mentors American Indian College students at the University of Boulder with the Oyate and Indigenous Student Organization, and has served as a longtime scholarship reader for the American Indian College Fund.
The celebration also included gift bag treats delivered to the elders by Indian "Santa Claws."
[metaslider id=12139]
The free annual event was created 17 years ago as a way for the local non-profit and business community to give American Indian elders, many of whom lived in isolation and need, an opportunity to enjoy a hot meal, visit with other Native elders, and receive gifts for the holidays. Open to all American Indians age 55 and older, the Annual Denver Elder's Dinner is coordinated by the American Indian College Fund and is sponsored by Native and other organizations and staffed by more than 50 volunteers from the Denver community.
This year's sponsors include the American Indian College Fund, The University of Denver's Office of Native American Community Partnerships and Programs, Native American Rights Fund, Denver Regional Council of Governments, IMA, The Denver Anti-Discrimination Office, and Dale Curtis. Gifts in kind included bison donated by the Intertribal Bison Council; catering services and food by Tocabe; coffee and supplies by Starbucks; salmon by Cesarita Ballew, a member of the Lummi Nation; and Bedré Fine Chocolates by the Chickasaw Nation.
Volunteers from organizations across the Denver area worked to decorate for the event, serve meals and drinks, and clean. Volunteers came from IMA; The Denver Commission on Aging; American Indian high school students from Denver Public Schools Indian Education Program; and the Denver Indian Community.