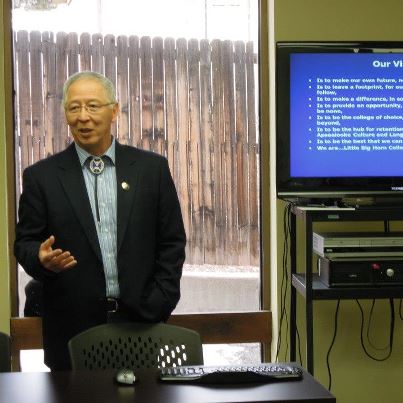 by Rachel Piontak
On Friday, the Fund's staff was given a rare treat: the opportunity to hear from both a TCU president and TCU student in one day. The presentation highlighted their challenges, successes, and overall vision for their tribe's future. Sharing these words were President of Little Big Horn College, Dr. David Yarlott, and a first-year business student, Riley Singer.
Dr. Yarlott opened the presentation by introducing himself in his tribal language of Crow, one of the many Native languages in danger of extinction. He briefly shared his own history of growing up on the reservation and his early struggles with education until he realized its full value and went on to complete a doctoral degree in education. It was during this time that Little Big Horn College (LBHC) invited him back to teach business courses in 1998.
LBHC was established on the Crow reservation in Montana in 1980 with just 13 students. Now, less than 25 years later, the school has been the educational home for as many as 417 students each year as they pursue one of the many options of accredited associate's degrees available. What began as a mad dash to sit beneath one of the two lights in an old gymnasium for class has now developed into an expansive campus full of intricate designs and cultural symbolism.
According to Dr. Yarlott, culture was a heavily weighted factor in their campus architecture, layout, and overall design. For example, the campus is laid out in a semi-circle pattern, reflective of the early Crow encampments. The home of the leader represented wisdom, knowledge, and leadership and would be situated at the far Western end of the camp so they will be first to see the sunrise. Likewise, at LBHC, the statutes of wisdom, knowledge, and leadership are represented by the archives, library, and administration buildings located at the far Western end of the campus.
In this way, LBHC's campus is able to both maintain its history as well as tell its story to everyone who passes through.
Part of the school's vision, as shared by Dr. Yarlott, calls LBHC students, staff, and faculty to "make our own future, not wait for it to come to us." This is evident in the school's progressive initiatives to encourage continuing education, environmental sustainability, and expanding program offerings.
Dr. Yarlott continued to make connections between education and Crow culture throughout the presentation. It was summed up perfectly by his words that "mountains are our heart, the river is our blood, and the college is our mind."
When a devastating flood hit the Crow reservation in May 2011, LBHC was at the forefront of organizing relief and aid efforts. This is just one way that tribal colleges and universities have served as not only an educational hotspot, but also a gathering place for local communities to gain support.
The second speaker, Riley Singer, "Bull in the Clouds," also spoke about his experiences on the reservation and as a student at LBHC. As a Fund scholarship recipient, Riley demonstrated the importance of determination and traditional values in his educational career.
Raised by his grandparents on their cattle ranch in Lodge Grass, Riley learned the value of hard work and respect at a young age. Throughout his informative slideshow, we learned of the traditional upbringing and cultural practices that defined his youth. One of the most striking features, however, was the emphasis he gave to the value of education. This was demonstrated very strongly through his own life choices and through the lives of his ancestors.
Riley is currently pursuing an associate's degree in business administration with an emphasis on small business management and plans to complete his bachelor's through Rocky Mountain College afterwards. This education, he believes, will best prepare him to take over his family's cattle ranching business.
Both Dr. Yarlott and Riley brought inspiration and valuable information through their presentations. It was inspiring to hear recounts of their educational journey while upholding cultural traditions and an incredible reminder as to why the Fund exists to support this journey.