Congratulations! Whether you are a high school graduate or you have earned a college degree, graduation time is right here. Graduates are lining up on stages across the country to celebrate years of hard work and receive their diplomas and college degrees.
Many Native students choose to personalize their graduation regalia with Native cultural elements. Some replace the graduation tassel with a ceremonial eagle feather, which, in many Native American cultures, is a sign of high achievement. Others choose to add a Native cultural touch to their mortarboards by beading them or to wear sashes and neck cords from their tribes.
Unfortunately, sometimes restrictive dress codes or uninformed administrators have interfered with Native students' celebration of their cultural heritage and achievements in a culturally appropriate way.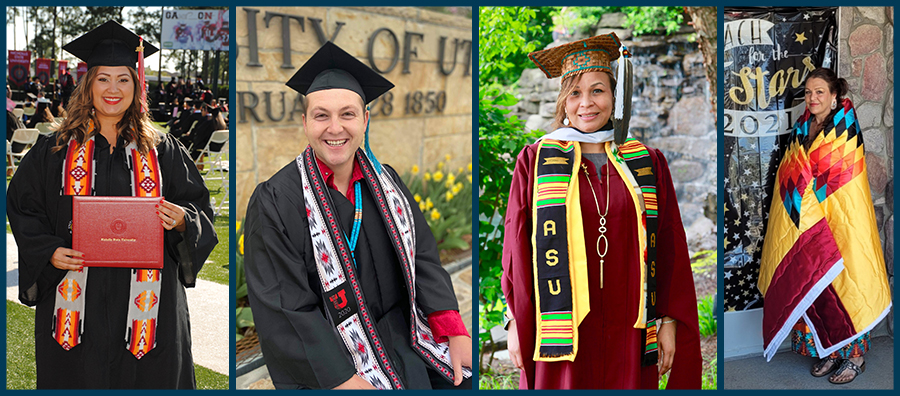 In 2019, the American Indian College Fund teamed with the Native American Rights Fund to gather content Native American students need to work with school administrations in advance of graduation to ensure they can celebrate their graduations in a traditional way. We have updated this blog for 2023 but many of the principles are still the same.
First, determine your school policy regarding Native American regalia at graduation. The sooner you communicate your plan with administrators to participate in your graduation ceremony in a cultural way, the fewer snags you will encounter along the way.
If your institution has a strict graduation dress code, explain the significance of wearing an eagle feather in a letter to the school board and administrative leadership at your school.
We created the following guide for formatting your letter:
1. Intro
Dear (Insert Name or Names of Recipients)
Many Native American cultures consider eagle feathers to be spiritually significant. They believe that as eagles soar in the sky, they have a special connection with the Creator. Their feathers represent honesty, truth, strength, courage, wisdom, power, and freedom. The federal government has long recognized the importance of eagle feathers for Native American religious and spiritual beliefs. In Native American communities, individuals are honored with the gift of an eagle feather to mark an important accomplishment such as a graduation.
As a member of the (insert your tribe's name here) tribal nation, I am writing to notify you of my intent to exercise my federally protected religious right and cultural heritage in this way on graduation day.
2. Share the legal reasons that Native Americans are permitted to possess and wear eagle feathers (other groups are prohibited from doing so by federal law).
I am enclosing a flyer written in 2015 by the attorneys at the Native American Rights Fund, a national non-profit organization specializing in Indian Law and titled: Wearing Eagle Feathers at Graduation: A Guide for Schools. This guide explains the religious and ceremonial significance of wearing eagle feathers at events such as graduations, as well as how and why federal law recognizes the sacredness of eagle feathers to tribal nations and the right of tribal members to wear them.
I plan to participate in my cultural traditions while participating in your institution's graduation ceremony, as provided for in federal laws including:
3.  If you attend high school, college, or university in California, Oklahoma, Montana, North Dakota, South Dakota, include the following in a new paragraph:
Our state also offers Native Americans protections under state law in addition to federal protections. I have included the name of the law and a link to it here: (Include the name and link to the law from the list below).
California law: Education Code § 35183.1 – Wearing of Traditional Tribal Regalia or Recognized Objects of Religious or Cultural Significance as an Adornment at School Graduation Ceremonies
Montana law: MCA § 2-1-315 – Tribal Regalia and Objects of Cultural Significance – Allowed at Public Events (2017)
North Dakota law: House Bill No. 1335 (2019) – Inclusion of traditional tribal regalia and objects of cultural significance, passed March 2019.
Oklahoma law: Oklahoma Religious Freedom Act (2000)
Attorney General Hunter letter about eagle feathers at graduation (October 23, 2018)
South Dakota law: SDCL § 13-1-66 – Wearing of Traditional Tribal Regalia or Objects of Cultural Significance at School Honoring or Graduation Ceremony to be Permitted
4. Thank the officials for their support.
Thank you for your support of my right to participate in my graduation in a culturally significant way, making this day one my family and I will never forget. Thank you also for your commitment to creating an equitable, diverse educational environment and experience for myself and other Native Americans.
5. Request a written confirmation of your ability to wear your requested regalia in writing in a new paragraph.
I respectfully request a written confirmation that I may wear the eagle feather at graduation in writing by xxx date (insert date you would like to hear from the officials) so that I may make the appropriate preparations to do so.
6. In the very last paragraph, welcome a conversation and thank the officials.
My parents and I welcome the opportunity to discuss this if you have questions, so this event is a smooth and joyful one for all. You can reach me at (provide contact information). Thank you in advance for your assistance and time.
Respectfully,
Your Name, Your Tribal Name
For detailed information, check out the Native American Rights Fund's blog.  There you will find these links to pertinent federal and state laws as well as the downloadable copies of brochures you should provide to your school's administration when you request to wear traditional regalia at graduation, and a brochure for you about wearing an eagle.
The brochures include:
Finally, congratulations on your upcoming graduation and this great achievement!