Emily Lockling
 (
Fond du Lac and Leech Lake
)
Tribal College and University: Fond du Lac Tribal 
and Community 
College 
Major: 
Environmental Science
Counting your chickens before they hatch, or in my case, buying your first set of luggage before a pandemic hit with full force, is always a bad idea. This is just one of the many things I learned as a student at Fond du Lac Tribal and Community College (FDLTCC).  
In the fall of 2019, I was given the opportunity to be an Indigenous Visionary Fellow for the American Indian College Fund to enhance Native women's leadership skills.  My goal in the program was to reach out to the community and spread a message of world-wide sustainability and share professional accounts of conservation.  
The biggest way we carry this out on our campus is through an Earth Week celebration, a learning event that lasts the full week. This year was going to be big! The planning of the 50th anniversary of Earth Day had us all excited for new possibilities and new audiences.  
My working theme for the event was "It's a Small World," because I found stories with scientists from all over the country with seemingly small pieces of one larger story. From microplastics to methylmercury and phenology to ecology, various studies lead to one big picture: all of this "small stuff" is making a big change in our planet. But before we knew it, a pandemic broke out; another one of those "small things" that makes a BIG impact: viruses.  
I have to be completely honest, planning a huge event—this event was bigger than anything I've ever had the pleasure or resources to plan before—and having it squished into nothingness was draining. It felt like starting over from scratch.  
Prior to my experience with the Indigenous Visionary program, I was really a "do–it–yourself" girl. I always volunteered to do group work alone or actively avoid group work. Have you ever skipped the choosing partners day or a project just so you could volunteer yourself to work alone? That was me, even if it meant a heavier workload and worsened anxiety.  
With everything closed down, the feeling of "starting over" that I dreaded so much reminded me of those group projects when something would need to be restructured and I was the only one brainstorming. 
However, thanks to the College Fund, I learned the value of teamwork and relying on others. In the beginning, I learned the basics of asking for help, for example, when tracking down a phone number or email. I was reformatting an entire event and collaborating with professionals in the industry, fellow student researchers, grad students, and citizen scientists. Due to the shutdown, we had to move our events online and managed to secure one major speaker for each day. We maintained the strength and tone of each event and managed to reach audiences in multiple states that allowed for additional professionals to attend a conference they may have otherwise missed! Silver linings! 
That first day of Earth Week we kick off with a virtual welcome from our Dean of Indigenous and Academic Affairs Roxanne DeLille, who spoke about taking care of yourself and Mother Earth. Later, Dr. Elizabeth Minor lectured about her studies on microplastics in Lake Superior with "Plastic Pollution and the Environment: Insights from Lake Superior," and gave solutions on reducing the amount of plastics introduced to the watershed. On Tuesday, Joe Barnes, a biologist and wildlife staff specialist from the Nevada Department of Wildlife presented "Peregrine Falcons as a Biomonitor," a study that focused on several facets of peregrine health and what they might mean for the environment. On Wednesday, we were joined by Glenn Swanson a Minnesota citizen scientist of the Oldenberg House who leads an ongoing phenology project in our area. He gave us tools for documentation such as iNaturalist, and we got the first socially distanced Document Spring introduction!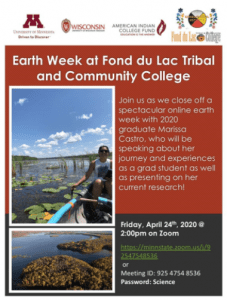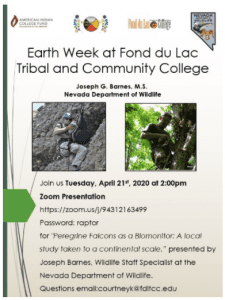 On Thursday, we were educated by Cynthia Lapp of IDA Starry Skies Lake Superior  (IDA) on light pollution with a presentation on how the IDA advocates for and protects the starry skies from a type of pollution many people never think about, which is light pollution. We closed the week on Friday with a presentation by Marissa Castro, the graduate student who helped FDLTCC with mercury research. Science majors from FDLTCC attended and we got a candid glimpse into graduate–level research that inspired us for our own higher education journeys. 
The Indigenous Visionaries program helped me build the skills necessary in the STEM field through communication, teamwork, and leadership. The program allowed me to make connections with researchers across the country, get more involved in areas of science I had no idea I would love, and even connected me with a department I plan to intern for. Although this semester may have ended with the luggage tucked into the closet, the College Fund afforded me the skills and opportunities to use it in the future.